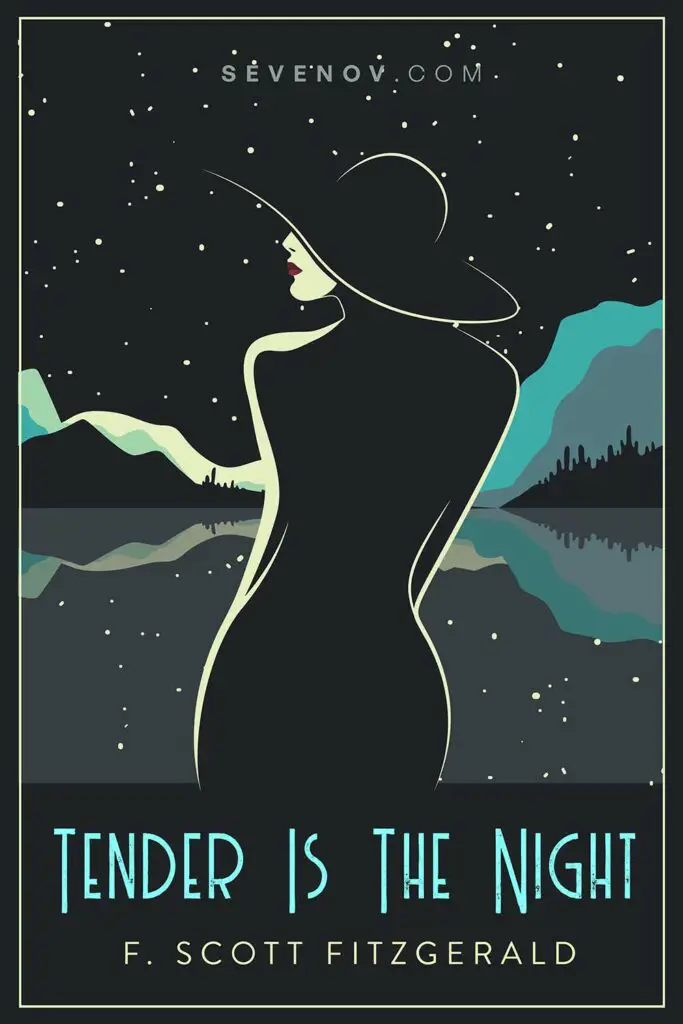 Tender is the Night by F. Scott Fitzgerald
Author: F. Scott Fitzgerald
Published: 1934
Genre: Drama, Romance, Tragedy
Tender is the Night by F. Scott Fitzgerald depicts the downward spiral of the romantic relationship between a promising young psychiatrist and his deteriorating patient. Set in the Jazz Age's sunset years, the novel echoes and reflects alcoholism taking over Fitzgerald's life and Zelda's declining mental state. 
1. Synopsis
Much like Fitzgerlad's other novels, Tender is the Night is a fictional representation of Fitzgerald's life experiences. Set in the French Riviera, the story follows budding Hollywood actress Rosemary Hoit as her encounter with psychiatrist Dick Diver and his patient cum wife Nicole Warren develops into a complicated love affair that eventually leads to unfortunate fates for the characters. The novel was Fitzgerald's last work that he completed right before his heart attack in 1940 and is regarded amongst Fitzgerald's best works.
2. Story Summary
2.1. Gausse's Hotel
The luxurious Gausse's Hotel in Tarmes, France, is the primary setting of Tender Is the Night in 1925. The novel's early chapters are presented through the eyes of seventeen-year-old actress Rosemary Hoyt while being told in the third person. During a holiday in Tarmes, she becomes acquainted with several Americans on holiday, including Dick Diver, a married man much older than her. She instantly feels drawn to him and tells her mother about it, who supports her daughter in chasing Dick. As a result, the scene is set for the affair that will eventually build the novel's suspense.
2.2. Trouble in the Riviera
Rosemary is invited to a party at the Divers later that evening. During the party, Mrs. McKisco overhears an episode in the restroom between Dick and Nicole that suggests a significant problem. After the party, Albert McKisco and Tommy Barban have a heated discussion about the incident, with Tommy defending the Divers' honor when McKisco insults them. The two men resolve to have a duel. Although the men do not injure one another, the combat displays their sentiments toward the Divers and the couple's social standing.
The following day, Rosemary joins the party as they leave for Paris. At their destination,  Rosemary expresses her love for Dick. Despite Rosemary's pleadings, Dick refuses to have intercourse with her, and their relationship stays platonic on the surface, despite their growing affections for one another. While the party waits for a train to take an intoxicated Abe North out of the city in Paris, Maria Wallis, an acquaintance of the Divers, shoots her lover in a fit of rage.  This incident is a premonition to the violence that will soon infiltrate the Divers' life.
2.3. Jules Peterson
By the following day, Abe is nowhere to be found. In actuality, Abe is still in Paris, where he has gotten into a blunder. While he was out drinking, Abe thought he was robbed, and Jules Peterson helped by acting as his key witness. However, Jules wrongly accuses a prominent black man of the robbery, and Jules, as his witness, is targeted by people seeking revenge for the wrong accusation. Abe decides to help Jules, and both men head to the Diver's hotel, hoping that Dick can help them.
When Abe knocks on Dick's door, Dick is in Rosemary's room getting intimate with her. Dick returns with Abe and Jules to his room and persuades Abe to leave for America immediately to avoid conflict.  When Rosemary enters her room after Abe has left, she discovers Jules dead on her bed from a gunshot wound. Rosemary's chamber is promptly cleared of all traces of Jules Peterson's murder by Dick, ensuring that she will be spared a scandal. Soon after, Rosemary witnesses an incident between Dick and his frantic wife, and she realizes what Mrs. McKisco saw back at the villa.
2.4. Dick and Nicole's Past
Tender is the Night introduces us to Dick and Nicole's past with a flashback to 1917. Dick is a 26-year-old psychiatric practitioner who has traveled to Zurich to study with Dr. Franz Gregorovius (Dr. Gregory). Shortly after arriving in Zurich, he is assigned to a clinic in France, where he meets Nicole Warren, a young patient whom he has met for a short while in Zurich. Diver returns to the Zurich clinic after the war is over, and Nicole's tale unfolds through his chats with Dr. Gregory. 
Devereux Warren, a wealthy American whose eighteen-year-old daughter, Nicole, has been having unusual "fits" and illusions of strangers abusing her sexually, has approached Dr. Gregory. Nicole had recently lost her mother and sibling, and Devereux admits to sexually assaulting his daughter when pressed. Dr. Gregory offers to rehabilitate the young woman if the father agrees to keep his distance from her for at least five years. 
Presently, Dr. Gregory acknowledges that the exchange of letters between Dick and Nicole has aided Nicole's rehabilitation, but he expresses his concerns about Dick's growing affection for her. Dick keeps his distance from Nicole for several months after that, focusing his efforts on his novel. During a break from writing, he travels to the Alps and meets Nicole and her sister, Baby Warren. During dinner, Baby reveals that she plans to bring Nicole back to Chicago, where she intends to "purchase" a doctor to marry and care for Nicole. Soon, Nicole strays from the table, and when Dick finds her, she kisses him. Dick is eventually persuaded to return to Zurich with Nicole, and the two marry within a few months.
2.5. Dick's Business Opportunity
The young couple soon grows accustomed to Nicole's wealth, and everything appears to be in order for a time. The book then moves forward to 1925 once more. Dick has realized that he no longer loves Nicole due to his blossoming yet physically unfulfilling affair with Rosemary. He also acknowledges that he hasn't put much effort into his writing or job since his marriage. Soon, Dr. Gregory arrives on the scene to inform Dick that a psychiatric clinic in Zurich is up for sale. Baby and Nicole inherit a large sum of money, allowing Dick to acquire the clinic. Despite his initial reluctance, Dick accepts Nicole's money and begins practicing with his former teacher.
2.6. Domestic Unrest
However, things at the clinic gradually deteriorate. Dick feels possessed by his wife Nicole and Baby, while Nicole, in turn, feels starved due to Dick's schedule. A previous patient accuses Dick of seducing her daughter, which is not wholly unfounded. Nicole becomes enraged and causes a commotion at a local fair during a family outing. Nicole snatches the steering wheel on the way home from the fair, driving the car off the road and almost killing her family. Dick leaves his spouse and the clinic to travel to Munich, where he meets Tommy, who has just saved a Russian prince. 
Tommy informs Dick that Abe has been battered to death in a New York speakeasy. Dick returns to his hotel alone, saddened, to discover that his father has passed via a telegram. Dick travels to Virginia, guilt-ridden, to attend his father's burial. Dick lands in Italy on his return to Europe, expecting to find Rosemary in Rome, where she is working on a new film. They kiss passionately and plan to meet again in her hotel room. During their second rendezvous, they consummated their relationship. Dick, however, does not experience the joy that he anticipated.
After a few more meetings, Dick discovers Rosemary no longer idolizes him and may have moved on, and he drowns his sorrows in alcohol. Dick picks a fight with the orchestra leader at a cabaret, then clashes with a cab driver before being arrested and punching a detective. Dick contacts Baby Warren from prison to bail him out. To calm him down, Dick is sedated by a doctor, with Baby smugly watching.
2.7. Career in Flames
When Dick returns to the clinic, he makes an excuse about his bruises. He becomes fond of a female painter suffering from skin disease, and when she dies unexpectedly, Dr. Gregory is forced to send him away due to his grief. Dick travels to Lausanne to meet a potential patient and soon discovers that Nicole's father is dying from liver failure induced by alcohol. 
Devereux's doctor tells Dick that before he dies, Devereux wants to see his daughter one last time. Nicole receives word of her father's illness and instantly rushes to Lausanne but just misses him. Soon, a patient gripes about Dick's alcoholic breath. Dick leaves the clinic, and Dr. Gregory arranges for Dick's share of the clinic to be purchased.
2.8. Drunken Antics
Dick and his family travel through Europe before returning to the villa, where a series of events build up to Dick's downfall. For example, during a party, Dick insults Lady Caroline Sibly-Biers on board T. F. Golding's boat. Nicole tries to talk to Dick on the yacht's deck, but he interrupts her and restrains her wrists while threatening to end their lives. This clash is the last straw for Nicole.
When Nicole and Dick travel to the beach together, Rosemary is also present. Dick tries to impress Rosemary by water skiing while hoisting a man on his shoulders. Rosemary witnesses him make a fool of himself, breaking her infatuation. Nicole permanently walks away from her husband after the encounter with Rosemary on the beach and sets out to seduce Tommy.
2.9. Ending
Nicole and Tommy make love at a neighboring hotel the next day. Tommy confronts Dick, stating that Nicole loves him and is seeking a divorce. Dick agrees silently and walks away without protesting.  Dick sends Nicole a message, makes a final gesture of farewell to the beach, and departs for America after spending a day with the kids. He attempts to settle down in Upstate New York, but scandals and dubious situations follow him everywhere. He silently vanishes after moving from one tiny community to another.
3. Characters
Dick Diver
As Tender is the Night's protagonist, he is introduced as a complex, attractive, and intelligent up-and-coming young psychiatrist. His academic credentials speak for themselves, especially his Rhodes scholarship. The central theme of Tender Is the Night is Dick and Nicole's marriage. Soon, the relationship becomes suffocating for him, and he develops feelings for other women, particularly Rosemary Hoyt. 
Dick is prone to letting temptation and self-indulgence get the best of him. While he soon realizes that Rosemary is too young and naive for him, his alcoholism has taken its toll on both his career and marriage. He is entirely alone by the end of the novel. Dick is regarded as a fictional projection of Fitzgerald himself. Both Dick and Fitzgerald have achieved considerable accolades in their early career, and they marry schizophrenically inclined women, Nicole Warren and Zelda Sayre, respectively. Moreover, Dick, like his creator, develops terrible alcoholism and witnesses his great talents deteriorate.
Rosemary Hoyt
A young and rising actress in Hollywood, Rosemary is attracted to the sense of security that Dick provides due to his age. Throughout the novel, she is the third party in the Divers' relationship. However, Rosemary soon realizes that her relationship with Dick has no future. She matures and decides to break off their relationship.
Nicole Warren
Born to the wealthy Chicago magnate, Devereux Warren, she meets Dick Diver when she is eighteen. Diagnosed with schizophrenia, the predominant cause of her condition is her sexual abuse by her father. Despite her illness, she develops feelings for Dick and starts a family with him. Throughout the novel, she is codependent on the males in her life, unable to see an alternative way of life.
Dick and Nicole become known as one of Europe's most stunning and elegant couples thanks to her fortune. Despite her aura of sophistication, Nicole is portrayed as codependent and weak, especially in her relationships. When Dick's drinking becomes intolerable near the novel's end, she finds solace in Tommy Barban, whom she later marries. Nicole mirrors Zelda Sayre, Fitzgerald's wife, in many ways. Many believe that the years of psychiatric issues during her marriage to Fitzgerald contributed heavily to the writer's diminishing writing ability, financial problems, and heavy drinking.
Tommy Barban
Tommy is a mercenary soldier who is half-American and half-European, with few refined attributes. Decisive and self-confident, Tommy's charisma does not stem from his wealth but from his character. Barban is introduced as a close friend of Dick and Nicole Diver. Fitzgerald portrays him as a man who knows exactly what he wants, and when the opportunity to steal Nicole presents itself, he does not hesitate. As the novel progresses, it becomes evident that Barban adores Nicole and successfully snatches her from Dick.
4. Themes
4.1. Gender, Mental Illness, and Psychiatry
In light of World War I, Fitzgerald explores the cultural anxieties and trauma that the war left through Nicole Warren and her schizophrenia. This character was likely inspired by Zelda Sayre's struggle with schizophrenia. Her condition left Fitzgerald no choice but to let his novels take a backseat and to focus on writing short stories which were far more profitable. 
Similarly, in Tender is the Night, the reader sees a promising young psychiatrist, Dick, abandon his career to care for Nicole, who also struggles with mental illness. The Divers' relationship mirrors Fitzgerald's marriage in these aspects. On the one hand, both Dick and Fitzgerald feel compelled to care for their wives, but on the other hand, this requires sacrificing their career progression. Overall, Tender is the Night examines the toll mental illness can have on the patient and the people around them.
4.2. The Pursuit of Youth and Innocence
The prosperity of the Jazz Age brought new possibilities for young Americans, who often traveled to Europe to escape the United States' puritanical moral codes and Prohibition. While the younger generations drank and smoked more, wore more revealing clothes, and expressed more sexually liberated behaviors, a moral panic increased among older generations, who feared the loss of innocence in society. Capturing this tension, Fitzgerald's characters in Tender is the Night are obsessed with the glamor of youth.
4.3. The American Dream
Set in the Roaring Twenties, Tender is the Night depicts a group of wealthy American expatriates traveling around Europe. The 1920s was a time of great prosperity for the West. Fitzgerald coined the term "the Jazz Age" to describe the glamor and decadence of the era. 
In Tender is the Night, Dick Diver embodies the American dream. His charisma and aspirations stand to bring him much success in life, but after years of excessive drinking, decadent parties, and irresponsible decisions, Dick's relationships are in shambles.
5. Writing Style
Scott Fitzgerald was primarily a novelist, and his tone in his novels is darker than in his lighter pieces, such as short tales. His writings incorporate many literary elements: metaphors, traditional descriptions, humorous and insightful turns, flat paragraphs, caustic parodies, etc. He favors language that creates a vivid mental image for his readers, enabling them to visualize the scenes of his novel in hyper detail. Furthermore, his language patterns, which consist primarily of compound-complex sentences, reflect the personalities and places. 
Initially, the reader is caught off-guard by the frivolous writing, which soon reveals itself to be mature, sensitive, and well-crafted in forming the settings of his novels.  He is sensitive to the rhythm of conversation, and his work reflects his understanding of the beat and pitch. His writing occasionally contains seemingly insignificant material used to create familiarity with the characters and setting.
6. Influence on Pop Culture and Legacy
6.1. Influence on Literature
Fitzgerald considered the novel his masterpiece and predicted it would outperform his earlier efforts regarding critical praise. Instead, it received mediocre reviews and tepid sales. 
Tender Is the Night's critical acclaim has steadily grown since Fitzgerald's death in 1940. It has been called "an immaculately produced piece of fiction" and "one of the best American novels" by later critics. It is now largely regarded as one of Fitzgerald's most accomplished works, with some critics agreeing with the author that it outperforms The Great Gatsby. Several scholars have viewed the novel as a feminist work, claiming that the critical condemnation was due to conservative 1930s patriarchal attitudes.
They've seen connections between Dick Diver and Jay Gatsby, with many critics hailing Tender Is the Night, especially Diver's character, as Fitzgerald's most emotionally and psychologically complex work. Fitzgerald's book, according to Christian Messenger, hinges on the preservation of sentimental fragments: "On an aesthetic level, Fitzgerald's working through of sentiment's broken premises and rhetoric in Tender heralds a triumph of modernism in his attempt to sustain his sentimental fragments and allegiances in new forms." He describes it as "F. Scott Fitzgerald's richest novel, complete with fascinating characters, magnificent prose, and shocking moments." 
6.2. Influence on Movies
A film adaptation casting Jason Robards as Dick Diver and Jennifer Jones as Nicole Diver was released in 1962. The film's soundtrack song "Tender Is the Night" was nominated for an Academy Award for Best Song in 1962. The BBC, 20th Century Fox Television, and Showtime Entertainment co-produced a television miniseries based on the book in 1985.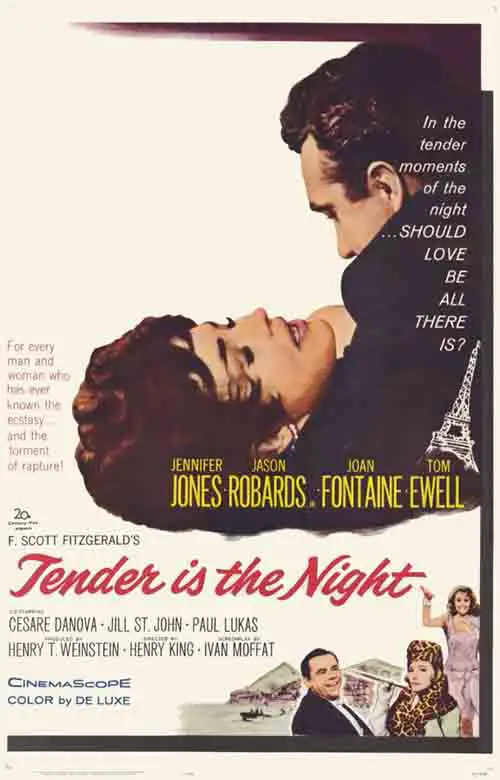 The Fitzgerald Estate granted permission for a stage adaption by Simon Levy to be performed at The Fountain Theatre in Los Angeles in 1995. It was nominated for various accolades, including the PEN Literary Award for Drama.
7. Quotes from Tender is the Night
"Actually that's my secret — I can't even talk about you to anybody because I don't want any more people to know how wonderful you are."
"I don't ask you to love me always like this, but I ask you to remember. Somewhere inside me there'll always be the person I am to-night."

Nicole Warren
"In any case you mustn't confuse a single failure with a final defeat."
"They were still in the happier stage of love. They were full of brave illusions about each other, tremendous illusions, so that the communion of self with self seemed to be on a plane where no other human relations mattered.
---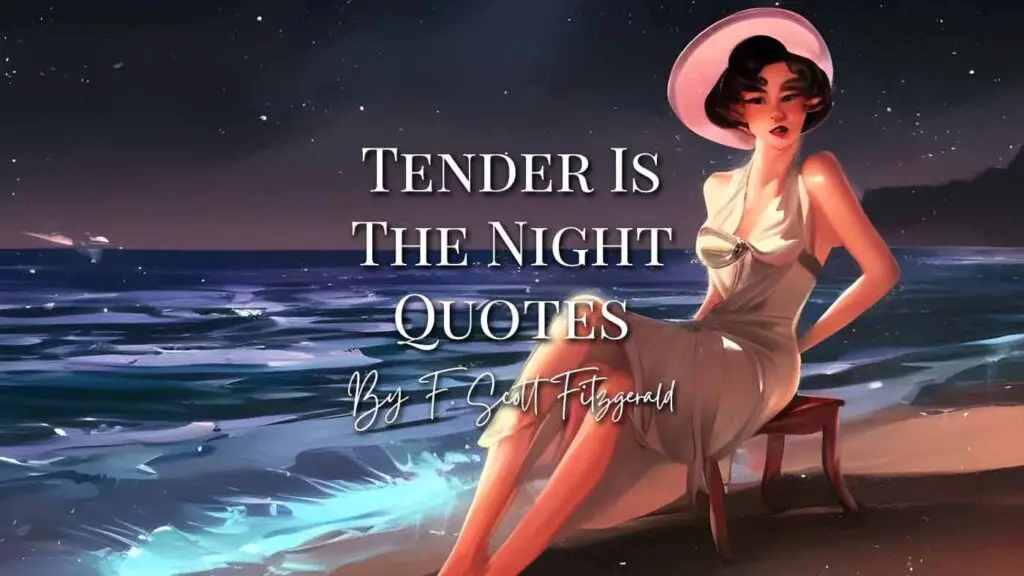 Recommended: Tender is the Night Quotes by F. Scott Fitzgerald
8. Notable Book Covers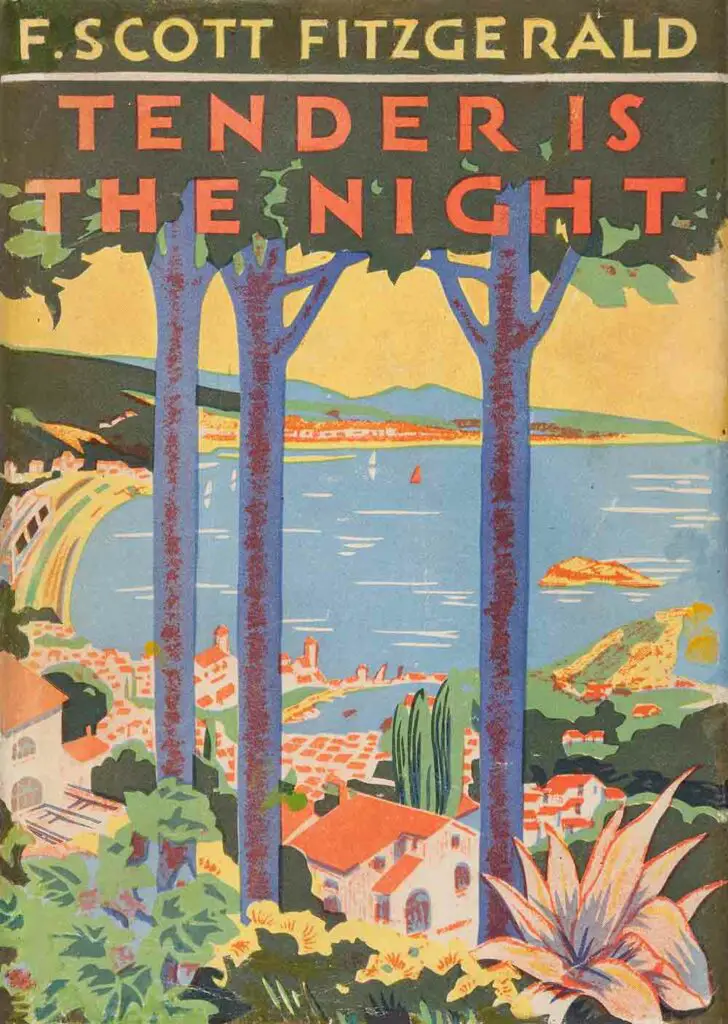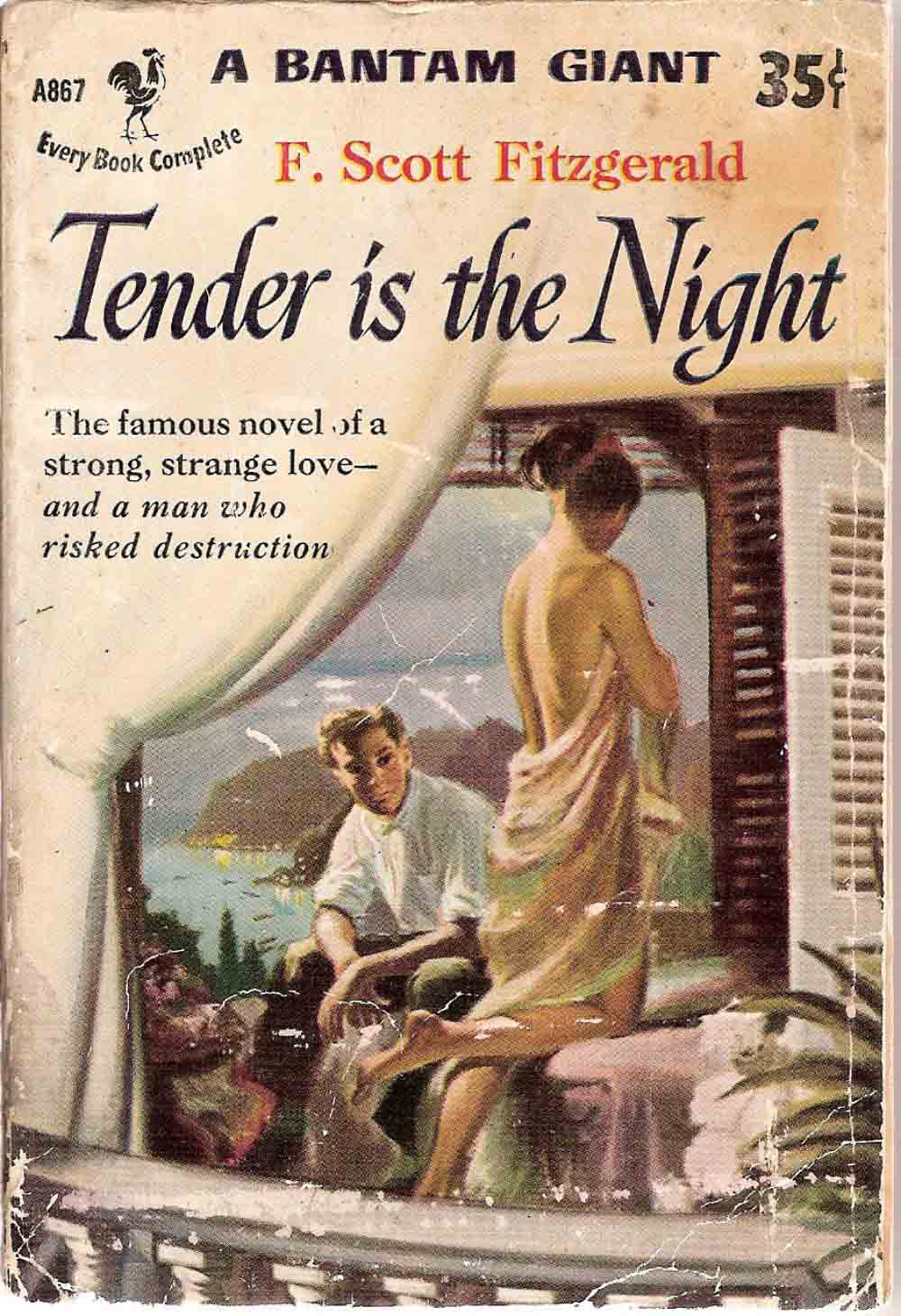 9. Frequently Asked Questions about Tender is the Night
What does the title Tender is the Night mean?
The phrase "Tender Is the Night" alludes to the novel's overarching tone, in which the characters are frequently enveloped in real and metaphorical darkness.
Is there romance in Tender is the Night?
Yes. The novel focuses significantly on the romantic relationships between the characters. 
Why did Fitzgerald write Tender is the Night?
Fitzgerald wrote Tender is the Night to mirror his and Zelda's life during this period, to seek an emotional outlet for the problems he faced.