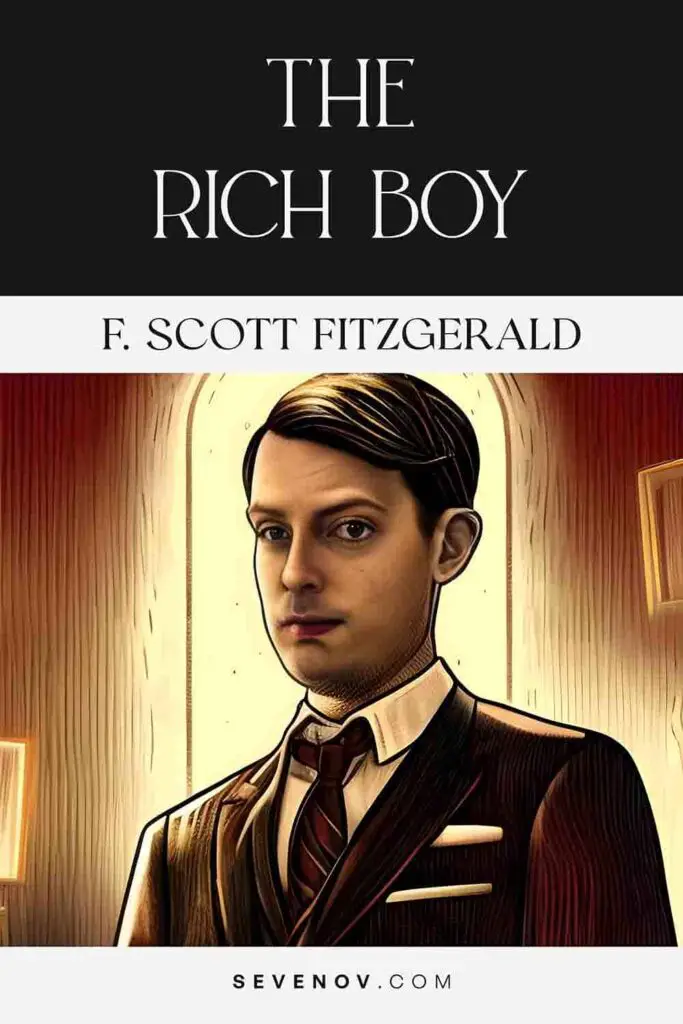 The Rich Boy by F. Scott Fitzgerald
Author: Francis Scott Fitzgerald 
Published: The Redbook Magazine (Jan/Feb 1926), All the Sad Young Men (1926)
Genre: Short Stories
"The Rich Boy" is a short story written by F. Scott Fitzgerald in 1926, and it was published in The Redbook Magazine and Fitzgerald's anthology, All the Sad Young Men, in the same year. Like a good portion of Fitzgerald's stories, "The Rich Boy" revolves heavily around the pursuit of wealth in the Jazz Age and how the individuals chasing after it develops. 
1. Synopsis
"The Rich Boy" follows Anson Hunter's life. He is born into a rich family that showers him with a privileged and luxurious life. However, Anson soon grows up and ventures into the world, finding that riches and wealth might not be all that matters. Like many of Fitzgerald's characters, Anson is based on someone Fitzgerald knows. In this case, Anson is heavily inspired by Ludlow Fowler, Fitzgerald's affluent classmate from Princeton. 
2. Story Summary
2.1. Anson Hunter
Growing up, Anson was indoctrinated with an elitist mindset. His father constantly told him that he wished for Anson to "grow up into right-living and successful men." Anson was an extremely sheltered individual who did not know anything outside his wealth and comfort bubble. Anson did not know the value of working for what he wanted, which translated into his poor attitude toward academics.
2.2. First Love
Anson meets Paula Legendre, who would later become his first love and fiancee. He likes Paula for her modesty, elegance, and similar upbringing and background. However, Anson's immaturity leads him to drink beyond his limit at a dinner between their families, and he behaves in an undignified manner. This behavior causes the Legendres to delay the wedding in shock at Anson's behavior. 
2.3. Courtship and Heartbreak
Nevertheless, Anson is determined to marry Paula, and the two continue to write to one another. Paula acknowledges that Anson has extraordinary charisma, but she can also recognize that he is arrogant and hedonistic, thinking he deserves things because of his social standing. Paula is not far from the truth, as Anson holds the opinion that he controls their relationship.
Before long, Paula decides to be engaged to another man instead, breaking Anson's heart. He soon begins a relationship with a girl named Dolly Karger, who is the exact opposite of Paula, to have a rebound for his feelings.
2.4. Cynicism
Anson and Dolly continue their casual relationship that soon turns toxic. Dolly often taunts Anson, saying that she has other options waiting for her. Anson has tried and failed to have intercourse with Dolly as Paula's face keeps reappearing in his head. He ends his relationship with Dolly, telling her he does not love her.
2.5. Advisor
Soon, Anson learns that both Paula and Dolly are married. He later discovers his aunt is cheating on his uncle and threatens to expose the affair to her husband and son. Unfortunately, her son finds out and kills himself. This tragedy causes his aunt and uncle to drive him away from their home. Anson begins to feel lonelier as he ages.
2.6 Ending
Some time has passed, and Anson runs into Paula, who is now pregnant. She reveals to Anson that her love for him was not genuine, which hurts him, but he still cannot see his faults. In an unfortunate turn of events, Paula dies giving birth, and the news saddens Anson, but it is not long before he begins to flirt with other women.
3. Characters
Anson Hunter
Charming and rich, what Anson has plenty of in physical appearance and wealth, he lacks in character. Anson is incredibly lazy and egotistical, unable to see his faults even at the end of the story.
Paula Legendre
Anson's his first love and fiancee. Ginevra King is the inspiration for this character.
4. Theme
Many critics liked "The Rich Boy" in particular. They appreciated its straightforward nature and how it handled such an important theme in a compact but nuanced manner. One of Fitzgerald's friends, Ring Lardner, even expressed how he wished "The Rich Boy" could be a novel.
"The Rich Boy" helped clarify Fitzgerald's stance on social class and wealth, a topic he passionately incorporated in all his works. For a long while, many thought Fitzgerald was envious, but "The Rich Boy" suggests that Fitzgerald was simply making observations of the social classes from his point of view on the wealth hierarchy. 
5. Quotes from The Rich Boy
"They are different from you and me…in a way that, unless you were born rich, it is very difficult to understand."
6. Frequently Asked Questions about The Rich Boy
Who is the narrator of The Rich Boy?
The narrator is a friend of Anson Hunter. However, he remains objective and critical of Anson.
Who is Ludlow Fowler?
Ludlow Fowler was a landscape architect and artist. Fitzgerald and Fowler met in Princeton, and Fowler eventually became Fitzgerald's best man at the writer's wedding.