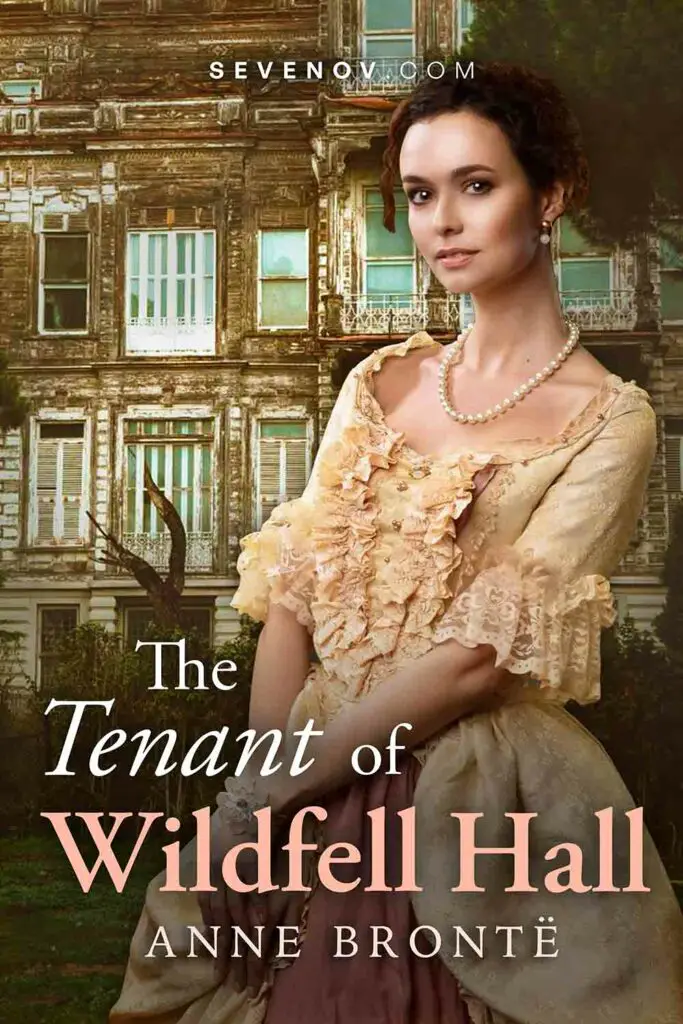 The Tenant of Wildfell Hall by Anne Brontë
Author: Anne Brontë
Published: 1848
Genre: Realistic, Romance
The Tenant of Wildfell Hall is an 1848 novel by Anne Brontë. It tells the story of Helen Graham, a woman who leaves her alcoholic husband, taking her son with her. She then builds a successful career as an artist and marries another man. The novel was an immediate success when it was first published, but Anne's sister, Charlotte, prevented its re-publication until 1854, which resulted in it becoming less well-known. 
The Tenant of Wildfell Hall is now considered one of the first feminist novels. Critics have appreciated its daring and accurate portrayal of women's oppression, alcoholism, and domestic abuse. As women writers were discriminated against at the time, Anne Brontë wrote under the androgynous pen name Acton Bell. 
1. Synopsis
Helen Graham, a mysterious widow, arrives at Wildfell Hall with her son. Defying social norms, she supports herself by painting and selling her work. Gilbert Markham, a local farmer, takes an interest in her and learns about her past through the diaries she gives him. In her diaries, Helen describes how her husband descended into alcoholism and debauchery in a dissolute aristocratic society. Unable to tolerate his behavior, Helen leaves her husband, taking her son with her as she fears his father will corrupt him.
2. Plot Summary
2.1. Wildfell Hall
A mysterious widow, Helen Graham, arrives at the mansion of Wildfell Hall with her son and servant. She attracts curiosity, and she and her young son, Arthur, are gradually introduced to members of their small community. The narrator, Gilbert Markham, is a twenty-four-year-old farmer who lives nearby. He casually courts Eliza Millward, a vicar's daughter, but loses interest in her when he grows closer to Helen. The jealous Eliza spreads scandalous rumors about Helen around town, but Gilbert refuses to believe them.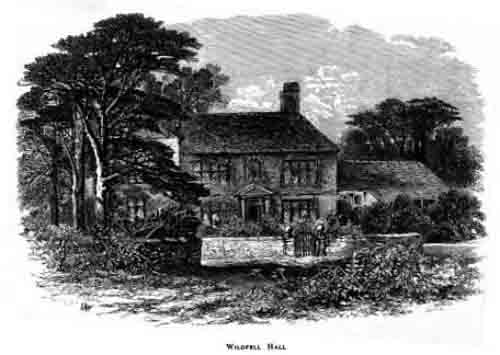 After overhearing part of a conversation between Helen and his friend, Mr. Lawrence, Gilbert mistakenly believes that the two of them are lovers. His belief is reinforced as her son, Arthur, resembles Mr. Lawrence. When Gilbert meets Mr. Lawrence in a nearby town, they get into an argument, and Gilbert strikes Mr. Lawrence with a whip, causing him to fall off his horse. Realizing that his violent behavior has distressed Helen, Gilbert goes to Wildfell Hall and explains the situation. After hearing the reason for Gilbert's attack, Helen gives him her diaries to clear up the misunderstanding. 
2.2. Helen's Diaries
Helen's diaries began seven years earlier, when she was eighteen. Before her marriage, she was known as Helen Lawrence and lived with her aunt and uncle. As a young and naive girl, Helen falls for the handsome Arthur Huntingdon. Huntingdon is attractive, witty, and charming, but he indulges in drink and tells Helen stories about how he bullies his friend, Lord Lowborough. Furthermore, he flirts with another woman named Annabella Wilmot and uses this to manipulate Helen. 
Despite being warned by her aunt, Helen insists on marrying Huntingdon as she believes she can reform him. When Huntingdon proposes to Helen, she accepts and moves into Grassdale Manor to live with him, becoming Helen Huntingdon. Meanwhile, Annabella Wilmot marries Huntingdon's friend, Lord Lowborough, and becomes Lady Lowborough.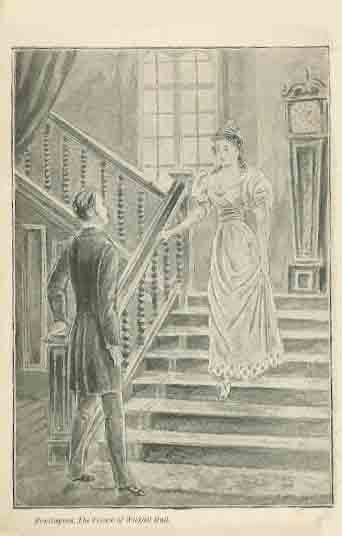 Helen's marriage to Huntingdon does not turn out as she expected. Huntingdon is unwilling to change his ways and continues drinking excessively and openly having an affair with Lady Lowborough. Although he is loving in the first days of their marriage, he quickly loses interest in Helen and leaves her at Grassdale manor for months to play around with friends in London. A year into their marriage, they have a son, Arthur. 
Arthur Huntingdon and his friends often hold drunken parties at Grassdale Manor. Among his friends are Lord Lowborough, a melancholic man who drinks to forget his sorrows; Mr. Hattersley, a cruel man who mistreats his meek wife, Milicent; Mr. Grimsby, a misogynist and Mr. Hargrave. Unlike the other men, Mr. Hargrave is polite to Helen and disapproves of Huntingdon's behavior. However, he is obsessed with her and becomes aggressive when she resists his advances. 
After several years of neglect and infidelity, Helen begs Huntingdon to let her leave with little Arthur. Afraid of the damage this might do to his reputation, Huntingdon refuses, and Helen rebels by no longer sleeping with him. 
Lord Lowborough finds out about his wife's affair with Huntingdon and divorces her. However, Helen is unable to divorce her unfaithful husband. As a married woman, she has no legal right to her property or money and is financially dependent on Huntingdon. She also faces obstacles in obtaining a legal divorce. 
Huntingdon teaches his son to swear and drink wine, making the young boy addicted to alcohol.  Concerned about her child's development and fed up with her disastrous marriage, Helen leaves Huntingdon without an official divorce, taking little Arthur with her.  
Unfortunately, Huntingdon discovers her plan to flee and retaliates by burning her art supplies and taking the money and jewels she had hidden away. Helen had secretly earned some money by selling her paintings and hoped to support herself with her painting skills after running away. 
Nevertheless, Helen runs away with little Arthur under an alias, Helen Graham. Her brother, Mr. Frederick Lawrence, helps her escape and lets her stay in Wildfell Hall, which he owns. 
2.3. Arthur Huntingdon's Death
After Gilbert reads the diaries, Helen asks him to leave her. As a woman who is already married, she cannot marry him. He understands and complies with her request. Later, he finds out that Helen has returned to Grassdale Manor to care for her dying husband. After a riding accident, Arthur Huntingdon falls gravely ill. Prolonged alcohol abuse has undermined his health and left him unable to recover from an otherwise mild injury. 
Despite Helen's attempts to save him, he continues to abuse alcohol, leading to his death. Even on his deathbed, Huntingdon is unrepentant. Helen believes in the doctrine of 'universal salvation,' which means that all sinners will be saved in the afterlife. Hence, she is assured that even her morally reprehensible husband will find redemption in the next world. 
2.4. Ending 
A year later, Gilbert hears a rumor that Helen is getting married. He returns to find that Mr. Lawrence is marrying Helen's friend Esther Hargrave, the sister of Mr. Hargrave. Helen is now wealthy and lives at Staningley estate with her aunt. Her uncle has passed away and left the estate to her.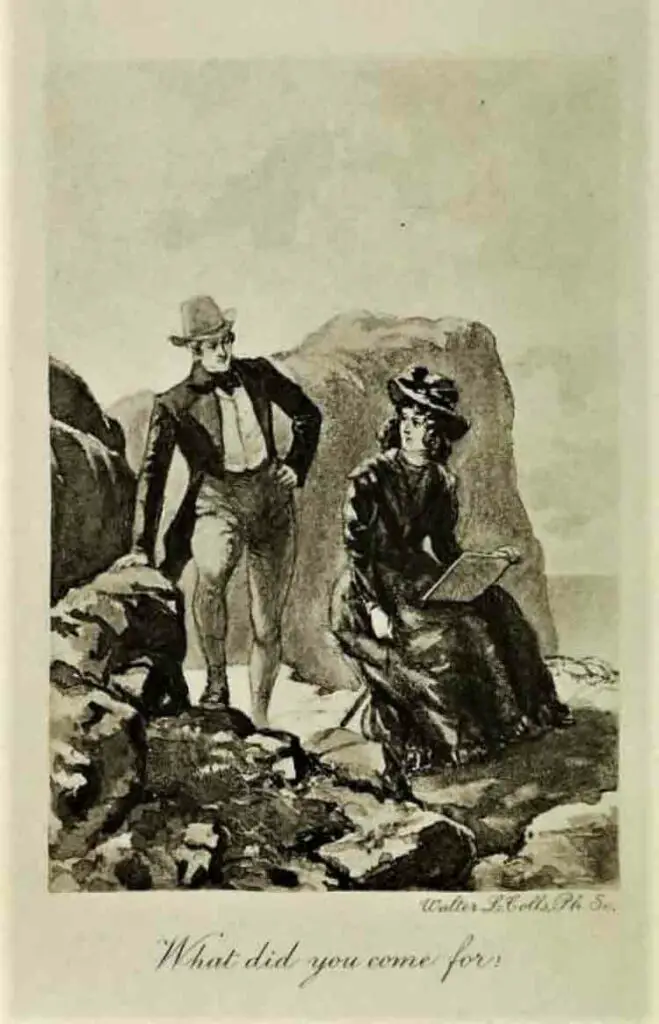 He goes to see Helen but is worried that she is too far above him in status. As he walks away from Staningley, Gilbert meets Helen, little Arthur and Helen's aunt. He asks Helen for her hand in marriage, and she agrees to marry him next summer. When the next summer arrives, Gilbert returns and obtains the approval of Helen's aunt to marry her. The two lovers get married and achieve happiness at last. 
3. Characters
Helen Graham / Helen Lawrence / Helen Huntingdon
Helen is the novel's protagonist, a kind, pious, and artistically talented woman. She was born in Wildfell Hall, but after her mother's death, she went to live with her aunt and uncle while her brother stayed with their father. A devoted mother, she desires to protect her son from his father's corrupting influence.
Gilbert Markham
A young farmer and the narrator of the novel, which is told through letters he writes to his friend, Jack Halford. He is initially immature, impulsive, and jealous, but he develops into a kinder person worthy of Helen. 
Master Arthur Huntingdon (Little Arthur)
At the beginning of The Tenant of Wildfell Hall, little Arthur is five years old and is the son of Arthur and Helen Huntingdon. He is taught to drink and swear by his father but becomes a calm and serious boy under the influence of his mother after she runs away with him. As he resembles his uncle, Mr. Lawrence, rumors are spread that Helen and Mr. Lawrence are lovers. 
Arthur Huntingdon
Arthur is Helen's husband, a handsome and wealthy but dissolute man. Filled with pride, he abuses everyone he considers beneath him, including his wife, child, servants, and pets. He is a philanderer and drinks excessively, accompanied by his degenerate friends. His life of heavy drinking leads to his premature death, which is both agonizing and terrifying for him. 
Mr. Maxwell
Helen's wealthy uncle. He dies near the end of The Tenant of Wildfell Hall and leaves Staningley's estate to Helen. 
Mrs. Peggy Maxwell
Helen's aunt. She is a wise woman who believes in the value of education. Aware of Arthur Huntingdon's moral failings, she warns Helen against marrying him. 
Mr. Frederick Lawrence
Mr. Frederick is Helen's brother and the owner of Wildfell Hall. He cares deeply for her even though they were raised apart and helps her escape her abusive husband. 
Annabella Wilmot / Lady Lowborough
Annabella is a pretty and selfish woman who likes to flirt. She cheats on her husband, Lord Lowborough, with Arthur Huntingdon. When Lord Lowborough discovers her affair, she ends up divorced and impoverished. 
Lord Lowborough
Lord Lowborough is one of Arthur Huntingdon's friends. He is a melancholic man who drinks to cope with his emotional problems. Other than alcohol, he is addicted to opium and gambling. After being brought to financial ruin, he finally changes his ways. 
Mr. Ralph Hattersley
Mr. Ralph is one of Arthur Huntingdon's friends and Milicent Hargrave's husband. He is an alcoholic who abuses his wife but later reforms and becomes a loving husband and father.  
Mr. Walter Hargrave
Mr. Walter is Arthur Huntingdon's hunting companion and neighbor. He pretends to be kind to Helen and takes advantage of her vulnerable position. When she refuses his advances, he turns aggressive. 
Milicent Hargrave
Milicent is Walter Hargrave's sister, Helen's friend, and Mr. Hattersley's wife. She is meek and accepts her husband's mistreatment without reproach. After Mr. Hattersley reforms himself, she becomes contented with him. 
Esther Hargrave
Esther is the younger sister of Walter and Milicent and Helen's friend. She is independent and determined to marry a man who is worthy of her. At the end of The Tenant of Wildfell Hall, she marries the kind and gentle Frederick Lawrence. 
Mrs. Hargrave
Mother of Walter, Milicent, and Esther Hargrave. She spoils her son but is stingy with her daughters, who she intends to marry off as soon as possible. 
Mr. Grimsby
One of Arthur Huntingdon's friends. A misogynist who helps Huntingdon conceal his affair with Lady Lowborough. He dies in a drunken brawl. 
Fergus Markham
Gilbert Markham's younger brother.
Rose Markham
Gilbert Markham's younger sister. She marries Jack Halford, to whom Gilbert is recounting his past in letters. 
Mrs. Markham
Gilbert Markham's mother. 
Eliza Millward
Eliza is Gilbert Markham's first love interest before he meets Helen. The daughter of a vicar, she is frivolous and likes to gossip. 
Mary Millward
Eliza's older sister. Plain, wise, and introverted, she is kind to children, animals, and the poor. 
The Rev. Michael Millward
Eliza and Mary's father. A rigid and close-minded man who looks down on those who disagree with him. 
Jane Wilson
Jane is Eliza's friend and a fellow gossiper. Jane tries to attract Mr. Lawrence, but he rejects her when he finds out about her hatred of his sister, Helen. 
Richard Wilson
Jane's brother. Eventually becomes the vicar of Lindenhope and marries Mary Millward. 
Robert Wilson
Jane and Richard's brother. He is a kind and friendly farmer.
Mrs. Wilson
Mrs. Wilson is the mother of Jane, Richard, and Robert. She is a gossiper like her daughter. 
Mr. Boarham
Mr. Boarham is one of Helen's suitors before her marriage to Huntingdon. Helen rejects him because of his bland personality. 
Mr. Wilmot
Mr. Wilmot is Annabella Wilmot's uncle and another of Helen's former suitors. He tries to seduce Helen at a party while drunk, but he repulses her.  
Rachel
Helen's servant. She is a good friend of Helen and has taken care of her since birth. 
Benson
A servant at Grassdale Manor. Helen speaks up for him when Huntingdon verbally abuses him. Later on, he helps Helen escape from Huntingdon. 
Alice Myers
Alice is Huntingdon's lover and little Arthur's governess. She leaves when her affair with Huntingdon is discovered.
Jack Halford
Jack is Gilbert Markham's friend and the recipient of his letters. He later marries Gilbert's sister, Rose Markham. 
4. Themes
4.1. Alcoholism
In The Tenant of Wildfell Hall, Anne Brontë depicts the harmful effects of excessive alcohol consumption on the mind and body of the individual, as well as on the family. Many male characters in the story are addicted to alcohol. Those who fail to change their ways die from their addiction eventually. 
Arthur Huntingdon, The Tenant of Wildfell Hall's main villain, leads an idle and indulgent lifestyle. To cope with his boredom, he drinks excessively, often to the point of incoherence. His drunkenness causes him to abuse his family, servants, and pets, as he loses all moral inhibitions. Although Helen loved him in the past, Arthur's out-of-control behavior kills any affection she has for him, and she flees from him with their child. 
On the other hand, his melancholic friend, Lord Lowborough, drinks to cope with his emotional problems and reforms his ways after facing financial ruin. Mr. Grimsby, a minor character, is also an alcoholic and dies in a drunken brawl, highlighting the misconception that drinking is linked to masculinity. 
The Tenant of Wildfell Hall's portrayal of alcohol addiction is unsparing and strips away the perceived glamor of drinking. Despite his wealth and good looks, Arthur Huntingdon is shown to be a violent, red-faced, and frivolous slob who only degrades his health and spirituality by drinking. When he comes home drunk, Helen describes him as "sick and stupid" and complains that he was "making noise enough for all the servants to hear," highlighting how his addiction had caused him to lose the social graces that were supposed to distinguish him as a gentleman. 
Moreover, The Tenant of Wildfell Hall focuses on how alcoholism affected the upper class. At the time, there was a stereotype that drunkenness was mainly found among the working poor. Temperance reformers preached to the poor, urging them to moderate their drinking to improve themselves and rise up in society. To dispel the stereotype that only the poor suffer from alcoholism, Anne Brontë shows how the upper class can fall prey to excessive drinking due to their idle lifestyle. Landed gentlemen like Arthur Huntingdon live on the labor of others and do not need to take up an occupation. As such, they are free to lead lives of indulgence and dissipation.
The insidious nature of alcohol addiction is also explored in The Tenant of Wildfell Hall. When Arthur is engaged to Helen, he assures her that he is "no tippler" and that he values his comfort and good looks too much to become the "slave of a single propensity." Without being aware of it, Arthur becomes addicted, not knowing when his drinking crossed the threshold. Ultimately, his awareness of the ill effects of excessive drinking does not save him from gradually sliding into alcoholism. 
4.2. Gender
In the Victorian era, the common belief was that women were meant to be the 'angel of the house.' In other words, they were supposed to keep the house in order and use their gentle nature to restrain their husband's behavior. As a young and naive girl, Helen believes she can become Huntingdon's "angel-monitress" and reform him after marriage. 
She finds out, however, that it is impossible to help someone who does not want to help himself. Instead of becoming the 'angel of the house,' she is abused by Huntingdon, who refuses to change his ways. The Tenant of Wildfell Hall thus critiques this womanhood ideal for being unrealistic and giving women the false belief that they can reform their husbands through their efforts.
The vulnerability of married women in the mid-19th century is also a central theme of The Tenant of Wildfell Hall. Married women in Anne Brontë's time had no legal right to own property, money, or control the custody of their children. The money they earned on their own legally belonged to their husbands. Hence, this left them financially dependent on their husbands, who could easily abuse their power over them. 
In The Tenant of Wildfell Hall, there is a dramatic scene where Huntingdon discovers Helen's plans to run away and retaliates by taking all her money and jewels and destroying her art supplies, with which she hoped to support herself. Legally, he has not done anything wrong as he is merely taking and destroying his property. 
Apart from being financially dependent, married women were vulnerable to domestic violence. During a drunken party, one of Huntingdon's friends, Mr. Hattersley, harasses his wife when she tries to leave. She urges him to leave her alone by saying, "Remember, we are not at home." Mr. Hattersley is undeterred and responds by "shaking her, and remorselessly crushing her slight arms in the gripe of his powerful fingers." 
This scene is disturbing as it implies that husbands are free to harass and abuse their wives at home, and they can hide their violence from society. Moreover, when Mr. Hargrave tries to stop Mr. Hattersley from abusing his sister, Mr. Hattersley tells him not to ​​"interfere between me and mine." This objection highlights the contemporary mindset that wives are their husbands' property, enabling abuse. 
4.3. Women Artists 
The Tenant of Wildfell Hall explores the obstacles women artists face in a male-dominated society. As a woman artist, Helen is able to earn some money and support herself and her child after running away. However, she has to sell her artwork through middlemen to avoid being subjected to prejudice against professional women artists. At the time, art was meant to be a decorative talent for women; they were not expected or encouraged to pursue it as a career. 
Moreover, the marital laws of the day made a woman's husband the legal owner of her artwork. This law gives Huntingdon the legal right to destroy Helen's paintings when he discovers her plans to flee from him. 
Lastly, women's art tends to be judged by the audience's gendered expectations rather than by its merits. When Huntingdon finds the young Helen working on a painting she intends to be her "masterpiece," he looks over the artwork for only a few seconds before giving his opinion, "Very pretty, i'faith! . . and a very fitting study for a young lady." 
Huntingdon treats Helen's painting dismissively and judges it by conformance to what he thinks women artists should depict in their art. He does not assess it by aesthetic principles but makes his commentary based on the gender of the artist. Without a fair assessment of their work, it is hard for women artists like Helen to win the respect of their audience. 
5. Quotes 
"If you would have your son to walk honorably through the world, you must not attempt to clear the stones from his path, but teach him to walk firmly over them – not insist upon leading him by the hand, but let him learn to go alone."

Gilbert Markham
"When I tell you not to marry without love, I do not advise you to marry for love alone – there are many, many other things to be considered."

Helen Graham
"I am only afraid his affection loses in depth where it gains in ardour. I sometimes liken it to a fire of dry twigs and branches compared with one of solid coal, very bright and hot; but if it should burn itself out and leave nothing but ashes behind."

Helen Graham
"But where hope rises, fear must lurk behind."

Helen Graham 
"I hate talking when there is no exchange of ideas or sentiments, and no good given or received"

Helen Graham
---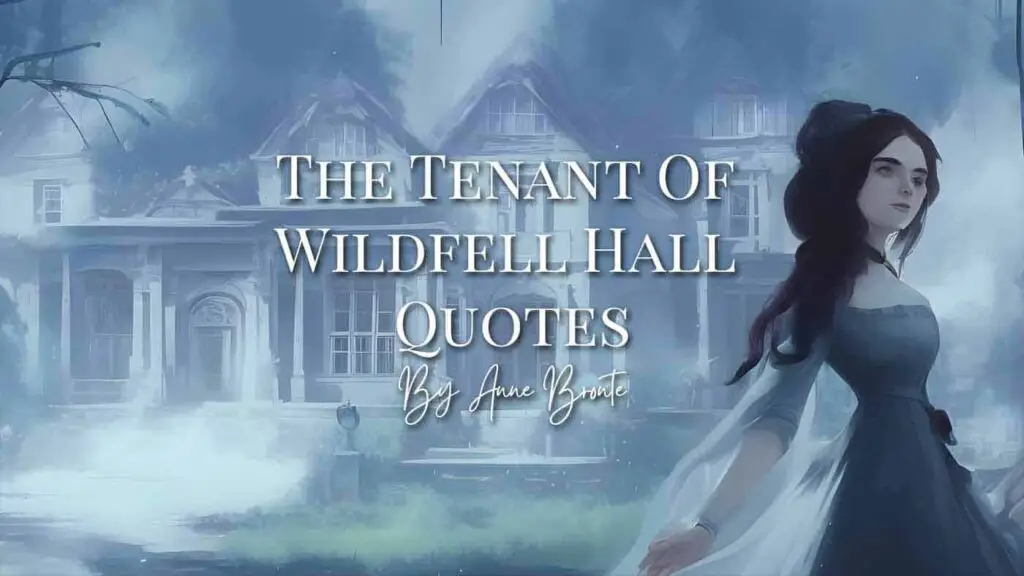 Recommended: The Tenant of Wildfell Hall Quotes by Anne Brontë
6. Notable Book Covers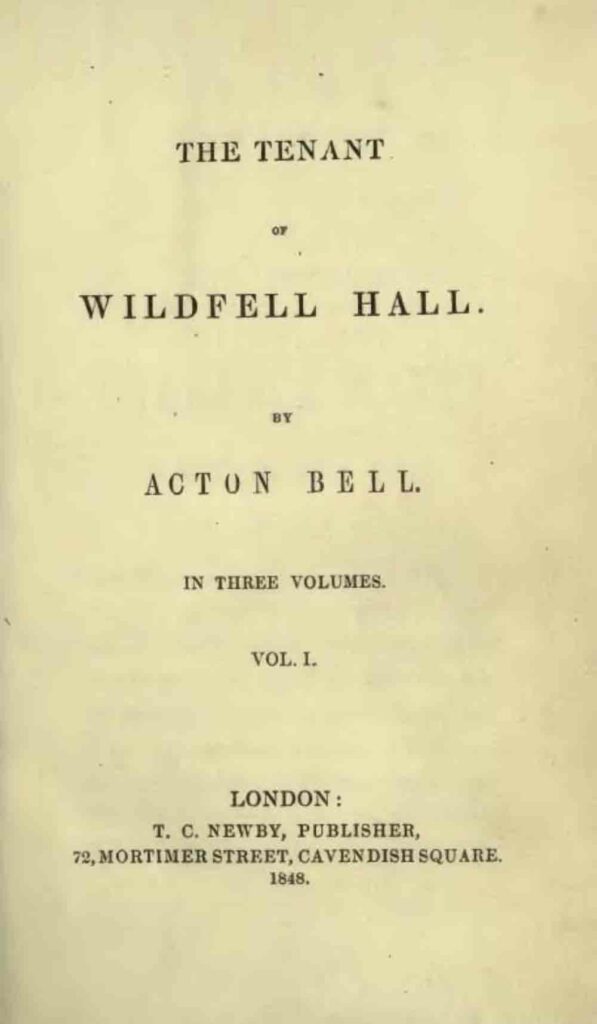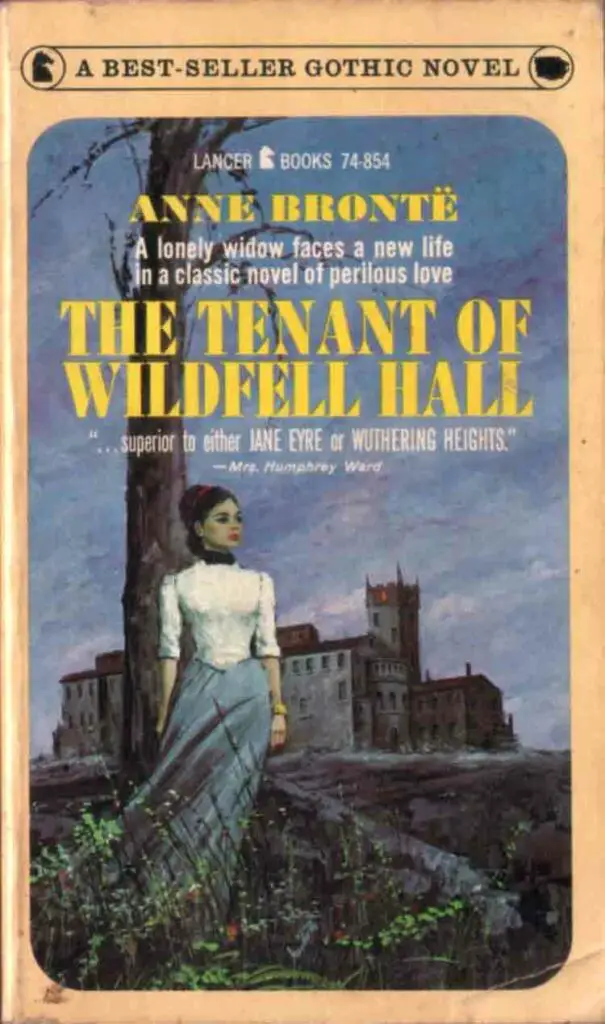 7. Frequently Asked Questions about The Tenant of Wildfell Hall
Who is the narrator of Wildfell Hall?
The novel's narrator is Gilbert Markham, a gentleman farmer who manages his father's business. He meets Helen when she moves into the nearby mansion of Wildfell Hall and falls in love with her. Helen gives him her diaries to clarify a misunderstanding that she and the owner of Wildfell Hall, Mr. Lawrence, are lovers. Through reading her diaries, Markham comes to learn about Helen's past. 
Who is Halford in Wildfell Hall?
The Tenant of Wildfell Hall is told through letters Gilbert Markham writes to his friend Jack Halford. Halford is also Markham's brother-in-law, having married his younger sister, Rose. 
Does The Tenant of Wildfell Hall have a happy ending?
​​The protagonist Helen Graham finds happiness in the end. She becomes wealthy after inheriting her uncle's estate and marries Gilbert Markham, a man who truly loves her. The two of them start a family of their own.