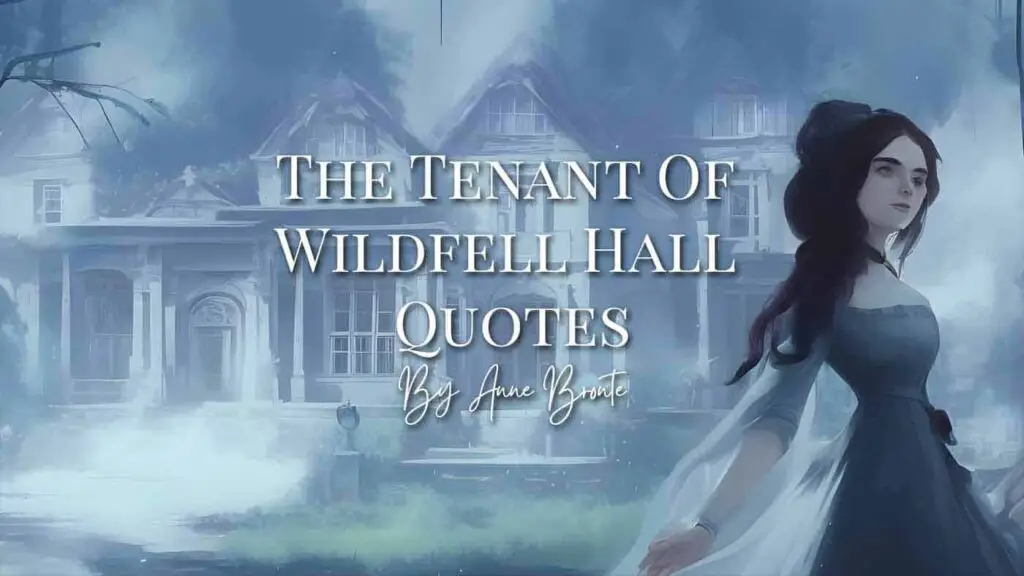 41 Best The Tenant of Wildfell Hall Quotes
The Tenant of Wildfell Hall is a novel by Anne Brontë, published in 1848. Set in the early 19th century, it tells the story of a young gentleman farmer, Gilbert Markham, who falls in love with Helen Graham, a mysterious tenant at Wildfell Hall. Through their tumultuous romance, readers get an inside look into Victorian society and its strict gender roles.
Anne Brontë wrote The Tenant of Wildfell Hall as a powerful critique of social values that she deemed oppressive to women. She uses her protagonist Helen Graham to demonstrate how women were treated unfairly and forced into submission through expectations placed upon them by men and society at large. This book is an essential piece of literature that offers insight into feminist thought during the Victorian era and demonstrates how far we have come since then.
The novel is beloved for its strong female characters and powerful quotes about love and life. Here are some of the most memorable quotes from The Tenant of Wildfell Hall: 
The Tenant of Wildfell Hall Quotes by Anne Brontë 
1
Although I maintain that if she were more perfect, she would be less interesting.
2
And when you have once extinguished my love, you will find it no easy matter to kindle it again.
3
Beauty is that quality which, next to money, is generally the most attractive to the worst kinds of men; and, therefore, it is likely to entail a great deal of trouble on the possessor.
4
He is very fond of me, almost too fond. I could do with less caressing and more rationality.
5
He never could have loved me, or he would not have resigned me so willingly.
6
His heart was like a sensitive plant, that opens for a moment in the sunshine, but curls up and shrinks into itself at the slightest touch of the finger, or the lightest breath of wind.
7
I cannot get him to write or speak in real, solid earnest. I don't much mind it now, but if it be always so, what shall I do with the serious part of myself?
8
I hate talking where there is no exchange of ideas or sentiments, and no good given or received.
9
I imagine there must be only a very, very few men in the world, that I should like to marry; and of those few, it is ten to one I may never be acquainted with one; or if I should, it is twenty to one he may not happen to be single, or to take a fancy to me.
10
I see that a man cannot give himself up to drinking without being miserable one-half his days and mad the other.
11
I was infatuated once with a foolish, besotted affection, that clung to him in spite of his unworthiness, but it is fairly gone now–wholly crushed and withered away; and he has none but himself and his vices to thank for it.
12
I wished to tell the truth, for truth always conveys its own moral to those who are able to receive it.
13
I would not send a poor girl into the world, unarmed against her foes, and ignorant of the snares that beset her path; nor would I watch and guard her, till, deprived of self-respect and self-reliance, she lost the power or the will to watch and guard herself.
14
I would rather admire you from this distance, fair lady, than be the partner of your home.
15
I would rather have your friendship than the love of any other woman in the world.
16
I would sooner die than relinquish her in favor of the best man that ever went to heaven.
17
If you had no higher motive than the approval of your fellow mortal, it would do you little good.
18
If you would have your son to walk honorably through the world, you must not attempt to clear the stones from his path, but teach him to walk firmly over them – not insist upon leading him by the hand, but let him learn to go alone.
19
Intimate acquaintance must precede real friendship.
20
"It grieves me to see you cherishing false hopes, and wasting your strength in useless efforts."
21
It is better to arm and strengthen your hero, than to disarm and enfeeble your foe.
22
It is deeds not words which must purchase my affection and esteem.
23
Increase of love brings increase of happiness, when it is mutual, and pure as that will be.
24
Keep a guard over your eyes and ears as the inlets of your heart, and over your lips as the outlet, lest they betray you in a moment of unwariness.
25
Matrimony is a serious thing.
26
My heart is too thoroughly dried to be broken in a hurry, and I mean to live as long as I can.
27
No one can be happy in eternal solitude.
28
No generous mind delights to oppress the weak, but rather to cherish and protect.
29
Smiles and tears are so alike with me, they are neither of them confined to any particular feelings: I often cry when I am happy, and smile when I am sad.
30
The rose I gave you was an emblem of my heart.
31
There is always a but in this imperfect world!
32
This rose is not so fragrant as a summer flower, but it has stood through hardships none of them could bear.
33
Those, whose time is fully occupied, seldom complain of solitude.
34
. . . we shouldn't always have what we want: it spoils the best of us, doesn't it?
35
What can't be cured must be endured.
36
When a lady condescends to apologise, there is no keeping one's anger.
37
When I tell you not to marry without love, I do not advise you to marry for love alone – there are many, many other things to be considered.
38
Who had taken a violent fancy to me, mistaking me for something vastly better than I was.
39
Within those eyes, there lurked a something that I did not like.
40
You are the most cold-hearted, unnatural, ungrateful woman I ever yet beheld!
41
You prefer her faults to other people's perfection.
You Might Be Interested…