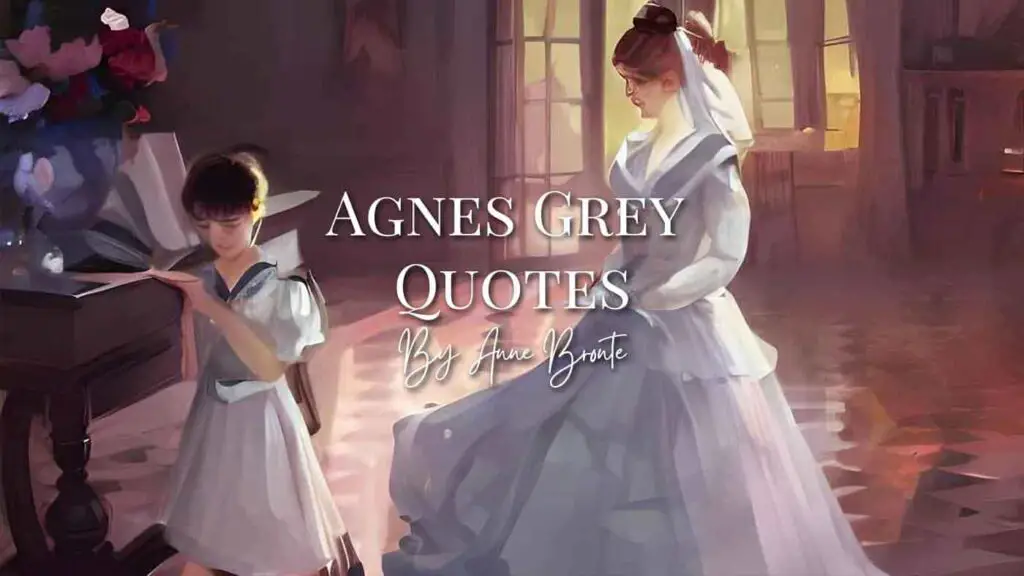 39 Best Agnes Grey Quotes
Agnes Grey is an 1847 novel by English author Anne Brontë. It was her first published work and followed the life of Agnes Grey, a governess to support her impoverished family. The novel explores themes of morality, societal expectations, and class through the eyes of its protagonist. The story is written in a realist style and is considered one of the earliest examples of the Victorian 'governess novel.' It is also an autobiographical novel reflecting Anne's experiences as a governess for five years.
The story follows Agnes as she seeks employment as a governess to help her struggling family financially. She eventually finds employment with two different families but struggles to navigate issues such as snobbery and manipulation from them due to their higher social status. Through her experiences with these families, she learns about patience, humility, and integrity. 
Agnes Grey is an incredibly inspiring character, and the story is full of wisdom and insight. Here are some of the best Agnes Grey quotes.
Agnes Grey Quotes by Anne Brontë
1
". . . and I imagine that, though cold and haughty in her general demeanor, and even exacting in her requirements, she has strong affections for those who can reach them . . ."
2
"Alas! how far the promise of anticipation exceeds the pleasure of possession!"
3
"All true histories contain instruction; though, in some, the treasure may be hard to find, and when found, so trivial in quantity, that the dry, shriveled kernel scarcely compensates for the trouble of cracking the nut."
4
"And why should he interest himself at all in my moral and intellectual capacities: what is it to him what I think or feel?" I asked myself. And my heart throbbed in answer to the question."
5
"But, God knows best, I concluded."
6
"But our wishes are like tinder: the flint and steel of circumstances are continually striking out sparks, which vanish immediately, unless they chance to fall upon the tinder of our wishes; then, they instantly ignite, and the flame of hope is kindled in a moment."
7
"He had not breathed a word of love, or dropped one hint of tenderness or affection, and yet I had been supremely happy."
8
"I always lacked common sense when taken by surprise."
9
"I am above eighteen, and quite able to take care of myself, and others too. You do not know half the wisdom and prudence I possess, because I have never been tried."
10
"I can conceive few situations more harassing than that wherein, however you may long for success, however you may labour to fulfil your duty, your efforts are baffled and set at nought by those beneath you, and unjustly censured and misjudged by those above."
11
"I gave up hoping…But still, I would think of him, I would cherish his image in my mind, and treasure every word, look, and gesture that my memory could retain."
12
"I had been seasoned by adversity, and tutored by experience, and I longed to redeem my lost honour in the eyes of those whose opinion was more than that of all the world to me."
13
"I still preserve those relics of past sufferings and experience, like pillars of witness set up in travelling through the valve of life, to mark particular occurrences."
14
"I wondered why so much beauty should be given to those who made so bad a use of it, and denied to some who would make it a benefit to both themselves and others."
15
"If happiness in this world is not for me, I will endeavour to promote the welfare of those around me, and my reward shall be hereafter."
16
"If you require perfection, you never will"
17
"It is foolish to wish for beauty. Sensible people never either desire it for themselves or care about it in others. If the mind be but well cultivated, and the heart well disposed, no one ever cares for the exterior."
18
"No, but still it is very unpleasant to live with such unimpressible, incomprehensible creatures. You cannot love them; and if you could, your love would be utterly thrown away: they could neither return it, nor value, nor understand it."
19
"Nobody knew him as I did; nobody could appreciate him as I did; nobody could love him as I—could."
20
"One bright day in the last week of February, I was walking in the park, enjoying the threefold luxury of solitude, a book, and pleasant weather."
21
"One glance he gave, one little smile at parting–it was but for a moment;but therein I read, a meaning that kindled in my heart a brighter flame of hope than had ever yet arisen."
22
"Reading is my favourite occupation, when I have leisure for it and books to read."
23
"To be near him, to hear him talk as he did talk, and to feel that he thought me worthy to be so spoken to – capable of understanding and duly appreciating such discourse – was enough."
24
"To think I could be such a fool as to fall in love! It is quite beneath the dignity of a woman to do such a thing."
25
"The best way to enjoy yourself is to do what is right and hate nobody"
26
"The end of Religion is not to teach us how to die, but how to live…."
27
"The flint and steel of circumstances are continually striking out sparks, which vanish immediately, unless they chance to fall upon the tinder of our wishes; then, they instantly ignite, and the flame of hope is kindled in a moment."
28
"The human heart is like india-rubber; a little swells it, but a great deal will not burst it. If 'little than nothing' will disturb it, than 'little less than all things' will suffice to break it."
29
"The ties that bind us to life are tougher than you imagine, or than any one can who has not felt how roughly they may be pulled without breaking."
30
"There are, I suppose, some men as vain, as selfish, and as heartless as she is, and, perhaps, such women may be useful to punish them."
31
"There is nothing like a cheerful mind to keep the body in health."
32
"Those whose actions are forever before our eyes, whose words are ever in our ears, will naturally lead us, albeit against our will, slowly, gradually, imperceptibly, perhaps, to act and speak as they do."
33
"What a fool you must be," said my head to my heart, or my sterner to my softer self."
34
"What business had I to think of one that never thought of me?"
35
"When we hear a little good and no harm of a person, it is easy and pleasant to imagine more."
36
"You cannot expect stone to be as pliable as clay."
37
"You don't know what happiness lies before you yet, you are now only in the commencement of your journey."
38
"You have no ground for hope: dismiss, at once, these hurtful thoughts and foolish wishes from your mind, and turn to your own duty, and the dull blank life that lies before you. You might have known such happiness was not for you."
39
"You think, because I always do as you bid me, I have no judgment of my own: but only try me—that is all I ask—and you shall see what I can do."
You Might Be Interested…