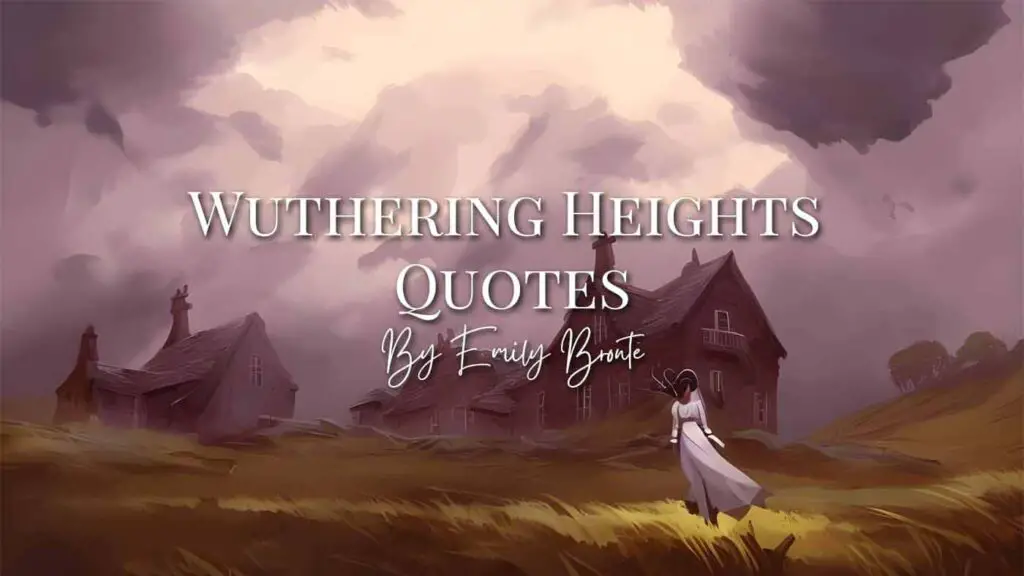 36 Best Wuthering Heights Quotes
Wuthering Heights quotes by Emily Brontë are some of the most iconic words ever written. The novel, published in 1847, tells the story of Heathcliff and his tumultuous relationship with Catherine Earnshaw. Through their intense love affair, Brontë explores themes of revenge, class conflict, and the power of emotions. 
The imagery used throughout Wuthering Heights is powerful and evocative; no matter the context or situation being described, there is always something profoundly moving about Brontë's words. Whether it's a passionate declaration between lovers or an ominous warning to a rival, Wuthering Heights' quotes encapsulate every emotion imaginably.
Wuthering Heights Quotes by Emily Brontë 
1
"A person who has not done one-half his day's work by ten o'clock, runs a chance of leaving the other half undone."
2
"'Are you possessed with a devil,' he pursued, savagely, 'to talk in that manner to me when you are dying?  Do you reflect that all those words will be branded in my memory, and eating deeper eternally after you have left me?'"
3
"Be with me always – take any form – drive me mad! only do not leave me in this abyss, where I cannot find you!"
4
"Do I want to live? . . . [W]ould you like to live with your soul in the grave?"
5
"Existence, after losing her, would be hell"
6
"He might as well plant an oak in a flowerpot, and expect it to thrive, as imagine he can restore her to vigour in the soil of his shallow cares!"
7
"He shall never know I love him."
8
"He's more myself than I am. Whatever our souls are made of, his and mine are the same."
9
"Honest people don't hide their deeds."
10
"I gave him my heart, and he took and pinched it to death; and flung it back to me. People feel with their hearts, Ellen, and since he has destroyed mine, I have not power to feel for him."
11
"I hate him for himself, but despise him for the memories he revives."
12
"I have not broken your heart – you have broken it; and in breaking it, you have broken mine."
13
"I have to remind myself to breathe—almost to remind my heart to beat!"
14
"I pray every night that I may live after him; because I would rather be miserable than that he should be — that proves I love him better than myself."
15
"I wish I were a girl again, half-savage and hardy, and free."
16
"I'll be as dirty as I please, and I like to be dirty, and I will be dirty!"
17
"I'm now quite cured of seeking pleasure in society, be it country or town.  A sensible man ought to find sufficient company in himself."
18
"I'm wearying to escape into that glorious world, and to be always there: not seeing it dimly through tears, and yearning for it through the walls of an aching heart: but really with it, and in it."
19
"I've dreamt in my life dreams that have stayed with me ever after, and changed my ideas: they've gone through and through me, like wine through water, and altered the colour of my mind. And this is one: I'm going to tell it—but take care not to smile at any part of it."
20
"If all else perished, and he remained, I should still continue to be; and if all else remained, and he were annihilated, the universe would turn to a mighty stranger."
21
"If he loved with all the powers of his puny being, he couldn't love as much in eighty years as I could in a day."
22
"If you ever looked at me once with what I know is in you, I would be your slave."
23
"In my soul and in my heart, I'm convinced I'm wrong!"
24
"It is for God to punish wicked people; we should learn to forgive."
25
"It was not the thorn bending to the honeysuckles, but the honeysuckles embracing the thorn."
26
"Make everything stop and stand still and never move again. Make the moors never change and you and I never change."
27
"My love for Linton is like the foliage in the woods: time will change it, I'm well aware, as winter changes the trees. My love for Heathcliff resembles the eternal rocks beneath: a source of little visible delight, but necessary."
28
"She was a wild, wicked slip of a girl. She burned too bright for this world."
29
"Terror made me cruel . . ."
30
"They forgot everything the minute they were together again."
31
"Time brought resignation, and a melancholy sweeter than common joy."
32
"Treachery and violence are spears pointed at both ends; they wound those who resort to them worse than their enemies."
33
"You know that I could as soon forget you as my existence!"
34
"You loved me—then what right had you to leave me?"
35
"You must forgive me, for I struggled only for you."
36
"Your presence is a moral poison that would contaminate the most virtuous"
You Might Be Interested…