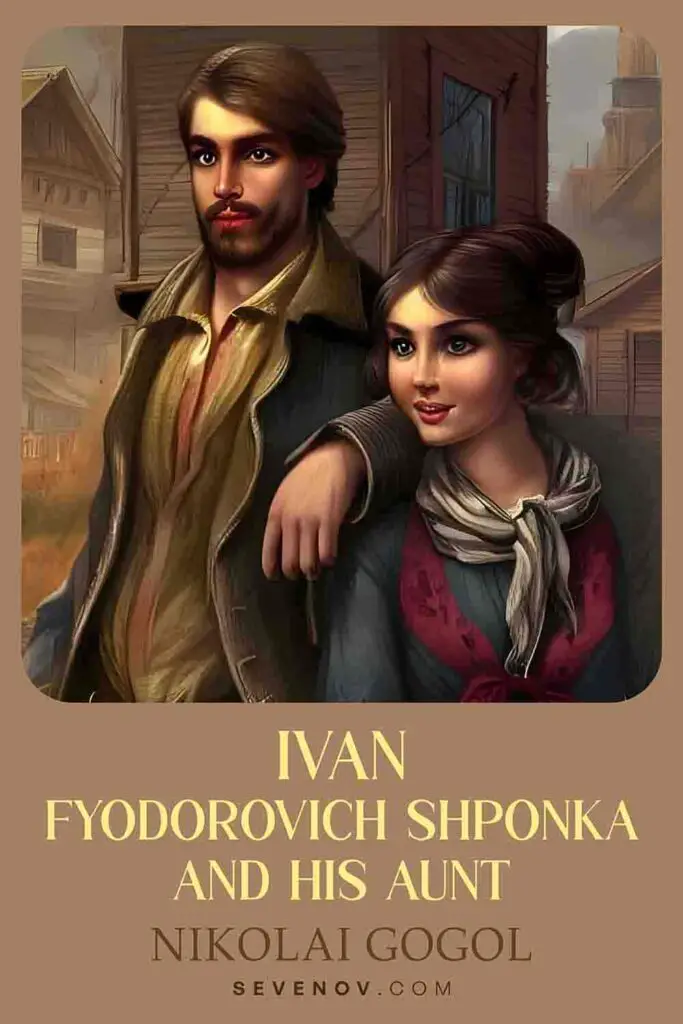 Ivan Fyodorovich Shponka and His Aunt by Nikolai Gogol
Author: Nikolai Gogol
Published: 1832
Genre: Short Story
"Ivan Fyodorovich Shponka and His Aunt" (Иван Фёдорович Шпонька и его тётушка, translit. Ivan Fyodorovich Shponka i yevo tyotushka) is a short story by Nikolai Gogol. It was first published in 1832 in the second volume of his short story collection, Evenings on a Farm Near Dikanka. 
1. Synopsis
Ivan Fyodorovich Shponka is a young man who is diligent though not very smart. After leaving the army, he is called back to manage the family estate by his incredibly strong and lively aunt, Vasilisa Tsupchevska. Under his aunt's guidance, Ivan slowly takes over the running of the estate, becoming a competent landlord. Soon, he learns that a neighboring estate also belongs to him, having been left to him by his mother's lover. 
2. Story Summary
Ivan Fyodorovich Shponka is a young man who has always impressed others with his diligence and well-behaved nature. In school, he won the favor of his feared Latin teacher and was made the class monitor despite there being students of more remarkable ability. Following graduation, he joins the military. After rising to become a lieutenant, Ivan's aunt calls him back home to manage the family estate in Gadyach, which he will inherit in the future. 
His aunt, Vasilisa Tsupchevska, is an extremely strong and spirited woman. She never married as the village men were too afraid to propose to her. With her competent management, Ivan's small estate had flourished while he was away. 
On the way back to Gadyach, Ivan stops at an inn where he meets Grigoriy Grigorevich Storchenko, a local landowner who greets him warmly. Storchenko invites Ivan to visit him at his estate, just four miles from Ivan's farm. The next day when Ivan wakes up, Storchenko has already left the inn. 
When Ivan arrives at his farm, he finds his aunt, Vasilisa, in perfect health, so strong and mannish that she is hardly a woman. Under her guidance, he learns how to manage the family estate and is praised by the other villagers for being a good landlord. 
One day, Vasilisa reveals to Ivan that a forty-acre estate located near theirs actually belongs to him. Ivan's mother had an affair with the owner of this estate in the past, which was why he left Ivan the deed for it. However, the deed passed into the hands of Storchenko, who now owns the estate. Ivan goes to see Storchenko, hoping to take back the deed. Storchenko treats Ivan to a sumptuous dinner and introduces him to his mother and two sisters. However, he denies the existence of the deed granting Ivan ownership of the forty-acre estate. 
When Ivan returns home, he tells his aunt about one of Storchenko's sisters, a beautiful blonde. Ivan's aunt becomes determined that he should marry the young lady and settle down. 
Ivan revisits Storchenko's estate; this time, he goes with his aunt. He is unable to hold a conversation with the blonde sister and only mentions that there are many houseflies in the summer. At night, Ivan has a nightmare about marriage. He dreams that he is married and that his wife has a goose's face. Everywhere Ivan turns, he sees wives with goose faces. A shopkeeper he visits in his dream sells wives as fabric and offers to cut one off for him. 
When Ivan wakes, he is terrified and covered in a cold sweat. The story ends with the mention of a next chapter that is not written.