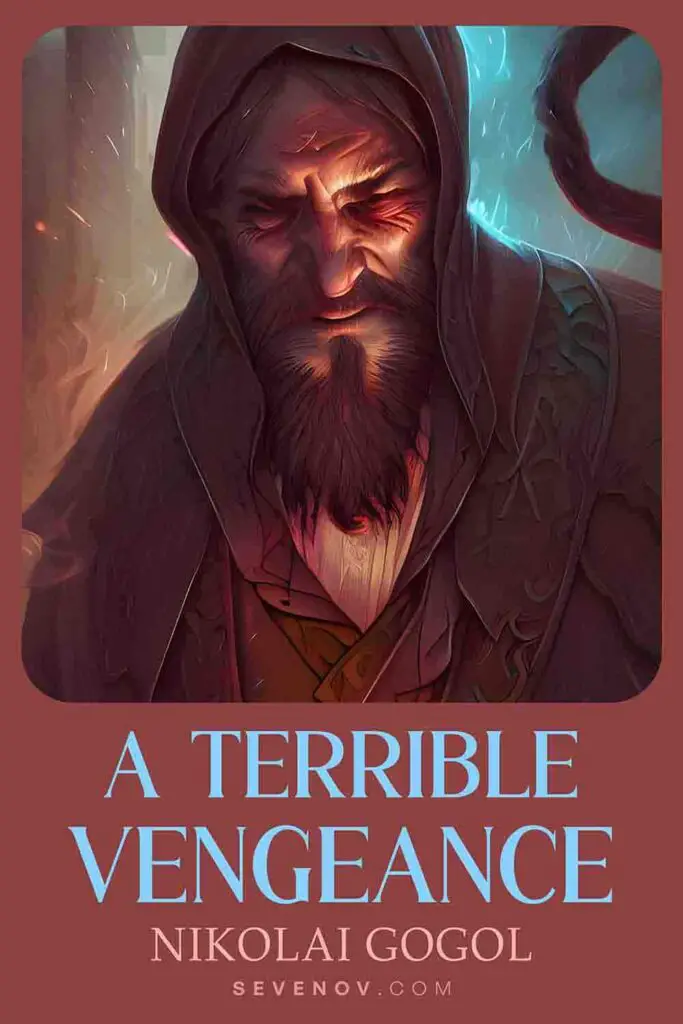 A Terrible Vengeance by Nikolai Gogol
Author: Nikolai Gogol
Published: 1832
Genre: Short Story
"A Terrible Vengeance" (Страшная месть, translit. Strashnaya mest') is a short story by Nikolai Gogol. It was first published in 1832 in the second volume of his short story collection, Evenings on a Farm Near Dikanka. 
1. Synopsis
Katerina and Danilo are two lovers tormented by a malicious sorcerer. They soon discover that this sorcerer is none other than Katerina's father, who is the incarnation of evil on earth, the Antichrist. Tragedy ensues as the lovers struggle against the sorcerer's powers. 
2. Story Summary
Danilo and Katerina are a young married couple who attend the wedding of a Cossack chief's son. At the wedding, the Cossack chief presents two holy icons, at the sight of which a stranger turns into a sorcerer and disappears. The following day, Katerina's father comes to her and Danilo's home and demands to know why she returned late last night. Katerina's father gets into a fight with Danilo and shoots him in the arm as Katerina begs them to make peace. 
Katerina confides in Danilo about a dream in which a sorcerer wants to marry her. Danilo realizes that the sorcerer in the dream is Katerina's father, who is also the Antichrist. A group of Cossacks capture Katerina's father and imprison him in the cellar of Danilo and Katerina's house. However, he manages to persuade Katerina to release him. 
After escaping, Katerina's father, the sorcerer, rallies together a band of Poles to seize Danilo's land. Danilo bravely repels the attack with the help of his fellow Cossacks. Tragically, the sorcerer shoots Danilo dead as the battle ends. 
The distraught and widowed Katerina is visited by a traveler who claims that Danilo told him to marry her if Danilo should die. Katerina realizes that this traveler is her father and tries to kill him with a knife. In the ensuing struggle, Katerina's father gets hold of the knife and kills her. 
After fleeing, the sorcerer passes by Mount Kriváň, where he meets a knight accompanied by a boy on horseback. The sorcerer then arrives at the Kiev Monastery of the Caves. There, he urges a spiritual elder to help him, but the elder refuses since he is already damned, so the sorcerer murders him. The knight from Mount Kriváň chases down the sorcerer and throws him into an abyss where the sorcerer's ancestors gnaw on his body for eternity.