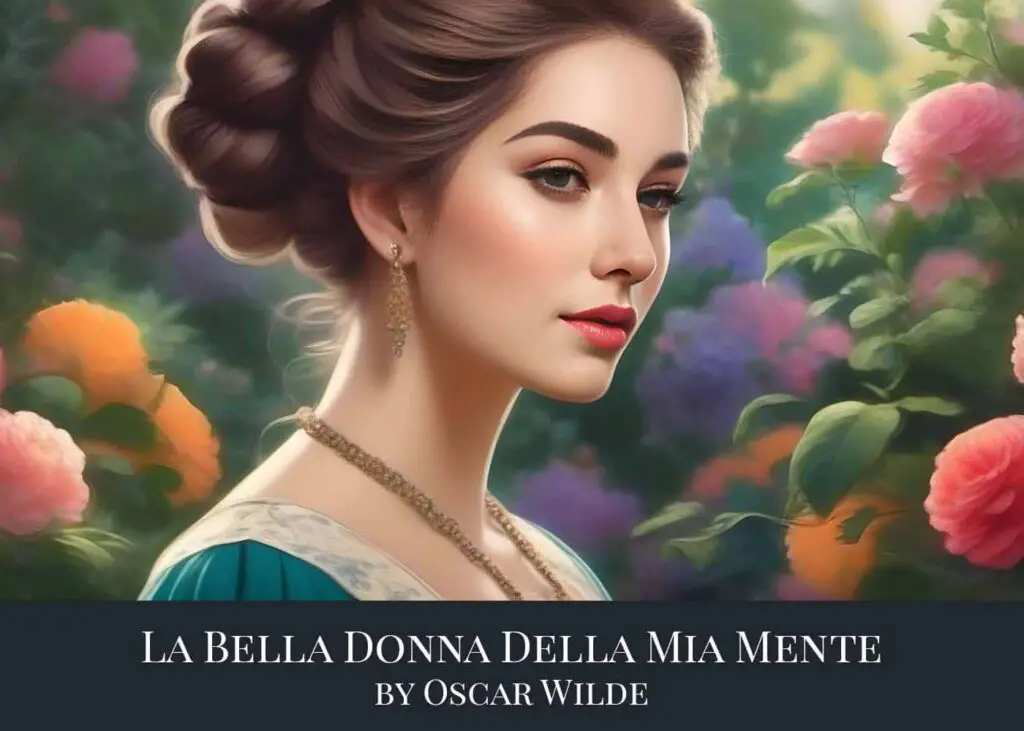 La Bella Donna Della Mia Mente by Oscar Wilde
"La Bella Donna Della Mia Mente" stands out as one of Irish wit, poet, and dramatist Oscar Wilde's more evocative poems, weaving a tapestry of unrequited love with rich imagery that transports readers into a realm of idealized beauty. As part of Wilde's poetry collection Poems, this piece showcases Wilde's lyrical prowess and deep romantic sensibility. For those intrigued by Wilde's poetic journey through love and longing, Poems is available to read at PageVio.
1. La Bella Donna Della Mia Mente
My limbs are wasted with a flame,
My feet are sore with travelling,
For, calling on my Lady's name,
My lips have now forgot to sing.
O Linnet in the wild-rose brake
Strain for my Love thy melody,
O Lark sing louder for love's sake,
My gentle Lady passeth by.
She is too fair for any man
To see or hold his heart's delight,
Fairer than Queen or courtesan
Or moonlit water in the night.
Her hair is bound with myrtle leaves,
(Green leaves upon her golden hair!)
Green grasses through the yellow sheaves
Of autumn corn are not more fair.
Her little lips, more made to kiss
Than to cry bitterly for pain,
Are tremulous as brook-water is,
Or roses after evening rain.
Her neck is like white melilote
Flushing for pleasure of the sun,
The throbbing of the linnet's throat
Is not so sweet to look upon.
As a pomegranate, cut in twain,
White-seeded, is her crimson mouth,
Her cheeks are as the fading stain
Where the peach reddens to the south.
O twining hands!  O delicate
White body made for love and pain!
O House of love!  O desolate
Pale flower beaten by the rain!
2. La Bella Donna Della Mia Mente Analysis
The poem you've provided is a rich tapestry of metaphor and emotion, evocative of the traditional themes of romantic and perhaps unrequited love. The speaker conveys deep feelings for his Lady through a series of vivid and pastoral images, while also expressing the physical and emotional toll his yearning has taken on him. Here is a breakdown of the poem, stanza by stanza:
First Stanza
The speaker begins by describing the physical toll that his longing for his Lady has taken on him. The "flame" may refer to the burning passion he feels, which has left his limbs wasted or weakened. The soreness of his feet suggests a long, possibly metaphorical, journey taken in pursuit of this love. The invocation of his Lady's name has been so constant that he has lost the ability to sing, implying that his love is all-consuming and leaves room for little else.
Second Stanza
The speaker calls upon birds, symbols of freedom and joy, to sing for his Lady because he is no longer able to express his feelings through song. The linnet and lark are both songbirds, and their singing is transformed into a serenade for the Lady as she passes by. There's an implicit contrast between the vitality and ease of the birds' songs and the speaker's own silence.
Third Stanza
The speaker extols the incomparable beauty of his Lady, saying she surpasses all others, be they queens, courtesans, or even the poetic beauty of moonlit water. This establishes the idealization of the Lady, a common trope in romantic and courtly love poetry, where the beloved is often put on a pedestal that seems almost beyond reach.
Fourth Stanza
This stanza focuses on the Lady's appearance, describing her hair adorned with myrtle leaves, which is a classical allusion to love and beauty (myrtle was sacred to Venus, the goddess of love). The juxtaposition of green leaves on golden hair is used to highlight her natural, yet extraordinary, beauty.
Fifth Stanza
Here, the speaker reflects on the delicacy and sweetness of the Lady's lips, which seem to him more suited to expressions of love than of sorrow. He compares her lips to brook water and roses after the rain, emphasizing purity, freshness, and a tender aspect of nature.
Sixth Stanza
The poem continues to praise the Lady's physical features, comparing her neck to the white flower of melilote (a sweet-scented plant) that flushes in the sun. The image of the linnet's throat throbbing sweetly as it sings is mirrored in the Lady's allure.
Seventh Stanza
The speaker uses the imagery of a pomegranate to describe her mouth—a fruit known for its many seeds and deep crimson color, suggesting both fertility and passionate love. Her cheeks are compared to the soft blush of a ripe peach, reinforcing the theme of natural, sensuous beauty.
Eighth Stanza
The final stanza reads almost like a lament, recognizing the fragility of the Lady's beauty and perhaps the ephemerality of youth and life itself. The hands, the white body, and the "House of Love" suggest a deep yearning for an intimate connection, which seems to be thwarted or unfulfilled, described as desolate. The "pale flower beaten by the rain" could imply the Lady's own struggles or vulnerabilities, or perhaps the speaker's sorrow at the love that is not reciprocated or cannot be attained.
Overall, the poem is a classical expression of romantic adoration, filled with nature imagery to convey the depth of the speaker's love and the exquisite beauty of the beloved, all while underpinning the melancholic tones of desire, unfulfillment, and the potential pain that often accompanies intense emotion.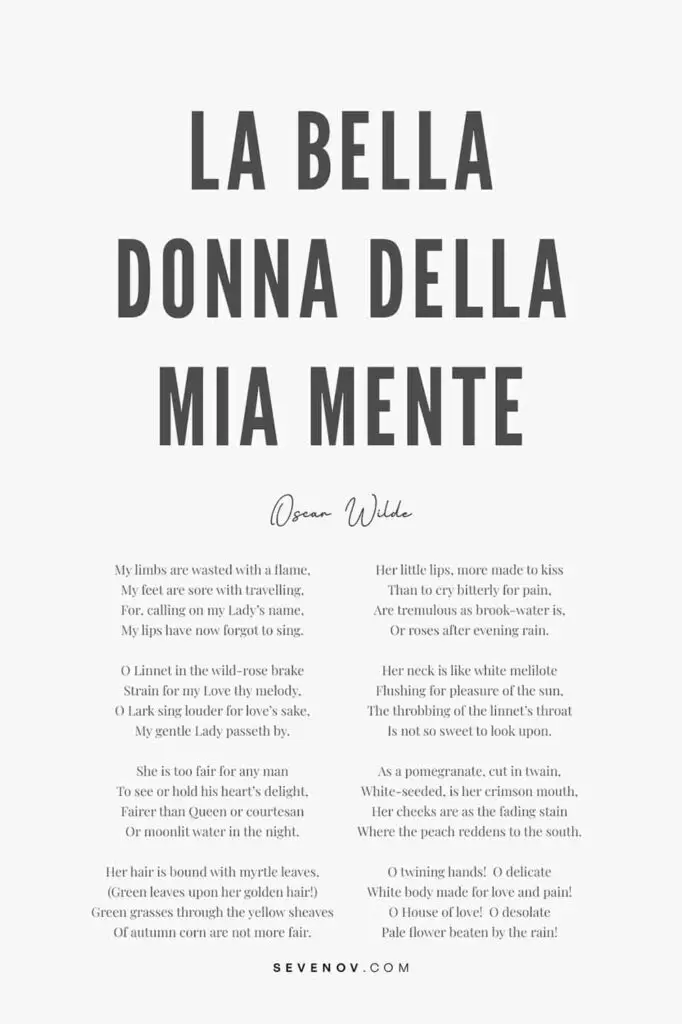 Download La Bella Donna Della Mia Mente Poster
Size: 8″ x 12″ (2:3 ratio)
Format: PDF
Copyright information: For personal use only
Note: Actual poster background color is white. For the sample poster, the background is made gray for illustration purpose.
3. Conclusion
If you enjoy "La Bella Donna Della Mia Mente," you might want to explore other poems written by Oscar Wilde.