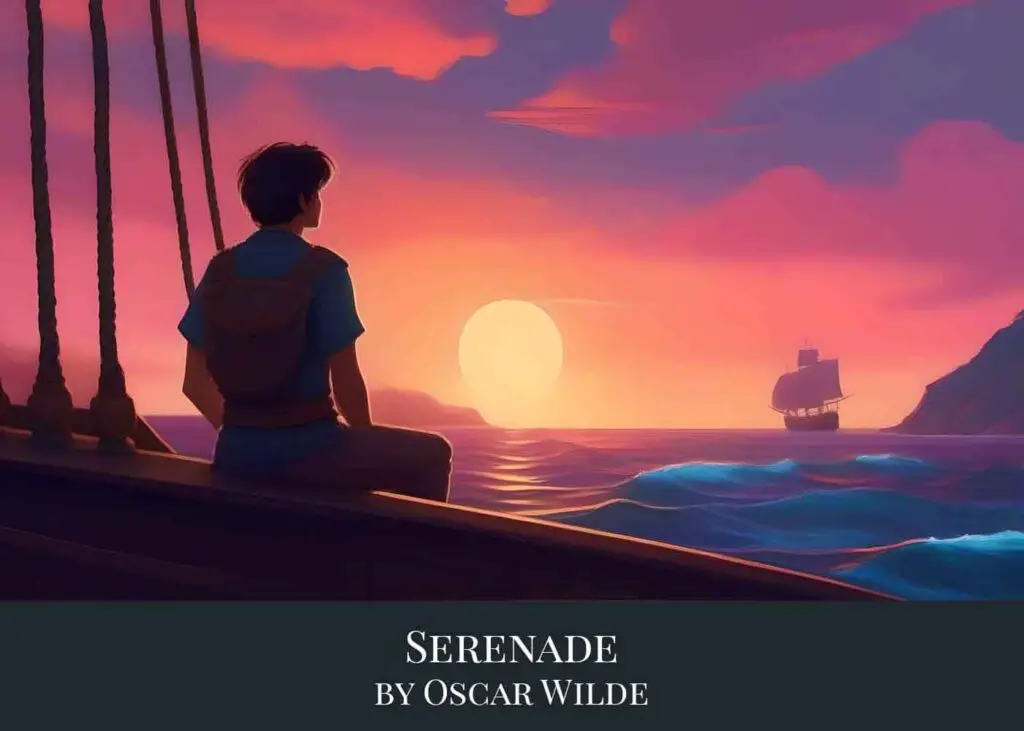 Serenade by Oscar Wilde
Delve into the stirring depths of "Serenade," a beautifully crafted poem by Irish writer, poet, and playwright Oscar Wilde, This lyrical piece explores the heartache of unreturned love against a backdrop of classical allure. "Serenade" is featured in Wilde's first poetry collection Poems. Readers captivated by Wilde's masterful use of emotion and imagery can immerse themselves in the Poems ebook available at PageVio.
1. Serenade
The western wind is blowing fair
Across the dark Ægean sea,
And at the secret marble stair
My Tyrian galley waits for thee.
Come down! the purple sail is spread,
The watchman sleeps within the town,
O leave thy lily-flowered bed,
O Lady mine come down, come down!
She will not come, I know her well,
Of lover's vows she hath no care,
And little good a man can tell
Of one so cruel and so fair.
True love is but a woman's toy,
They never know the lover's pain,
And I who loved as loves a boy
Must love in vain, must love in vain.
O noble pilot, tell me true,
Is that the sheen of golden hair?
Or is it but the tangled dew
That binds the passion-flowers there?
Good sailor come and tell me now
Is that my Lady's lily hand?
Or is it but the gleaming prow,
Or is it but the silver sand?
No! no! 'tis not the tangled dew,
'Tis not the silver-fretted sand,
It is my own dear Lady true
With golden hair and lily hand!
O noble pilot, steer for Troy,
Good sailor, ply the labouring oar,
This is the Queen of life and joy
Whom we must bear from Grecian shore!
The waning sky grows faint and blue,
It wants an hour still of day,
Aboard! aboard! my gallant crew,
O Lady mine, away! away!
O noble pilot, steer for Troy,
Good sailor, ply the labouring oar,
O loved as only loves a boy!
O loved for ever evermore!
2. Serenade Analysis
This poem is a narrative poem, which seems to be set during a time reminiscent of ancient Greek epics, and tells the story of a man in love with a woman who does not reciprocate his feelings. The language is highly romantic and symbolic, evoking the tragic and passionate themes of love and longing from classical mythology.
The first stanza paints a scene where the speaker is waiting by the Aegean Sea, a body of water near Greece, at a secret stair where his Tyrian galley (a ship from Tyre, a Phoenician city known for its purples) is moored. He calls for his lady to come down to him, emphasizing the clandestine and urgent nature of this meeting with imagery like "the purple sail is spread" and "the watchman sleeps within the town."
In the second stanza, the speaker reveals his despair, understanding that the lady will not come because she does not value the vows of a lover. He laments how she is indifferent to his love and how she is both "cruel and fair." The speaker feels that his love, youthful and fervent ("as loves a boy"), is doomed to be unrequited.
The third stanza shifts to a dialogue with a "noble pilot" or sailor, as the speaker mistakes natural elements like dew and sand for features of his beloved—her "golden hair" and "lily hand," indicating his obsession and perhaps a sense of hopeful delusion.
The fourth stanza clarifies these misunderstandings; what the speaker hoped was his lady turns out to be true—she is present with her "golden hair and lily hand." The urgency heightens as the speaker then commands the pilot and the sailor to set course for Troy, which could be an allusion to the famed city from Homer's epics or a symbolic destination representing a place of fulfillment and desire.
In the final stanza, the sky is described as "waning" and growing "faint and blue," indicating either the approaching dawn or twilight. The repeated calls to board the ship and the commands to the pilot and sailor underline a frantic, almost desperate desire to escape with the lady "of life and joy." The poem ends with the speaker expressing a timeless love ("O loved for ever evermore"), showcasing both the depth of his feelings and perhaps a touch of the melodrama that often accompanies unrequited or forbidden love.
Overall, the poem is rich in classical allusions and imagery, and it captures the timeless theme of passionate, unreturned love, which can lead to a blend of hope, desperation, and bittersweet longing.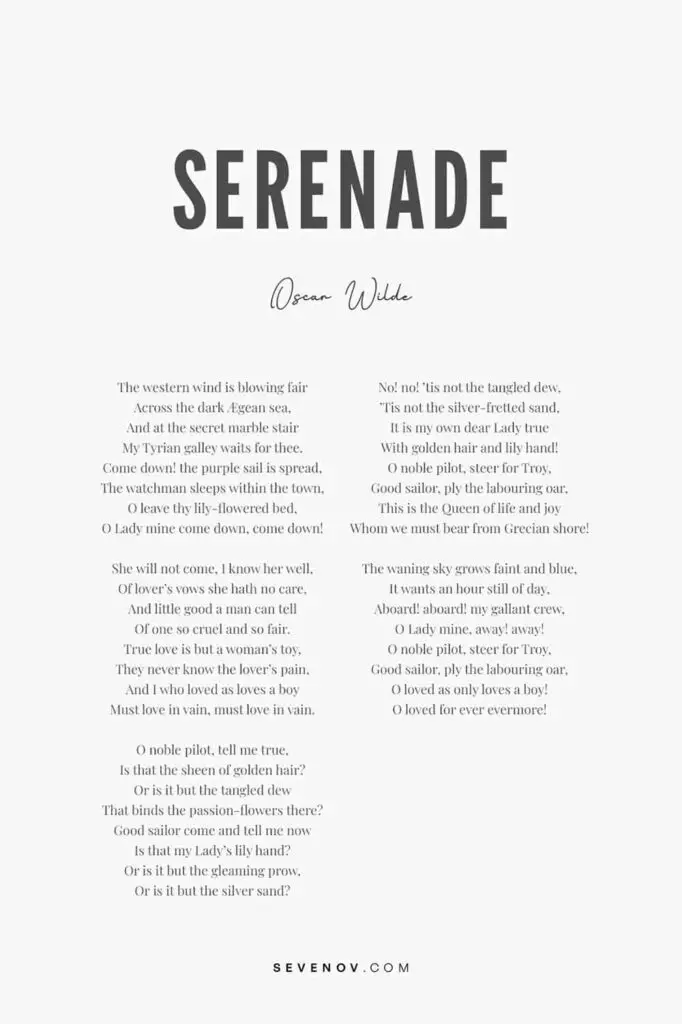 Size: 8″ x 12″ (2:3 ratio)
Format: PDF
Copyright information: For personal use only
Note: Actual poster background color is white. For the sample poster, the background is made gray for illustration purpose.
3. Conclusion
If "Serenade" appeals to your taste, you might find it intriguing to peruse a compilation of poems authored by Oscar Wilde.