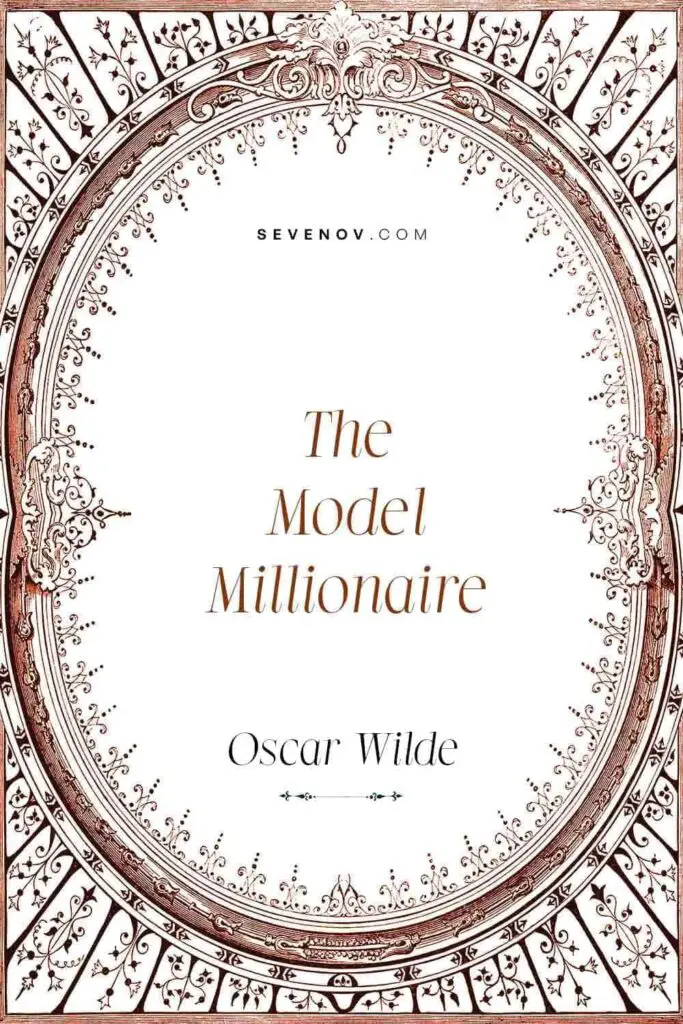 The Model Millionaire by Oscar Wilde
Author: Oscar Wilde 
Published: 1887 
Genre: Short Story
Oscar Wilde, renowned for his wit and satire, ventured into the world of short stories with "The Model Millionaire." Unlike his famous plays and novels, this story offers readers a different perspective—a glimpse into the world of kindness and generosity. It was first published in 1887, then anthologized in his collection Lord Arthur Savile's Crime and Other Stories in 1891. In this blog post, we'll delve into the heartwarming tale of "The Model Millionaire," exploring its synopsis, characters, themes, and the enduring lessons it imparts.
1. The Model Millionaire Synopsis
"The Model Millionaire" by Oscar Wilde tells the story of Hughie Erskine, a handsome but financially struggling young man who is in love with Laura Merton. Despite their mutual affection, Hughie lacks the wealth necessary to marry Laura, as her father insists on a £10,000 dowry. Hughie attempts various professions but fails to make money, leading to a life of charming but ineffectual idleness.
One day, while visiting his artist friend Alan Trevor, Hughie encounters a beggar whom Trevor is painting. Hughie's act of kindness toward the beggar unwittingly leads to a surprising turn of events involving a wealthy benefactor, Baron Hausberg.
The story explores themes of wealth, generosity, appearances, and societal expectations. It offers a humorous twist when Hughie's seemingly charitable act has unexpected consequences. Ultimately, the narrative highlights the unpredictable nature of life and the importance of kindness, even in the face of societal norms and expectations.
2. The Model Millionaire Summary
In Oscar Wilde's "The Model Millionaire," the story revolves around Hughie Erskine, a young and handsome man who lacks wealth but possesses charm and a good heart. He is in love with Laura Merton, but her father, a retired Colonel, insists that Hughie must have £10,000 of his own before they can marry. Hughie struggles to find a way to acquire this wealth.
One day, while visiting his friend Alan Trevor, a painter, Hughie encounters a beggar who serves as Trevor's model. Feeling sorry for the beggar, Hughie gives him a sovereign. Little does he know that the beggar is actually Baron Hausberg, a millionaire who appreciates Hughie's generosity.
Later, Baron Hausberg rewards Hughie's kindness by sending him a letter with a wedding present—a cheque for £10,000. Hughie and Laura get married, and Alan Trevor, the best man, remarks that while millionaire models are rare, model millionaires like Hughie are even rarer.
3. Characters
Hughie Erskine – The protagonist of the story, Hughie is a compassionate young man who wishes to marry Laura Merton but lacks the financial means. He exemplifies kindness and selflessness throughout the narrative.
Baron Hausberg – A wealthy and enigmatic millionaire who offers Hughie a substantial sum of money in exchange for a seemingly simple task. He serves as a catalyst for the story's events.
Laura Merton – The woman Hughie loves and wishes to marry. Laura's father's concerns about her financial well-being create an obstacle to their union.
Alan Trevor – Hughie's artist friend who introduces him to Baron Hausberg. Trevor provides insight and guidance to Hughie, shedding light on the true nature of the Baron's request.
4. Themes
Generosity and Kindness – "The Model Millionaire" underscores the value of genuine kindness and selflessness. Hughie's act of helping the Baron's goddaughter, even at his own expense, exemplifies the theme of generosity.
Social Class – The story explores the social divide between the wealthy elite and those with more modest means. Hughie's initial predicament highlights the challenges faced by those from lower social classes.
Appearances vs. Reality – The narrative challenges the notion of appearances, as Hughie, a seemingly penniless man, is revealed to possess true wealth in his generous heart.
5. Conclusion – A Glimpse into Generosity
Oscar Wilde's "The Model Millionaire" is a delightful departure from his usual satirical works, offering readers a heartwarming tale of kindness, generosity, and the true value of wealth. Through the character of Hughie Erskine, Wilde emphasizes the importance of compassion and selflessness in a world often preoccupied with material wealth. "The Model Millionaire" reminds us that true riches lie not in monetary wealth but in the goodness of one's heart.