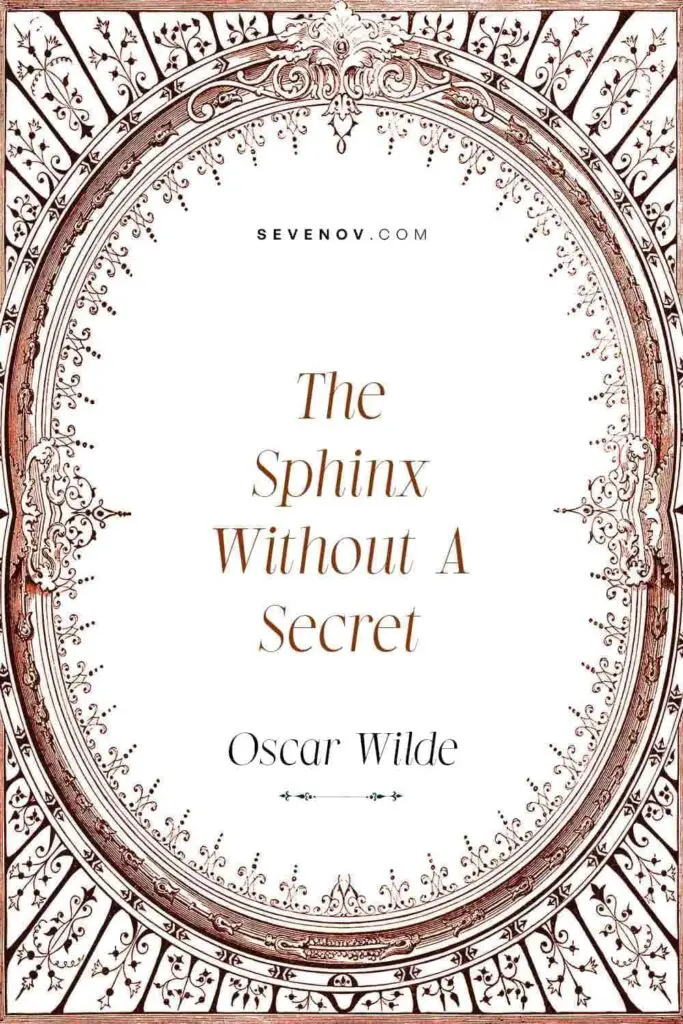 The Sphinx Without a Secret by Oscar Wilde
Author: Oscar Wilde 
Published: 1887 
Genre: Short Story
Oscar Wilde, known for his wit and humor, also delved into mysterious and enigmatic tales. "The Sphinx Without a Secret" is a lesser-known gem among his works, blending elements of mystery, romance, and human nature. It is first published in 1887, then anthologized in his collection Lord Arthur Savile's Crime and Other Stories in 1891. In this blog post, we'll delve into the intriguing world of this short story, exploring its synopsis, themes, characters, and the deeper meanings that lie beneath the surface.
1. The Sphinx Without a Secret Synopsis
"The Sphinx Without a Secret" is a brief yet captivating tale that centers around a chance encounter between two characters, Lord Murchison and the enigmatic Sphinx. Lord Murchison, a gentleman about town, becomes infatuated with the Sphinx, an alluring woman who conceals her past and surrounds herself with an aura of mystery. This infatuation leads Lord Murchison down a path of obsession, as he tries to unravel the secrets hidden beneath the Sphinx's enigmatic façade.
2. The Sphinx Without a Secret Summary
Lord Murchison, a college friend, encounters the enigmatic Lady Alroy on the streets of London. His infatuation with her beauty and mystery leads to a passionate but secretive romance. Lady Alroy, seemingly veiled in enigma, frequents a rented apartment alone, sparking Lord Murchison's curiosity. Eventually, he confronts her with evidence of her secret life, leading to a confrontation and her tragic death. Later, a visit to the apartment reveals that she merely indulged in a fascination for mystery, with no actual secrets. Lord Murchison is left pondering the depth of her enigma.
3. Themes
1. Obsession and Intrigue: The story delves into the consequences of obsession when one becomes fixated on unraveling the mysteries of another person's life.
2. Illusion vs. Reality: It questions whether the image people project is genuine or merely an illusion.
3. Secrecy and Privacy: The Sphinx's desire for privacy raises questions about the boundaries of personal secrets and public personas.
4. Human Nature: It highlights our inclination to be captivated by the unknown and the allure of enigmatic individuals.
4. Characters
Lord Murchison – A wealthy and curious gentleman who becomes obsessed with the Sphinx.
The Sphinx – A mysterious woman who conceals her past and captivates Lord Murchison.
5. Conclusion
"The Sphinx Without a Secret" is a captivating exploration of human nature, obsession, and the allure of enigmatic individuals. Wilde's storytelling prowess shines in this short yet impactful narrative. It serves as a reminder that sometimes, the greatest mysteries lie within ourselves, and the pursuit of secrets can lead to unexpected revelations.
So, dive into this enigmatic tale, and let Wilde's words unravel the mysteries of the Sphinx and the human heart.