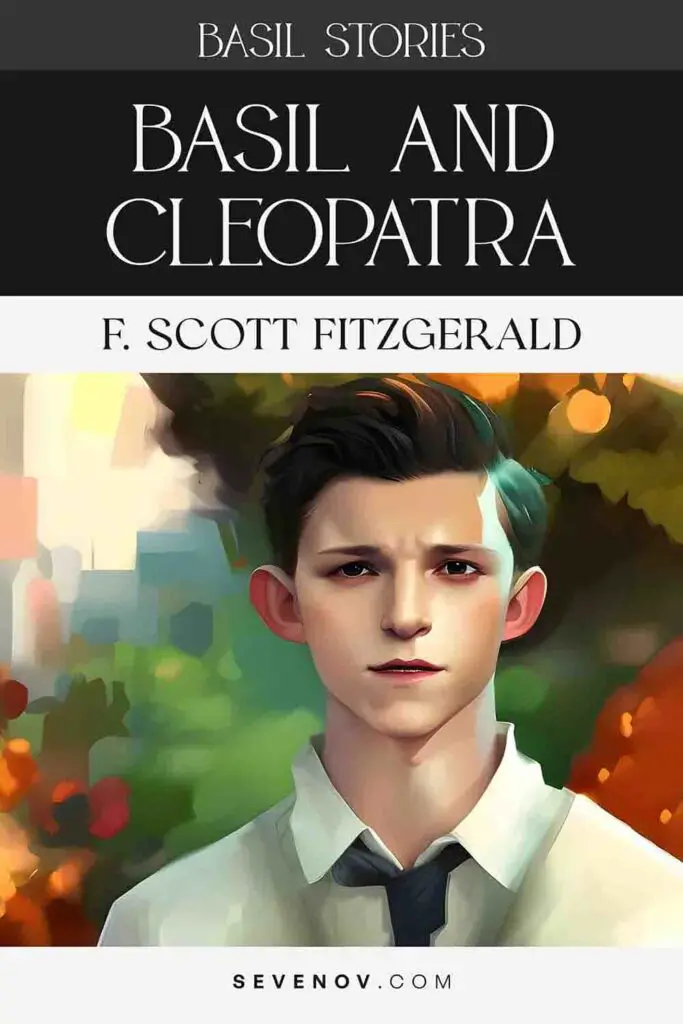 Basil And Cleopatra by F. Scott Fitzgerald
Author: Francis Scott Fitzgerald 
Published: The Saturday Evening Post (April 27, 1929)
Genre: Short Story
"Basil And Cleopatra" is a short story by F. Scott Fitzgerald published in The Saturday Evening Post on April 27, 1929. "Basil And Cleopatra" is part of the Basil Duke Lee series.
1. Basil And Cleopatra Synopsis
"Basil and Cleopatra" delves into Basil's infatuation with Minnie Bibble, the complexities of their relationship, and Basil's journey of self-discovery. The story examines the themes of young love, jealousy, ambition, and the challenges of navigating changing emotions. Basil's internal turmoil and growth are vividly portrayed as he transitions from a state of infatuation to a more mature understanding of love and life. The narrative explores the ephemeral nature of youthful passions and the realization that relationships can be fleeting. Through Basil's experiences and interactions with other characters, the story paints a poignant picture of the trials and tribulations of young love and the process of coming to terms with its complexities.
2. Basil And Cleopatra Summary
Chapter 1
"Basil And Cleopatra" follows Basil's infatuation with Minnie Bibble. He finds any place they are together enchanted and beautiful. Her presence captivates him so much that her absence fills him with the desire to seek her out. Basil's infatuation is evident when he visits a Southern city just because Minnie is there.
Their interactions become complicated when another young man, Littleboy Le Moyne, enters the scene, showing interest in Minnie. Basil struggles with jealousy and confusion as he observes Minnie's behavior around Le Moyne. He is torn between his feelings for Minnie and his growing awareness of his own youth and inexperience. The story captures Basil's emotional rollercoaster as he navigates his changing relationship with Minnie and grapples with his own emotions and uncertainties about love.
Chapter 2
After a whirlwind of emotions, Basil arrives in New Haven and starts preparing for college. He's consumed by thoughts of Minnie, wondering about her relationship with Le Moyne. College begins, and Basil rooms with his friends. He yearns to join the football team, but his eligibility hinges on an upcoming trigonometry exam. Despite Minnie's promise to him, their interactions remain distant, and Basil learns from Fat that Minnie got into a compromising situation with Le Moyne during a train journey.
Undeterred, Basil visits Minnie at her school, expressing his desire to achieve greatness for her. He pleads for a more meaningful connection, but Minnie suggests they remain friends. Basil receives news of failing his exam and losing football eligibility. A photograph of Minnie arrives with a cryptic message, and he realizes her relationship with Le Moyne has advanced. Amidst laughter and irony, Basil navigates the complexity of young love and disappointment.
Chapter 3
After passing a special trigonometry exam, Basil's perspective shifts. He immerses himself in the spirit of Yale, aspiring for success and recognition. Football beckons him, and he joins the team after impressing the assistant coach with his skills. Despite setbacks, Basil's determination grows. He earns a spot as a quarterback for the Andover game. The eve of the Princeton freshman game arrives, and Basil, driven by a thirst for glory, leads the team to success. While he yearns for Minnie's presence, he learns she has not attended, and Le Moyne reveals their relationship is over. As Basil and Le Moyne clash, Le Moyne admits his own heartbreak. Minnie is now involved with someone else named Jubal, leaving Basil contemplative.
Chapter 4
Basil dines at the Taft with Jobena Dorsey and her brother George after a Yale victory. The college is jubilant, and the freshmen acknowledge Basil's importance. He reflects on his failed romance with Jobena. During a dance, they discuss the fickleness of love, with Jobena advising Basil to let go. The conversation shifts to Minnie, and Basil longs for her. At the Lawn Club dance, Basil dances with Minnie, who seems distant. An intoxicated Le Moyne, visibly distraught, disrupts the dance, professing his love for Minnie. Basil tries to console Minnie and realizes her actions lack intent. He contemplates the end of his relationship with Minnie and sees a brighter future ahead.