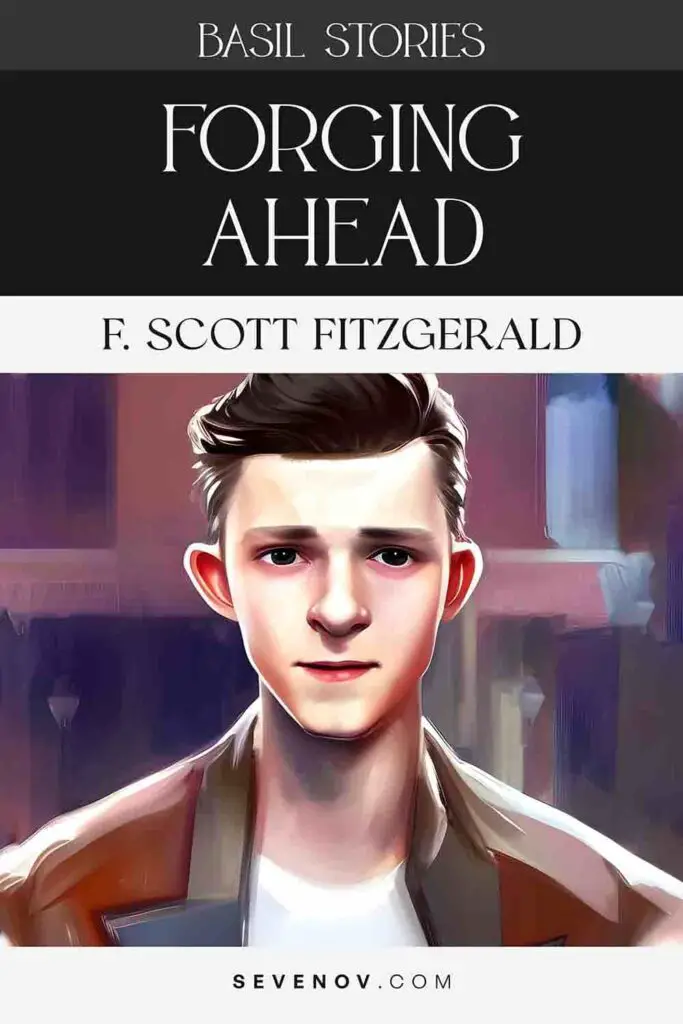 Forging Ahead by F. Scott Fitzgerald
Author: Francis Scott Fitzgerald 
Published: The Saturday Evening Post (March 30, 1929)
Genre: Short Story
"Forging Ahead" is a short story by F. Scott Fitzgerald published in The Saturday Evening Post on March 30, 1929. "Forging Ahead" is part of the Basil Duke Lee series.
1. Forging Ahead Synopsis
"Forging Ahead" follows the journey of a determined young man striving to overcome financial obstacles and fulfill his dream of attending Yale. Basil's initial aspiration is thwarted by family financial troubles, prompting him to work his way through college. He navigates various jobs and social situations, all while wrestling with his changing feelings for Minnie Bibble and his responsibility to accompany his cousin Rhoda. Basil's efforts to secure his education lead to unexpected twists, misunderstandings, and internal conflicts. The story highlights themes of ambition, societal pressures, and the complexity of relationships, ultimately portraying Basil's quest for self-discovery and a brighter future amidst adversity.
2. Forging Ahead Summary
Basil Duke Lee's dream of attending Yale is shattered when his family loses a significant amount of money. His mother reveals their financial crisis, and Basil's plans are in jeopardy. Determined not to give up on Yale, he decides to work his way through college. He pledges to find jobs and save money. He faces skepticism from his mother due to his lack of academic diligence. Basil proposes menial jobs like furnace care and snow shoveling to earn his way through Yale. He assures his mother that his efforts will compensate for their lost money. He resolves to start working during the summer and is confident about his plan.
Basil Duke Lee struggles to secure a job in various news organizations to work his way through Yale, facing rejections and insults. Frustrated, he finally gets a job at a railroad yard through Eddie Parmelee's help. He starts his work with enthusiasm but faces challenges, including a misunderstanding with a foreman. His attempts to work hard and earn his way to Yale continue.
When he fails to secure a job with his estranged great-uncle, Benjamin Reilly, he unexpectedly gains employment at the Reilly Wholesale Drug Company through a twist of fate. He meets Rhoda, his cousin, and her friend Elaine, whose gossip about him causes tension. Basil is invited to dinner by his uncle's family, which comes with the condition that he accompany Rhoda to social events to broaden his horizons.
Thrown together due to mutual unpopularity, Basil experiences the unpleasantness of social gatherings involving his unappealing peers. He attends a dinner at the Reillys' with guests he finds uninteresting. Despite gratitude for Mrs. Reilly's kindness, he struggles with the responsibility of accompanying Rhoda to social events as part of his job.
During a tennis tournament, Basil becomes intrigued by a girl's face but discovers she's only a child. Later, he meets Erminie Bibble, Bill Kampf's cousin, who sparks memories of their past interactions. However, his interactions with Minnie are strained and unfamiliar, revealing his changing perspective. After Rhoda interrupts their conversation, Basil leaves Minnie to return to the gathering, as he navigates his new social landscape and commitment to earning his way through Yale.
Basil's grandfather and mother both urge him to abandon the idea of attending Yale due to financial concerns. To be cautious, he enrolls at the state university. At the university, he meets Eddie Parmelee and Mr. Utsonomia, a Japanese student who opted for the university over Ivy League institutions. Minnie Bibble's arrival intensifies Basil's conflict, as he's torn between his job's financial security and his disdain for Rhoda. He desires to impress Minnie before a farewell party, leading to a secret rendezvous where they open up about their feelings. Their connection deepens, and Minnie plans to confess her love at her party.
Basil faces a dilemma when he's invited to both Rhoda Sinclair's and Minnie Bibble's dinners on the same night. He tries to find a solution and ends up bribing Eddie Parmelee to attend Rhoda's dinner in his place. However, Rhoda becomes suspicious. Basil's mother becomes involved and reveals that they've sold a property for a large sum of money. Meanwhile, Mr. Utsonomia, a Japanese student at the university, observes and misunderstands the situation at the party.