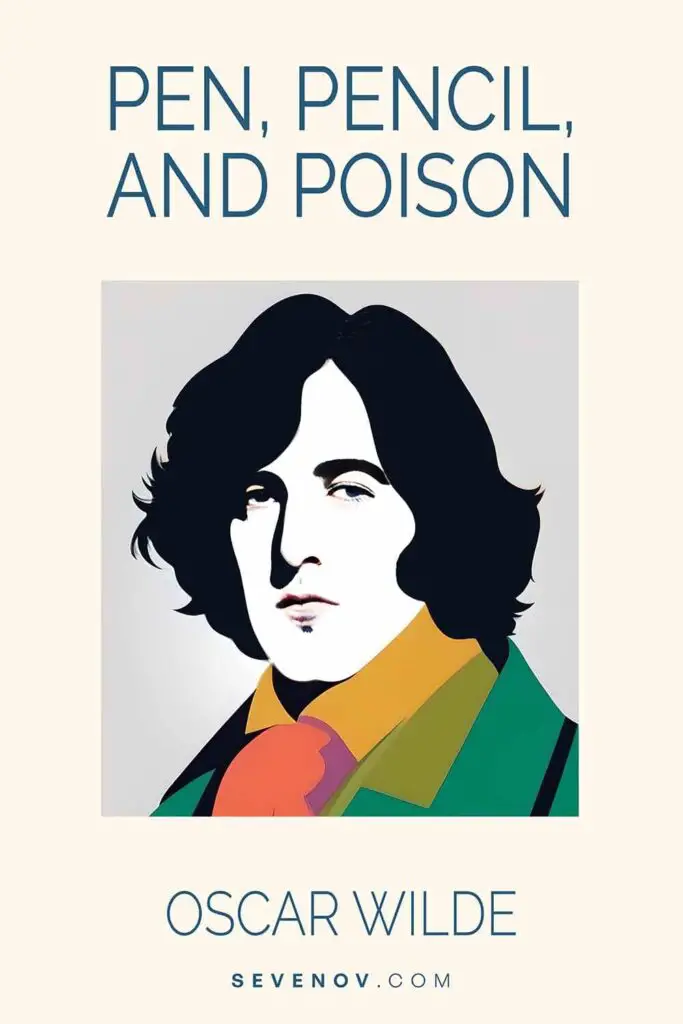 Pen, Pencil, and Poison by Oscar Wilde
Author: Oscar Wilde
Published: 1891
Genre: Non-fiction, Essay
"Pen, Pencil, and Poison" is an essay written by renowned Irish playwright Oscar Wilde. It was first published in 1891 as part of Wilde's collection of essays titled "Intentions."
1. Pen, Pencil, and Poison Introduction
"Pen, Pencil, and Poison" explores the lives and works of Thomas Griffiths Wainewright, who made significant contributions to art and literature but had his legacy tainted by criminal activities. The essay delves into the relationship between art, crime, and creativity.
In the essay, Oscar Wilde examines the concept of the "duality of human nature" and the connection between artistic genius and criminal behavior. He suggests that there is a fine line between creative genius and criminality and that society often condemns individuals who transgress societal norms but also recognizes their artistic talents.
The essay is known for its wit, irony, and Wilde's distinctive style of writing. It offers readers a thought-provoking exploration of the complex relationship between art, morality, and criminality during the Victorian era.
Overall, "Pen, Pencil, and Poison" is a fascinating and provocative essay that reflects Oscar Wilde's unique perspective on art and the darker aspects of human nature.
2. Pen, Pencil, and Poison Summary
The article discusses the life and multifaceted talents of Thomas Griffiths Wainewright, a remarkable individual born in 1794. He came from a literary background, with his mother being the daughter of Dr. Griffiths, the founder of the Monthly Review. Wainewright's early life was marked by tragedy, as his mother passed away when he was young, and he was raised by his grandfather and later by his uncle.
His early years were spent at Linden House on Turnham Green, where he developed a deep love for nature that stayed with him throughout his life. He attended Charles Burney's academy at Hammersmith, where his artistic talent began to emerge. Initially, he was drawn to painting, but later he explored various other interests, including literature.
Wainewright's life took different turns, including a brief stint as a young guardsman, but he ultimately abandoned the military for a life devoted to art and culture. He was deeply influenced by the writings of Wordsworth, which helped him find direction and purpose in life.
His entry into the literary world came through the London Magazine, where he contributed articles under various pseudonyms. He quickly gained recognition and admiration for his prose and wit, with Charles Lamb praising his prose. He was known for his dandy style, exquisite fashion sense, and his ability to captivate social gatherings with his charm.
Wainewright's contributions extended to art criticism, and he advocated for the importance of style and aesthetic eclecticism. He appreciated a wide range of artists, from Turner and Constable to classical masters like Michael Angelo. He believed that art should be judged by its own standards, not by external criteria.
His interests were not confined to literature and art; Wainewright's deep love for nature, as described in passages about his enjoyment of the countryside, showed his connection to the natural world. He often found solace in the beauty of the landscape, and his writings reflected his appreciation for the serenity of rural life.
In addition to art criticism, Wainewright was a versatile literary critic, with a profound appreciation for poets like Keats, Shelley, and Wordsworth. He also showed interest in the theatre, advocating for historical accuracy in costumes and scene-painting. In journalism, Wainewright was a pioneer of elaborate and flamboyant prose styles, setting the tone for modern journalism that often focuses on personal details and lifestyle. He introduced the idea of making the public interested in his own persona and experiences.
Throughout his life, Wainewright's love for nature, art, literature, and a unique sense of style shaped his identity. He left a mark as a writer, art critic, and a man who appreciated the finer things in life. His complex and multifaceted personality made him a fascinating figure of his time.
Wainewright was critical of contemporary work, finding modern art confusing and preferring classical and Renaissance art. He aimed to capture the overall artistic impression and translate it into words, contributing to what is now known as art literature in the nineteenth century. He played a role in the development of art literature in the 19th century. He believed in reviving style as a conscious tradition and encouraged the study of Greek art as a source of inspiration for English artists.
Wainewright was a painter and often provided technical and detailed critiques of artworks. He discussed various painters like Rubens, Giorgione, Rembrandt, and others in his writings. He had a broad range of artistic interests, from the Greek classics to the Italian Masters. He emphasized the importance of having the best models constantly before the eyes of artists. His wide-ranging artistic interests extended to literature, as he admired Keats, Shelley, Wordsworth, and William Blake. He believed in the interconnectedness of all arts and recognized the influence of one art form on another.
Despite his love for art and literature, Wainewright had a darker side. He had a criminal history, which included forgery and, more notably, poisoning. He poisoned several individuals, including family members and acquaintances, sometimes for financial gain through insurance claims. His crimes were eventually discovered, leading to his arrest and imprisonment.
Wainewright's criminal activities seemed to have influenced his art and style, giving his work a unique and disturbing quality. He continued to paint while in prison and even tried to poison some of his fellow inmates. His criminal actions and the notoriety surrounding him led to his association with famous individuals like Dickens and Macready, who visited him while he was incarcerated. Ultimately, he was sentenced to transportation to Van Diemen's Land (now Tasmania), where he continued to paint and live a relatively comfortable life.
After his release from prison, Wainewright lived in obscurity and died in 1852. His life and crimes continue to intrigue and puzzle scholars and artists alike, as they explore the complex relationship between art and criminality in his work and persona.
3. Conclusion
Thomas Griffiths Wainewright was a complex figure whose interests spanned art, literature, and criminal activities. His life, characterized by a blend of creativity and malevolence, raises questions about the relationship between crime and culture, as well as the role of morality in assessing historical figures.
If you're intrigued by the fascinating live of Wainewright and the intricate relationship between genius and transgression, you can explore the full version of "Pen, Pencil, and Poison" online.