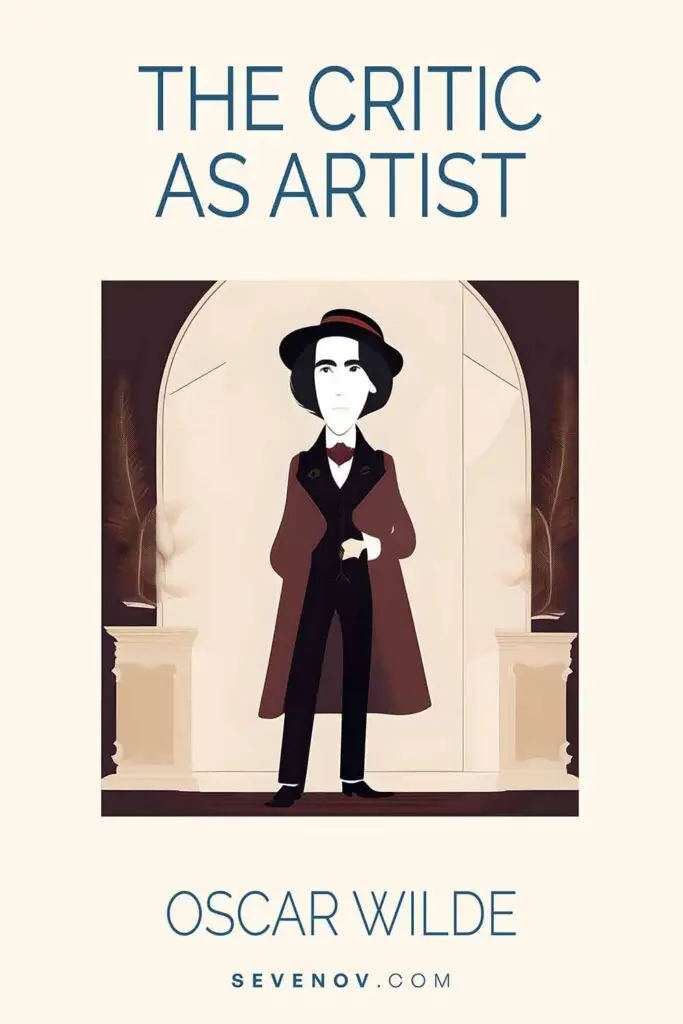 The Critic as Artist by Oscar Wilde
Author: Oscar Wilde
Published: 1891
Genre: Non-fiction, Essay
"The Critic as Artist" is an essay written by Irish playwright Oscar Wilde, exploring the role of the critic in the world of art and aesthetics. It was first published in 1891 as part of Wilde's collection of essays titled Intentions.
1. The Critic as Artist Introduction
In "The Critic as Artist," Wilde delves into the idea that criticism is not merely an analytical endeavor but also a creative one. He argues that the critic, far from being a passive observer, is, in fact, an artist in their own right, shaping and interpreting the work they critique. Through a series of engaging dialogues, Wilde challenges conventional notions of art, beauty, and individuality, ultimately celebrating the critic's ability to infuse new life and meaning into the works they assess. "The Critic as Artist" is a captivating exploration of the relationship between criticism and creation, delivered with Wilde's signature eloquence and sharp insight into human nature and aesthetics.
2. The Critic as Artist Summary
Part 1
In this dialogue between Gilbert and Ernest in a Piccadilly house overlooking Green Park, they discuss various topics, including the value of memoirs, autobiography, and art criticism. Gilbert expresses his fascination with memoirs and autobiography, emphasizing how personal accounts and self-revelation in literature have an enduring appeal to readers. He notes that even seemingly mundane or morally questionable figures, like Samuel Pepys, can become beloved through their candid autobiographical narratives.
The conversation shifts to art criticism, with Ernest arguing that the Greeks had no art critics, and Gilbert countering that the Greeks were, in fact, a nation of art critics. Gilbert explains that the Greeks applied their critical spirit to various aspects of life, including art, and developed a flawless system of art criticism. He suggests that the Greeks had a deeper understanding of language and its metrical movements, and they regarded writing primarily as a method of chronicling. Gilbert contrasts this with modern writing, which often appeals more to the eye than the ear.
Gilbert touches on the idea that the great poets, like Homer and Milton, were not only seers but also true singers who composed their works with attention to melody and rhythm. He argues that the voice and the ear should be the primary instruments of a writer, and he sees Milton's blindness as contributing to the musical richness of his later works. Gilbert advocates a return to valuing the spoken word and musicality in writing as a way to appreciate some of the subtleties of Greek art criticism. The dialogue highlights the contrast between ancient and modern approaches to literature and art critique, emphasizing the significance of oral tradition and the auditory experience in the appreciation of poetry and prose.
Gilbert emphasizes the importance of the critical spirit in the creative process, asserting that without criticism, there can be no meaningful innovation in art. He suggests that the act of creation is often guided by unconscious impulses and lacks self-awareness, whereas criticism requires a deeper understanding of the subject matter. Ernest challenges Gilbert's views, pointing out that it is more challenging to create something than to critique it. Gilbert counters by arguing that creation without self-awareness and a critical perspective can lead to mediocrity and repetition. He believes that a conscious critical examination of one's work is essential for progress and refinement in the artistic field.
The discussion also delves into the role of criticism in modern society, with Gilbert expressing dissatisfaction with contemporary criticism and its tendency to be superficial and uninsightful. He argues that much of modern creative work is also subpar, and both creators and critics often lack the depth and refinement necessary for meaningful contributions to art and literature. Gilbert touches on the idea that the critical faculty is what enables progress and innovation in the arts, highlighting how new forms and movements in art emerge through critical examination and refinement. He discusses how certain historical periods, such as ancient Alexandria, have been centers of art criticism, leading to the development of various art forms and styles.
Gilbert argues that it is more difficult to talk about a thing than to do it and that criticism is a creative act. He believes that the highest form of criticism is not merely interpreting the artist's intention but going beyond it to create new meanings and impressions from the work of art. Gilbert emphasizes that the beauty of art is its ability to be open to various interpretations and that the critic's role is to see the object as it is but also to go beyond it and create new layers of meaning. He argues that while the artist's creation may have limitations, the critic can transcend these limitations and make the work of art more profound.
They also discuss the limitations of different art forms, with Gilbert suggesting that music is the perfect type of art because it can never reveal its ultimate secret and always leaves room for interpretation. Gilbert also criticizes certain types of art, like those based on literary or historical subjects, as lacking the imaginative depth he seeks in art. He prefers art that suggests mood and reverie, allowing for various interpretations. In the end, they plan to continue their discussion after supper.
Part 2
Gilbert emphasizes that the critic's role is not just to explain the work of art but to deepen its mystery and intensify its wonder. He suggests that understanding a work of art, especially from past eras like Shakespeare's, requires a deep knowledge of the historical and cultural context in which it was created. The discussion also delves into the idea that the critic becomes an interpreter through the intensification of their own personality. Gilbert argues that personality is not a disturbing element but a crucial aspect of interpretation. This leads to the conclusion that the critic gives as much as they receive, lending their own personality to the interpretation.
Gilbert argues that art is the highest form of human expression and that its purpose is to evoke emotions purely for the sake of emotion, unlike life, which demands action. He asserts that society values productivity and action over contemplation, which is the proper occupation of the truly cultured and intellectual. Gilbert believes that society's ideals restrict individuality and creativity.
They also explore the idea that humans are born with a finite capacity for emotion, and art allows us to experience a wide range of emotions without consequences. Gilbert contends that art can offer a more meaningful and satisfying experience than real life, and it enables individuals to transcend the limitations of their own time and place by connecting with the emotions and experiences of others.
Gilbert argues that the critical spirit, combined with the understanding of heredity, can help people realize the collective life of humanity and become truly modern by understanding the past. He suggests that humans are shaped by the experiences and emotions of previous generations and that the imagination, which enables us to live countless lives through art, is a result of this inherited knowledge.
Gilbert believes that contemplation, or the act of deep thinking and reflection, is the proper occupation for individuals with a highly developed critical spirit. He sees contemplation as a way to transcend the limitations of action and access a higher form of intellectual clarity. He contrasts this contemplative life with the demands of practicality and the prevailing social ideals.
Ernest questions whether contemplation is immoral and unpractical, to which Gilbert responds that it is neither, but rather a mode of existence that values the intellectual and aesthetic over the practical. Gilbert argues that England needs more unpractical people who can appreciate the intellectual virtues and that society's focus on action and utility hinders intellectual growth.
They discuss the role of the critic in the realm of art and literature. Gilbert believes that the critic is as creative as the artist, using various forms of expression, such as dialogue or narration, to convey their ideas. He also emphasizes that objectivity and subjectivity are not mutually exclusive and that the critic can express subjective viewpoints while maintaining intellectual clarity. He also emphasizes the importance of a critic's temperament, suggesting that a finely-tuned temperament that is susceptible to beauty is crucial for effective criticism.
Ernest raises qualities that he believes should characterize a true critic, including fairness, rationality, and sincerity. However, Gilbert challenges these notions. He contends that fairness is not a prerequisite for criticism, as one's biases and preferences are essential to forming a unique perspective. He also suggests that the critic should not be overly rational, as art appeals to the emotions and the soul more than to reason. Finally, Gilbert argues that complete sincerity can be limiting, and the true critic should be open to various forms of expression and constantly evolving.
They discuss the importance of the aesthetic movement in cultivating a love for beauty and the impact of environment on one's artistic temperament. Gilbert points out that the decorative arts play a vital role in shaping one's aesthetic sensibilities and that art should not be confined to mere realism but should also encompass imaginative design and color. He contrasts the Impressionist and Archaiciste schools in Paris, highlighting the importance of decorative art and its ability to create moods and temperaments.
Gilbert concludes by emphasizing the significance of form in art and the role of the artist, suggesting that the real artist starts with form and allows it to guide their expression. He argues that genuine feeling can lead to bad poetry, as it can make art too obvious and inartistic. Gilbert discusses the importance and role of criticism in the world of art and culture. He begins by emphasizing the significance of temperament for a critic, describing it as a sensitivity to beauty and an ability to perceive and appreciate it. This temperament, according to Gilbert, needs a nurturing environment to thrive and develop, similar to Plato's idea of education through exposure to beauty.
Gilbert argues that the cultivation of temperament, the development of taste, and the creation of a critical spirit are essential aspects of education. He criticizes the current state of education in England for not prioritizing the love of beauty and the refinement of the inner self. Gilbert believes that art and beauty should be at the core of education. He goes on to discuss the resurgence of the decorative arts in England and how beauty is being incorporated into various aspects of life, even in the houses of the not-so-rich. Gilbert acknowledges that the aesthetic movement aims to inspire people to contemplate beauty rather than create it themselves.
The conversation shifts to the world of visual arts, particularly painting. Gilbert expresses his appreciation for Impressionist painters and their contributions to art. He also mentions the Archaicistes, a newer school in Paris, that focuses on design and color, valuing the imaginative beauty of art. He asserts that decorative art, with its emphasis on form, is the art to live with and suggests that it helps develop the sense of form, which is crucial for both creation and criticism.
Ernest questions whether artists are influenced by criticism, to which Gilbert responds that critics represent the ideal of culture and that their influence lies in the fact of their existence. Gilbert emphasizes the role of criticism in shaping the intellectual atmosphere of an age and fostering a cosmopolitan mindset that transcends race and nationality. They also touch on the limitations of artists' judgment of their own work and the critical instinct's ability to appreciate various art forms.
Gilbert then delves into the future of criticism, suggesting that as creation becomes more limited, the role of criticism will become more significant. He highlights the need for intellectual criticism to unite humanity, foster a cosmopolitan outlook, and elevate culture. Gilbert concludes by asserting that criticism is a creative art in itself, shaping culture and enabling a deeper understanding of art, aesthetics, and humanity. He believes that the critic's role is essential in the development of a refined intellectual and cultural society.
3. Conclusion
Delve into the brilliant mind of Oscar Wilde by exploring the complete online version of "The Critic as Artist." If you're intrigued by Wilde's captivating exploration of art, beauty, and the role of the critic as an artist in their own right, don't miss the opportunity to read the entire essay.