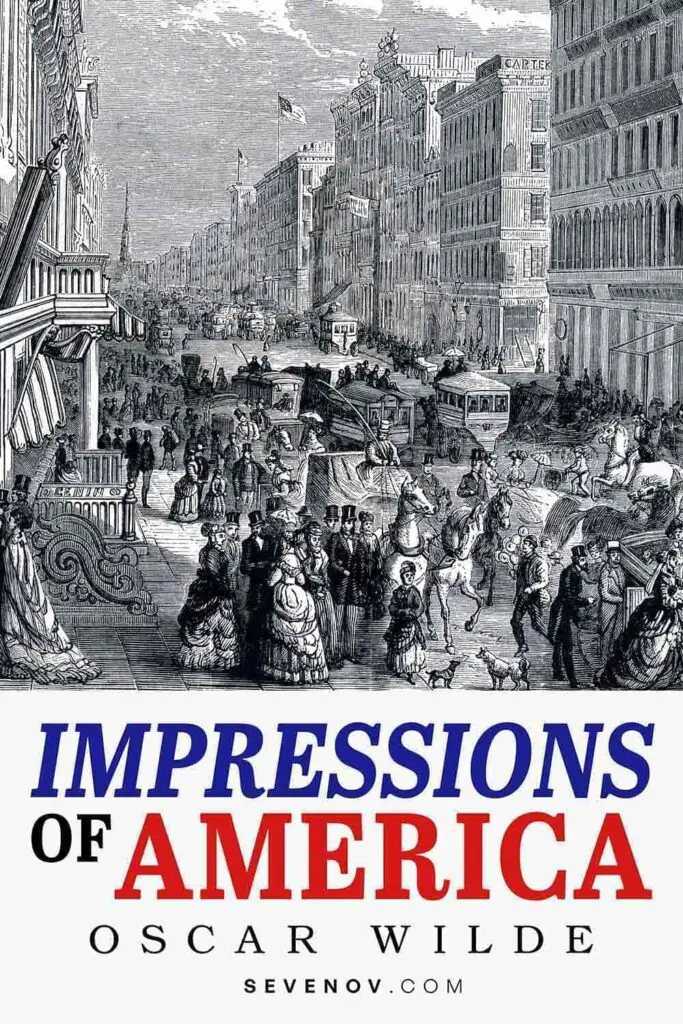 Impressions of America by Oscar Wilde
Author: Oscar Wilde
Published: 1906
Genre: Non-fiction, Travel
Impressions of America by Oscar Wilde was published posthumously in 1906. 
1. Impressions of America Introduction
In 1882, Oscar Wilde embarked on a trip to the United States due to his interest in the Æsthetic School and the need to clarify its principles, especially after the Gilbert and Sullivan opera, "Patience," ridiculed him and his followers. He arrived in New York in early 1882 and was immediately swarmed by journalists. His visit sparked curiosity and humor, with "Punch" magazine even parodying the interviews. 
During his American tour, Wilde delivered lectures mainly on Art and Dress Reform. In Omaha, he criticized American houses for being poorly designed and furnished, sparking humorous responses. He expressed admiration for the room where he met Walt Whitman, which later led to a Whitman-style parody. Wilde's lectures focused on various topics, with one discussing the English Renaissance, drawing a large and appreciative audience.
After his U.S. tour, Wilde visited Canada, particularly Halifax, but there's limited information about his stay except for an interview where he tactfully avoided comparing European and American women's beauty. He expressed admiration for Edgar Allan Poe as the greatest American poet and considered Walt Whitman's work unique, if not strictly poetry. While touring the United States, Wilde visited Louisville, Kentucky, and delivered a lecture on the Mission of Art in the Nineteenth Century. After quoting Keats' Sonnet on Blue, he received an original manuscript of the sonnet as a gift from Mrs. Speed, the daughter of George Keats.
Wilde's first play, "Vera, or the Nihilists," was scheduled for performance in London but was postponed due to political tensions in England. Upon his return to England in 1883, Wilde began a lecturing tour. He spoke about his American experiences and promoted the importance of art and craftsmanship in education. His lectures on Dress and the corresponding newspaper correspondence are not covered in this summary. In March 1884, he lectured at the Crystal Palace on his American experiences and preached about the importance of art in education, echoing John Ruskin's views.
Wilde's American play, "The Duchess of Padua," was a success in the U.S. but wasn't performed in England. Only a few copies exist, primarily in German translation. Despite an English version based on the German translation, it remains elusive for English readers.
2. Impressions of America Summary
Oscar Wilde reflects on his visit to America, acknowledging his limited knowledge of the country's geography, politics, and economics. He notes that Americans are well-dressed and comfortable in their attire, unlike the prevalence of poverty seen elsewhere. However, the constant rush to catch trains is seen as a hindrance to poetic and romantic moments.
Wilde criticizes the noise in America, caused by steam whistles, which he believes can hinder artistic sensitivity and appreciation for the musical. He observes that attempts at creating beauty by Americans often fall short, with beauty found more where they haven't attempted it. Wilde admires America's application of science and machinery, highlighting his appreciation for the rhythm and beauty of American machinery.
Wilde remarks on the immense size of everything in America, which he finds intimidating. Niagara Falls disappoints him due to unfavorable viewing conditions. He praises the beauty of the American West but is critical of the six-day rail journey required to reach it. Wilde expresses frustration with street vendors selling poorly printed copies of his poems, without providing any profit. He also discusses the various ways he was addressed in America, including as "Captain," "Colonel," and "General," and debunks the notion of "Americanisms" by pointing out that some expressions are actually old English.
Wilde finds remnants of English Puritanism in Boston and Massachusetts, which he believes have faded in England. He describes San Francisco's beauty, particularly in its artistic Chinatown. He recounts his visit to Salt Lake City, noting unique buildings and the eccentricities of the Mormon faith. Wilde's journey takes him through Colorado's plains and the Rocky Mountains, leading to Leadville, known for its wealth and roughness. He engages with miners, lecturing them on the Ethics of Art and sharing stories of Benvenuto Cellini. He lectures at a theater where a murder trial and execution occur on stage just before he reaches.
In the South, Wilde finds people constantly referring to the Civil War. He shares an anecdote about an art patron who sued a railroad company for delivering a damaged Venus de Milo plaster cast. Pennsylvania's landscape reminds him of Switzerland, while the prairie is likened to blotting paper. Wilde discusses the beauty of Spanish and French place names in America, contrasting them with English names. He touches on slang and the observations of American youth and girls. American boys are portrayed as focused on business, while American girls are seen as pretty and charming.
Wilde advocates for a more practical education, emphasizing hands-on skills for children. He emphasizes the significance of political education in America, where every citizen gets a vote at age 21, praising the country's commitment to freedom and liberty as valuable lessons.
Oscar Wilde, during his American tour, was described in an interview as lounging in a warmly decorated room, sipping hot chocolate, and occasionally smoking a cigarette. He wore a dark brown velvet smoking suit with red quilted silk lapels and dark brown pants with red stripes. His favorite color was a unique blend of brown and green. Wilde had long, dark brown hair, a clean-shaven face, and a distinguished appearance with a Grecian nose and expressive eyes. He was known for his wit and ability to converse on various topics, seamlessly mixing racy stories with quotes from Greek authors, making him a captivating and charming companion.
2. Conclusion
If you're intrigued by Oscar Wilde's fascinating journey through America and his captivating insights, you can read his complete work, Impressions of America at PageVio. Dive into Wilde's eloquent prose and witty observations as he shares his experiences in the United States during the late 19th century.