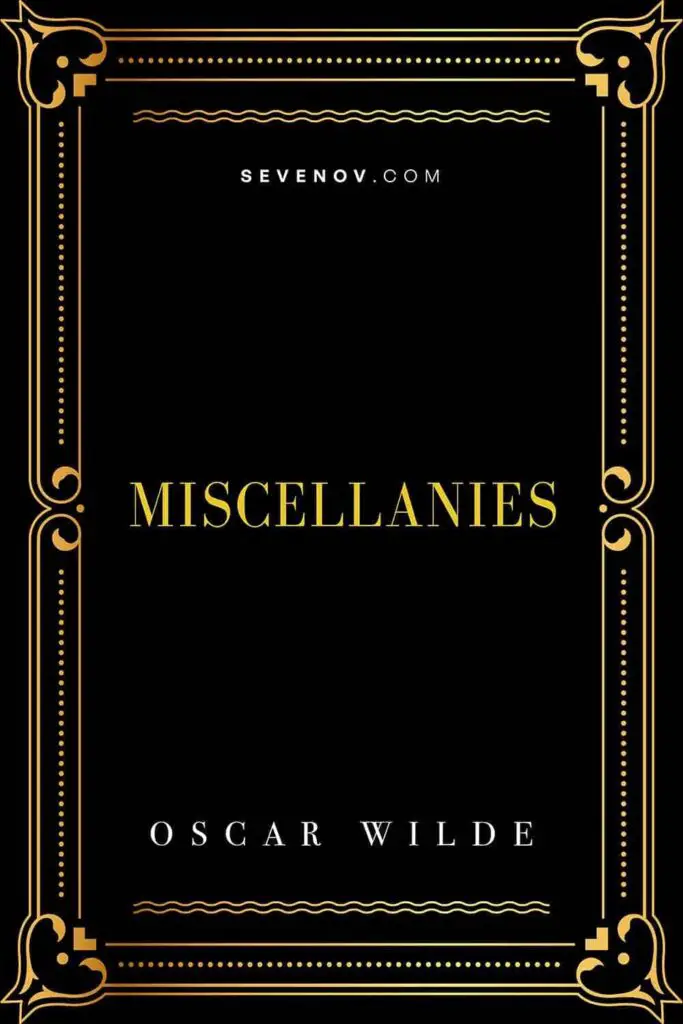 Miscellanies by Oscar Wilde
Author: Oscar Wilde
Published: 1908
Genre: Non-fiction, Essay
Miscellanies by Oscar Wilde contains 41 reviews, writings, stories, and plays by Wilde, published posthumously in 1908. It presents fragments and writings that offer insights into his literary career and interests. It includes an essay on Historical Criticism, a lost fragment of La Sainte Courtisane, and details about Wilde's lectures. The aim is completeness, although some lost manuscripts remain, and Wilde's name was often attributed to works he didn't write. This volume also includes Wilde's letters, including some addressed to Whistler, shedding light on their relationship and differences in their humor and genius. A bibliography of authorized editions is provided to help collectors distinguish genuine works from pirated ones.
1. Miscellanies Summary
We have selectively summarized some of the content from Miscellanies:
1.1. The Grosvenor Gallery, 1877
This is a review about an art exhibition held at the Grosvenor Gallery in London. In this review, Wilde discusses various artworks and artists featured in the exhibition, offering his observations and opinions on their merits.
The review begins with a reference to the famous aphorism "Art is long and life is short," and then goes on to express the idea that those who had the opportunity to attend this art exhibition in London had little to complain about in terms of the pleasures of life and art.
Wilde discusses the difficulty of describing music and its subjective nature before transitioning to describing some of the paintings displayed at the Grosvenor Gallery. He mentions the origin of the gallery and its purpose, which was to showcase the works of great living artists without the constraints of traditional "Hanging Committees."
The review then delves into descriptions and critiques of various artworks and artists featured in the exhibition. Some of the artists mentioned include Burne-Jones, Holman Hunt, Watts, Alma Tadema, Sir Coutts Lindsay, Mr. Albert Moore, Mr. Spencer Stanhope, Mr. Richmond, Mr. Leslie, and others. Wilde comments on their styles, techniques, and the themes they explore in their paintings.
Wilde also offers his thoughts on specific artworks, such as Mr. Watts's "Love and Death," Mr. Millais's portraits, and Mr. Stanhope's "Electra at the Tomb of Agamemnon." He provides detailed descriptions and critiques, discussing elements like color, composition, and subject matter.
Throughout the review, Oscar Wilde expresses his admiration for certain artists and their works while providing a critical assessment of others. The review offers a glimpse into Wilde's artistic sensibilities and his ability to articulate his thoughts on art and aesthetics.
1.2. L'envoi
The article is an introduction to a book titled "Rose Leaf and Apple Leaf" by Rennell Rodd, published in 1882. In this introduction, Wilde discusses the work of Rennell Rodd, a young poet and part of the English artistic and literary movement often referred to as the English Renaissance.
Wilde praises Rodd's love for art and his subtle and delicate artistic sense of beauty. He emphasizes the importance of art for its own sake and the idea of the "sensuous life of verse" as a key element of artistic delight. Wilde suggests that the highest form of art is one that emphasizes form, color, and design over explicit moral or philosophical messages.
Wilde also touches on the departure of the younger generation of artists and writers, including Rodd, from the teachings of John Ruskin. While acknowledging Ruskin's influence in fostering enthusiasm for beauty, Wilde explains that the new generation places a greater emphasis on the intrinsic artistic value of a work, rather than its moral or philosophical content.
Wilde celebrates Rodd's poetry for its artistic quality, use of language, and ability to convey an artistic effect. He likens Rodd's work to the romantic poetry of impressions, where moments and emotions are captured in a way that emphasizes the fleeting nature of life and beauty.
1.3. Mrs. Langtry as Hester Grazebrook
In this article, Oscar Wilde is writing a review of a theatrical performance, specifically discussing the actress Hester Grazebrook and her appearance in a play. He begins by describing her physical appearance in great detail, praising her beauty as reminiscent of classical Greek ideals. He mentions the Greek features of her face, the harmony of her lines, and the mathematical laws of beauty that her appearance seems to embody.
Wilde also explores the idea that women's beauty continues to hold power and influence, particularly in the realm of art. He suggests that the influence of Hester Grazebrook's beauty extends beyond the stage and has permeated English art. He contrasts different types of beauty in art, from the romantic to the classic, and argues that the influence of this particular face has led to a new artistic ideal that combines Greek form with a sense of serenity and joy.
Additionally, Wilde briefly comments on the costumes worn by Hester Grazebrook in the play, highlighting their simplicity and elegance. He also discusses the quality of the scene design in the production, noting that some scenes were more successful than others in capturing the desired atmosphere.
Wilde concludes by asserting that the beauty of Hester Grazebrook's face is so perfect that it may be considered impossible to improve upon, and he suggests that striving for the impossible is what makes art valuable in the modern era. 
2. Conclusion
Interested in exploring Oscar Wilde's Miscellanies in its entirety? The complete online version of this captivating collection of Wilde's writings is available for your reading pleasure. Dive into Wilde's brilliant essays, stories, and more by visiting Miscellanies at PageVio. Immerse yourself in the wit and wisdom of one of the greatest literary figures of all time.