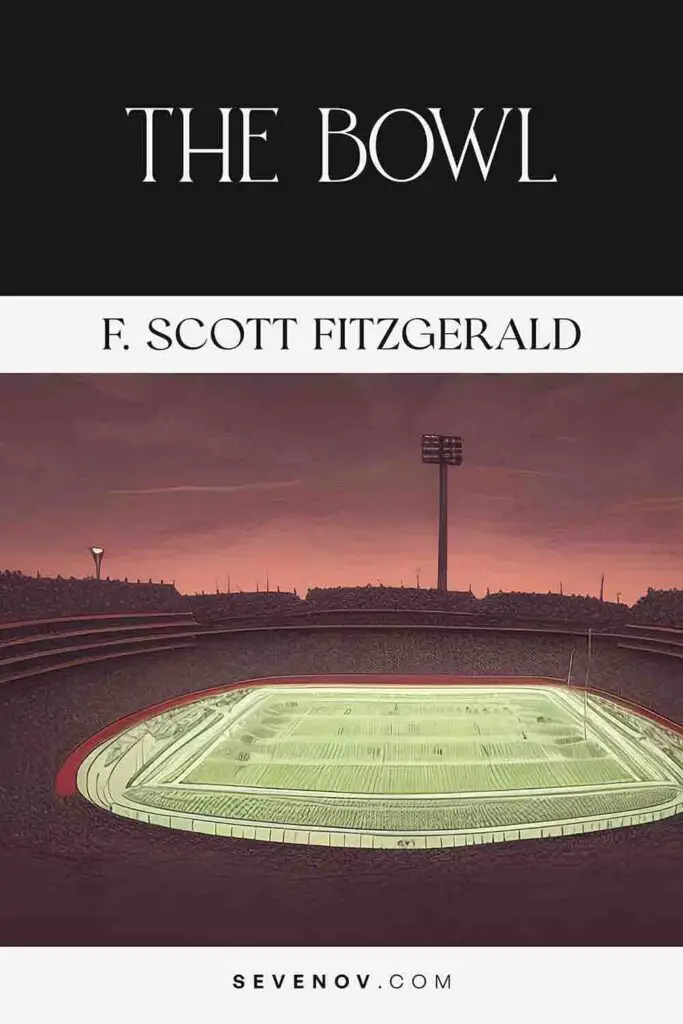 The Bowl by F. Scott Fitzgerald
Author: Francis Scott Fitzgerald 
Published: The Saturday Evening Post (January 21, 1928)
Genre: Short Story
"The Bowl" is a short story by F. Scott Fitzgerald published in The Saturday Evening Post on January 21, 1928.
1. The Bowl Synopsis
"The Bowl" by F. Scott Fitzgerald revolves around Dolly Harlan, a complex character with conflicting emotions toward football. Initially disinterested in football, Dolly becomes an artist portraying football players. The narrator, a former football enthusiast, recounts their prep school experience and their subsequent friendship with Dolly, whose aversion to football is rooted in his fear of the stadium's enclosed shape. Despite his dislike, Dolly excels as a player. He secretly battles his hatred for the game, his commitment as a captain, and his instinctive athleticism.
Vienna Thorne's arrival adds intrigue. Dolly's growing fondness for Vienna, his engagement, and her influence on his decisions form a pivotal subplot. Dolly's internal conflict and Vienna's impact on his choices create depth and tension. Amid social events and football matches, the narrative delves into the emotional lives of its characters, culminating in Dolly's defiant declaration of his identity. The story captures Dolly's intricate relationship with football, his complex emotions, and the transformative power of personal triumph.
2. The Bowl Summary
Chapter 1
In this passage, the narrator reflects on Dolly Harlan, a classmate at Princeton. Initially disinterested in football, Dolly becomes an artist who creates etchings of football players. The narrator recounts their personal experiences with football, including the narrator's own involvement as a player. The story centers on Dolly's struggle with football, despite his athletic prowess.
During a game against Yale, the narrator notices Dolly's peculiar behavior, discovering that Dolly suffers from agoraphobia triggered by the enclosed Yale Bowl stadium. Dolly's aversion to football is rooted in his deep dislike of the game, despite his skill. The passage also highlights the camaraderie and dynamics of the team, particularly during a historic game against Yale. Dolly's internal conflict and his unique relationship with football form a central theme of the narrative.
Chapter 2
In this passage, the narrator recounts the aftermath of the football game against Yale and the introduction of Miss Thorne, a friend of Josephine Pickman. After Princeton's victory over Yale, the crowd celebrates and Dolly Harlan's elation is palpable. The narrator perceives the significance of achievement and how it shapes perceptions. The group plans to attend the Midnight Frolic in New York City.
The narrator notices Miss Thorne's cool demeanor towards Dolly, who is attracted to her. During the show, a man named Carl confronts Miss Thorne, causing a disturbance. The narrator and Dolly decide to leave, and on the way to the hotel, the narrator explains what happened with Carl to Dolly. They discuss the situation and Dolly's feelings about the incident. The passage captures the emotions and interactions surrounding the game's victory and the introduction of Miss Thorne into Dolly's life.
Chapter 3
During Dolly Harlan's sophomore year at Princeton, he meets Vienna Thorne. Despite the casual nature of their initial meeting, it holds significance due to the shadow cast by the football game and other events of the time. Vienna returns to Europe shortly thereafter, and for the next fifteen months, she remains out of Dolly's life. The narrative shifts to describe the events of Dolly's sophomore year, a memorable period marked by elections, personal growth, and springtime at Princeton.
Dolly's happiness is marred only by the impending football season, which he dreads. He throws himself into spring practice, despite his strong dislike for football, and maintains dedication throughout the season. Dolly's aversion to the game deepens, and he avoids discussions about football. After enduring a tough year, he looks forward to the Christmas holidays to lift his spirits. The narrative then introduces Vienna's return from Madrid and her attendance at the Senior Prom, bringing her back into Dolly's life after over a year of separation.
Chapter 4
Vienna Thorne returns to the scene, even more stunning and successful than before. She reveals that she's tired of European men due to a failed love affair, and she plans to debut in Washington in the upcoming fall. Vienna and Dolly become a prominent couple, evoking envy and admiration. Vienna's return prompts a night of intimate conversation with Dolly on a terrace, where they express their happiness and romantic connection.
Vienna explains that Dolly will finish Princeton next year and that they plan to announce their engagement after her Washington debut. Dolly's engagement relieves Jeff's worry about a quick marriage. Vienna claims that Dolly has gained clarity through their relationship, even helping him make decisions, such as his stance against playing football.
Jeff visits Dolly over the summer on Long Island, where Vienna's vibrant personality dominates the social scene. While Vienna impresses guests, Dolly's absence from football discussion leaves him appearing less interesting. Dolly turns down the football season despite a letter from the team and a resolute conversation they had about it earlier. However, Dolly breaks his ankle while playing tennis, which inadvertently grants him a respite from football practice. He writes a letter to Jeff, expressing contentment and a sense of having outsmarted societal pressures. The letter ends with a postscript, revealing Dolly's delight in evading football practice and requesting that Jeff destroy the letter. The content of the letter seems uncharacteristic of Dolly.
Chapter 5
The story continues with Dolly Harlan's return to football despite his injured ankle. The team struggles, and Dolly's dedication and determination to play are evident. As the crucial Yale game approaches, Dolly's presence on the field brings a spark of hope, but the odds are against them. The description of the football game against Yale is vividly portrayed, emphasizing the intense atmosphere, the excitement, and the fierce struggle on the field. Dolly's unexpected play, catching a pass and nearly scoring, adds to the suspense and drama of the game. The story highlights Dolly's sacrifice, his passion for football, and his desire to contribute to his team's success.
Chapter 6
After the football game, Dolly's team managed to tie with Yale, bringing a sense of victory and redemption to their otherwise mediocre season. The victory instills a feeling of exaltation, and Dolly is in high spirits. He talks about the game and his role in it with a touch of vanity, discussing his play and how he caught a pass during a crucial moment. Despite his injured ankle, he contributed to the team's success.
Later, Dolly spends time with Daisy Cary, a young actress, who admires his courage and dedication to football. They share stories of their respective work and challenges. Daisy invites Dolly to go out with her, but he declines, as he plans to meet Vienna. Dolly's relationship with Vienna is uncertain, and his visit to her is laden with potential reconciliation or farewell.
Later that evening, Dolly visits the Ambassador Hotel to see Daisy. However, when a young man questions Dolly's identity, Dolly proudly declares himself as "Dolly Harlan," a name that resonates with his achievements. The announcement stirs astonishment and curiosity among the onlookers, and Dolly walks away with a sense of accomplishment, embracing the fleeting victory and the memory it will leave behind.