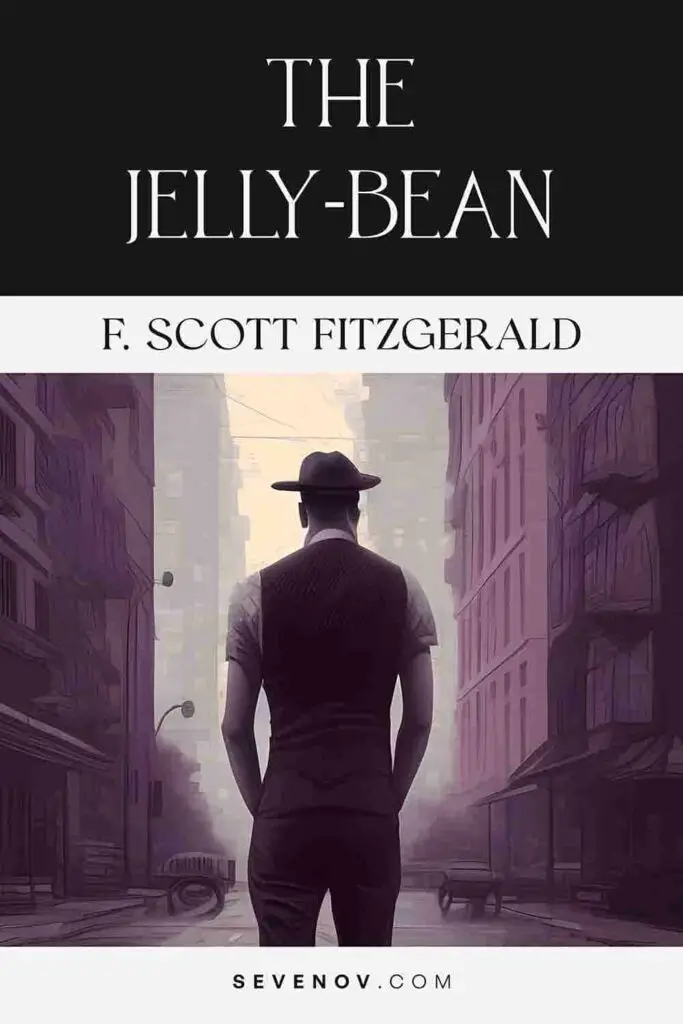 The Jelly-bean by F. Scott Fitzgerald
Author: F. Scott Fitzgerald 
Published: Metropolitan Magazine (Oct 1920)
Genre: Short Stories
"The Jelly-bean" is a short story written by F. Scott Fitzgerald in 1920 and published in the Metropolitan Magazine in the same year. The story follows the life of an idle man as he becomes increasingly involved in vices.
1. Synopsis
A 'jelly-bean' refers to someone who likes to loaf around and do nothing, and this is precisely what Jim Powell is. Jim cruises through life, simply going with the flow and never trying to better himself. This attitude eventually leads Jim toward a lifestyle filled with vices he finds he enjoys due to its laidback nature. 
2. Story Summary
2.1. Jim Powell
The 'jelly-bean' of our story is Jim Powell. Born into a middle-class family, Jim's father died when he was younger. His family circumstance leads him to be bullied, and he avoids polite society, turning to vices and the underbelly of society. 
2.2. Nancy Lemar
Clark Darrow, Jim's friend whom he met in school, is extremely sociable and popular, the complete opposite of Jim. Clark invites Jim to a dance which Jim reluctantly agrees. 
At the dance, Jim lays eyes on Nancy Lamar, a beautiful girl who captivates his attention. Jim soon learns that Nancy is a gambling addict and is already engaged to someone else. He knows she is out of his league, but he still feels saddened. However, Jim has a chance to speak to Nancy when she steps on gum and asks that he help her remove it.
2.3. A Change
Nancy is in great debt due to gambling, and Jim helps her, believing she loves him. However, Nancy accidentally admits in a drunken state that she used Jim because he was easy to manipulate. 
Nevertheless, Jim is not put off by the fact that he has been taken advantage of. He is determined to improve himself and assimilate into polite society again. Jim leaves town to have a fresh start to revamp himself. Ultimately, Jim hopes that by turning himself into a 'gentleman,' he can win Nancy's heart for real. 
2.4. Ending
Alas, in a drunken state, Nancy accidentally marries her ex-boyfriend, which crushes Jim. He loses the motivation to better himself and abandons his grand scheme to become a gentleman. The story ends with Jim entering a pool hall, his usual haunt where shady characters are often found. 
3. Characters
Jim Powell
A 'jelly-bean,' Jim is lazy and unmotivated until he meets Nancy Lemar. He is smitten by her and determined to change for her. However, Jim lacks the intrinsic motivation to improve himself, relying on his circumstances to give him a reason to change. 
Nancy Lemar
Nancy is a beautiful but serial gambling addict and alcoholic. She takes advantage of Jim's feelings for her and does not feel sorry. Nancy's appearance beguiles her character, which is amoral and weak to vices. 
4. Themes: Aimlessness
We see characters like Jim and Nancy drift through life, relying on vices to find pleasure and get by. They seem to lack a clear goal, often constrained by society's standards. Even when Jim decides to change himself to fit society's standards better, he cannot stick to the plan as he does not find true meaning in changing and being better. He relies on what his environment expects of him and does not make any plans of his own. 
As with most of Fitzgerald's stories, he uses descriptive solid language and narration to bring the characters to life. 
5. Quotes from The Jelly-bean
I am idling, I have idled, I will idle"

Jim Powell
6. Frequently Asked Questions about The Jelly-bean
What is the slang 'Jelly-bean,' and what does it mean?
The slang 'jelly-bean' simply refers to someone who has no motivation or drive in life and is content with letting life take its course. 
Does Jim Powell change by the end of The Jelly-bean?
No, Jim does not change. He initially resolves to change himself when he falls in love with Nancy Lemar, but he reverts to his old ways when she married.