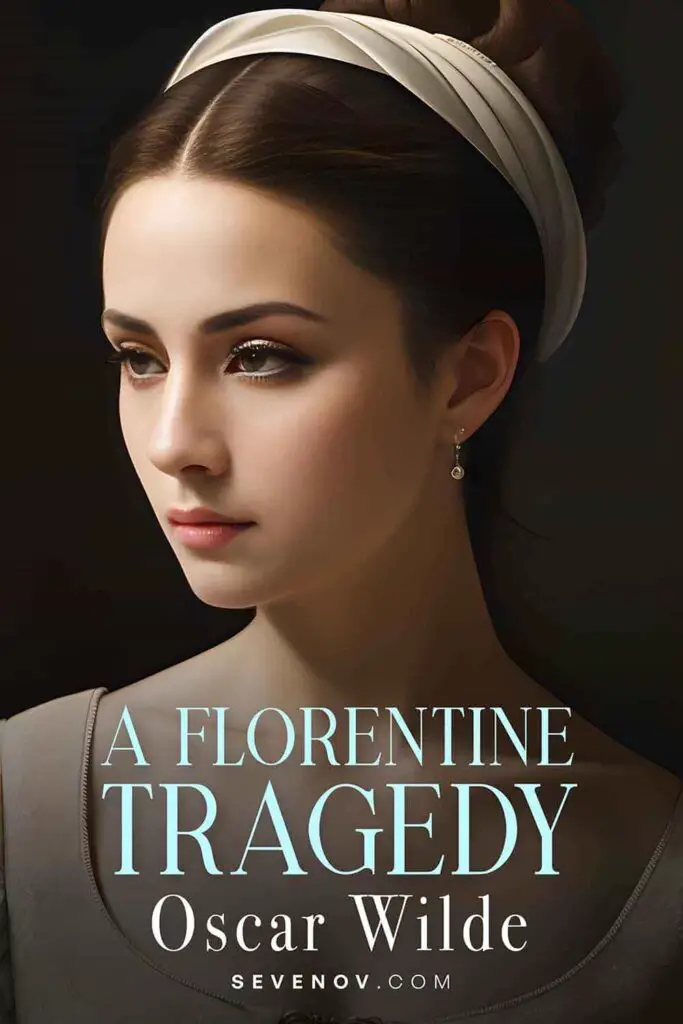 A Florentine Tragedy by Oscar Wilde
Author: Oscar Wilde
Published: Unfinished
Genre: Play, Drama, Historical
Oscar Wilde, known for his wit and remarkable literary works, left behind an intriguing fragment of a play that has continued to captivate audiences and artists alike. A Florentine Tragedy is a tale of love, betrayal, and redemption set against the backdrop of 16th-century Florence. Although the play remains incomplete, it has inspired a rich tapestry of adaptations, from operas to chamber music, each drawing on the dramatic potential of Wilde's story. In this article, we delve into the world of A Florentine Tragedy and explore its enduring influence on the world of art.
1. A Florentine Tragedy Synopsis
A Florentine Tragedy revolves around Simone, a wealthy Florentine merchant of the 16th century, and his wife Bianca. Simone's world is turned upside down when he discovers Bianca in the arms of Guido Bardi, a local prince. Rather than immediately confront the situation, Simone chooses to feign hospitality, setting the stage for a dramatic confrontation.
Simone's simmering rage eventually leads to a duel with Guido Bardi, where he disarms and strangles the prince. This act of violence awakens unexpected feelings in Bianca, and the two are reconciled. The play, though incomplete, leaves audiences with questions about the complexities of love, desire, and human nature.
2. A Florentine Tragedy Summary
The setting is an ornate room in an old house in Florence. The room is decorated with tapestries and furnished modestly.
As the scene opens, Bianca, a woman of the house, enters with her servant, Maria. Maria has recently met with a lord named Guido Bardi and believes he is the person who had previously sent Bianca a purse full of gold coins. Maria describes her encounter with Guido, noting his noble bearing and the respect shown to him by others. Bianca, intrigued, listens and tries to decipher if this was the man who sent her the purse, hoping to decipher his intentions.
Maria mentions Guido's interest in seeing Bianca again and informs her of his expected arrival that evening. Soon, Guido himself appears. After a brief discussion where Bianca pretends to think he's interested in buying fabric, the conversation quickly reveals Guido's actual interest: he's enamored with Bianca herself. They flirt, with Guido showering her with praises, and Bianca responding with both wit and hesitation.
The atmosphere becomes more tense and charged as they continue talking. Guido's admiration for Bianca is evident, and she, while flattered, is also wary of his intentions. He invites her to escape her current life and be with him, promising a life of happiness and luxury. Their intimate conversation is interrupted by a noise on the stairs.
Simone, Bianca's husband, enters the room. He's a merchant and immediately sets about showing Guido various luxury goods, hoping to make a sale. Simone's demeanor is obsequious toward the noble Guido, but he's dismissive and even derogatory toward his wife. The dynamic between the three characters becomes increasingly strained. Simone, either oblivious or choosing to ignore the chemistry between his wife and Guido, tries to make a business deal.
Guido agrees to purchase goods from Simone, likely as a way to further endear himself to Bianca. Simone's desire for profit is clear, and he continuously pushes for Guido to buy more, even using Bianca to persuade the nobleman. Guido rebuked Simone for his crude talk, especially in the presence of Bianca.
Simone tries to sell a woven robe to Guido and speaks of gossip from the court. He also makes an insinuation about husbands being made fools by their wives. Guido, wanting to protect the dignity of Simone's wife, Bianca, rebukes him.
Simone is eager to please Guido, offering him his goods at a reduced price and hinting at his desire to be in favor with the nobility. Guido promises to send his steward to make the payment and Simone is ecstatic about the deal. Simone then attempts to belittle his wife, Bianca, in front of their guest, saying she's fit only for domestic duties. He asks her to spin, but she refuses.
Simone's obsession with his own status and the commerce of the city becomes evident. He constantly brags about his status and possessions and tries to engage Guido in business talk. Bianca interjects, chiding her husband for his vulgar behavior.
However, underlying tensions become evident. There's a palpable attraction between Guido and Bianca. They exchange words of affection, and it's clear they have a relationship that Simone is unaware of. As the tension between Simone and Guido escalates, Simone becomes suspicious and paranoid, his dialogue revealing hints of his understanding of the unfaithful relationship between his wife and Guido.
Guido wants to leave, but Simone insists on a friendly duel with swords, claiming it's to test whose sword is better tempered. They fight, and after an intense bout, Simone manages to disarm Guido. Then, escalating the situation, they switch to daggers. In the dark, Simone strangles Guido to death.
Afterwards, the relationship between Simone and Bianca takes a dark and twisted turn. Bianca, stunned by Simone's strength, is drawn to him. The play ends with Simone, victorious and dominant, kissing Bianca passionately.
3. The Legacy of A Florentine Tragedy in Opera
Oscar Wilde's unfinished play has served as a wellspring of inspiration for several notable composers and librettists. One such adaptation came in 1914 when Italian composer Carlo Ravasegna crafted a short opera titled Una tragedia fiorentina. Using a translation and libretto by Ettore Moschino, this opera brought Wilde's story to life on the stage.
Even the renowned Giacomo Puccini considered A Florentine Tragedy as a potential source material for a new opera but ultimately chose a different path. However, Puccini's interest in the story speaks to the enduring allure of Wilde's narrative.
In 1917, Austrian composer Alexander von Zemlinsky premiered Eine florentinische Tragödie, an opera based on a German translation of Wilde's play. This opera further expanded the reach of Wilde's original work, introducing it to a wider audience.
Sergei Prokofiev, the Russian composer, was also drawn to the story. He penned his opera Maddalena with his own libretto, inspired by a play by Magda Gustavovna Lieven-Orlova, which itself was based on Oscar Wilde's work. Maddalena had its first live staging in Graz, Austria, in 1981, marking yet another chapter in the play's artistic evolution.
4. Further Contributions to the Legacy
Wilde's A Florentine Tragedy has not only inspired opera but also found its way into chamber music. In 1989, Caspar René Hirschfeld composed a chamber opera titled Bianca based on the Florentine Tragedy. Hirschfeld utilized the German translation by Max Meyerfeld and even incorporated love poetry from Wilde, filling in the first scene—a love encounter between Bianca and the prince. Bianca debuted at the Salzburg Festival in 1991, ensuring that Wilde's tale continued to resonate through different art forms.
5. Conclusion
A Florentine Tragedy by Oscar Wilde may remain incomplete as a play, but its enduring appeal lies in the captivating narrative of love, betrayal, and redemption set in the heart of Renaissance Florence. The story's ability to transcend its original form and find new life in opera and chamber music is a testament to Wilde's storytelling prowess.