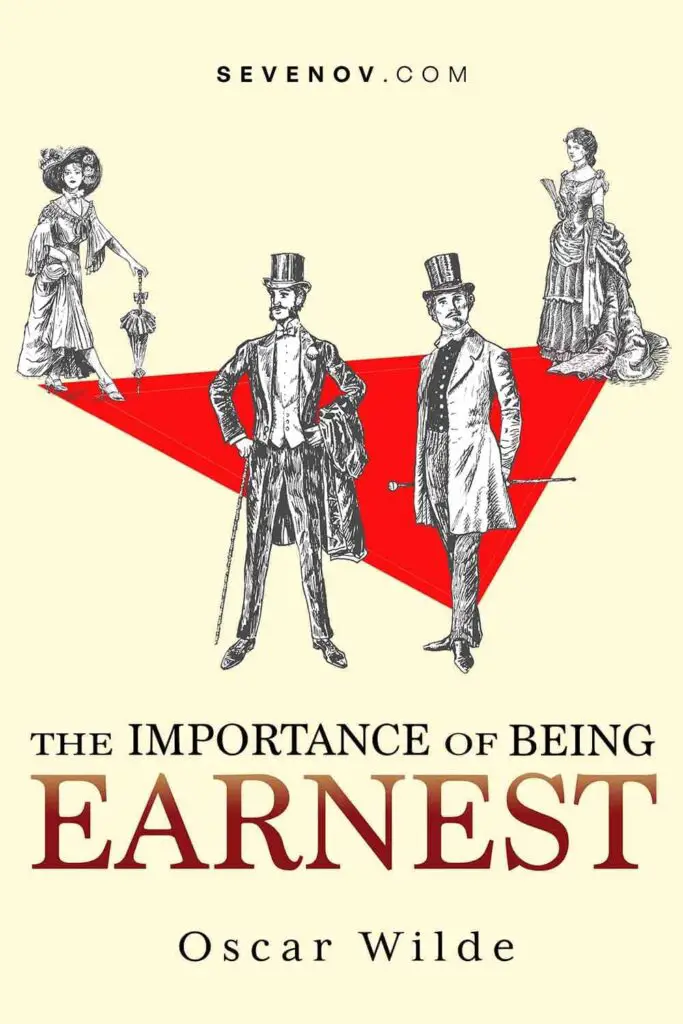 The Importance of Being Earnest by Oscar Wilde
Author: Oscar Wilde 
Performed: 1895
Genre: Play, Drama, Humor
The Importance of Being Earnest: A Trivial Comedy for Serious People is a play written by Oscar Wilde and performed on 14th February 1895. It is a farcical comedy playing at the St James's Theatre in London, where the principal characters maintain false alter egos to avoid pressing societal roles and responsibilities. 
The Importance of Being Earnest's central themes, which are based on late Victorian London social mores, revolve around how institutions as important as marriage are treated lightly and the humor that ensues.
1. The Importance of Being Earnest Synopsis
A stylish young man named Jack Worthing resides in the country with his ward, Cecily Cardew. He fabricated a roguish brother named Ernest, whose purported escapades give Jack a justification to journey to London frequently in order to save him. Jack is in love with Algernon Moncrieff's cousin, Gwendolen Fairfax, who believes his name is Ernest. However, Lady Bracknell, her mother, is opposed to their marriage because Jack is an orphan discovered in a handbag at Victoria Station. 
Jack learns that Algernon has been pretending to be Ernest to court Cecily, who has always had feelings for the fictional scoundrel Ernest. In the end, it is made clear that Jack is Ernest, Lady Bracknell's nephew, and that Algernon is Ernest's brother. Both couples are successfully united at the play's conclusion.
2. The Importance of Being Earnest Summary
Act 1 
The play begins with Algernon Moncrief playing the piano in his glamorous London flat. At the same time, his butler Lane prepares tea for Algernon's Aunt Augusta (Lady Bracknell) and her daughter, Gwendolen Fairfax, whose arrival Algernon anticipates. Lane declares the unexpected arrival of Algernon's friend Mr. Ernest Worthing (Jack).
Algernon greets his visitor. Jack informs Algernon that he has returned to town to propose to Gwendolen, whom he has been courting. Algernon confronts Jack about a woman named Cecily after hearing this news. Jack initially denies knowing her, but Algernon produces a cigarette case that he left behind from the last time they dined together. The case bears the inscription, "From little Cecily, with her fondest love to her dear Uncle Jack." 
When confronted with such evidence, Jack comes clean, revealing that he has been living a double life. Cecily is, in fact, his ward. In the country, he goes by "Jack," while in the city, he goes by "Ernest." He shares this name with his fictional brother, a scheming character whose scandalous lifestyle frequently summons Jack back to the city to resolve his "brother's" affairs. In reality, Jack uses "Ernest" to get away from his responsibilities in the country. 
Algernon's suspicions are confirmed when Jack's charade confirms his status as a "Bunburyist," or someone who uses deception to avoid his duties. Algernon also discloses that he is a "Bunburyist" expert, having invented the term after his fictional persona, "Bunbury," whose poor health frequently requires him at his so-called friend's bedside. 
Meanwhile, Lady Bracknell and Gwendolen arrive at Algernon's flat soon after. While Jack proposes to Gwendolen, Algernon diverts Lady Bracknell. She accepts, but only because she has always admired the name "Ernest" and emphasizes that she would never marry a man with any other name. This revelation frightens Jack, and he startles when Lady Bracknell bursts into the scene, interrupting his proposal.
Lady Bracknell clears the room when Gwendolen announces her engagement so she can question Jack about his living arrangements, finances, and family relationships. She forbids Gwendolen from seeing Jack after learning that he has no parents and was adopted by Mr. Thomas Cardew, who discovered Jack in a handbag left in a coat room at Victoria station. 
Jack and Gwendolen say their goodbyes, while Algernon, intrigued by Jack's young ward, plans to visit his friend "Bunbury." 
Act 2 
 At Jack's country estate in Hertfordshire, Miss Prism struggles to keep Cecily focused on her German lessons. Dr. Chausible, the rector, arrives and invites Miss Prism for a stroll. While Cecily is home alone, the butler Merriman announces Mr. Ernest Worthing's arrival. Algernon is impersonating Jack's brother "Ernest," but Cecily believes him to be the real thing. 
Soon after, Jack arrives, dressed in mourning clothes, as his brother "Ernest" has recently died. When Jack discovers that Algernon is at the estate pretending to be "Ernest," he is enraged, but he must maintain appearances so that his lies and deceptions are not exposed. 
Meanwhile, Algernon proposes to Cecily after falling in love with her beauty and charm. Algernon is surprised when Cecily claims she already considers herself engaged to him. Cecily has always been fascinated with Jack's brother, Ernest, and seeing Ernest in person sweeps her away. She tells him about their love story, the intricate imaginary romance she invented between herself and Ernest a few months ago, and that she has always wanted to marry a man named "Ernest."
Gwendolen arrives to pay Jack an unexpected visit while Algernon rushes off to find Dr. Chausible. Cecily invites her to tea in the garden and announces her engagement to Ernest Worthing, but Gwendolen responds that she is Ernest's fiancée. Before Jack and Algernon arrive separately, each having gone to see Dr. Chausible about being christened "Ernest," the ladies exchange sarcastic comments. 
The two women realize Jack and Algernon have duped them. They want to know where the enigmatic "Ernest" is. Jack comes clean, admitting that "Ernest" is a purely fictitious character, further infuriating Cecily and Gwendolen. 
Act 3 
Cecily and Gwendolen both probe Jack and Algernon further about their dishonesty. Jack confesses that he pretended to be "Ernest" to visit Gwendolen frequently; Algernon concedes that he pretended to be "Ernest" to meet Cecily. These explanations satisfy the two women, but they only completely forgive Jack and Algernon after the two men divulge that they will be christened "Ernest" that afternoon.
Lady Bracknell interrupts this joyous moment by arriving to collect Gwendolen. Gwendolen's engagement to Jack is reaffirmed, while Algernon announces his engagement to Cecily. Lady Bracknell expresses her displeasure with Jack and Cecily until Jack reveals that Cecily is the heiress to a large fortune.
Now intrigued by Algernon's engagement, Lady Bracknell advocates for the match, but Jack, as Cecily's ward, stubbornly opposes the match until Lady Bracknell approves of his engagement to Gwendolen. Lady Bracknell rejects but then turns her attention to Miss Prism, accusing her of the death of her sister's infant son twenty-eight years ago. 
Miss Prism admits, explaining that the boy was misplaced in a handbag in a coatroom at Victoria Station. Jack realizes he is the abandoned child and presents the handbag as proof. Jack and company go to the manor's library for confirmation, where they discover an Army List with Jack's father listed as "Mr. Ernest John Moncrief." 
It turns out that Jack's real name is Ernest. He has discovered his actual family name is Moncrief, a name and bloodline he shares with his real younger brother Algernon, and, as he embraces his betrothed, he has learned the "vital importance" of living up to his family name. 
3. The Importance of Being Earnest Characters
Jack Worthing – Jack Worthing is a central character in Oscar Wilde's play "The Importance of Being Earnest." He leads a double life, going by the name Ernest in the city and Jack in the country. Jack is earnest and responsible, but his fictional alter ego, Ernest, allows him to indulge in a more carefree and adventurous lifestyle in London.
Algernon Mocrieff – Gwendolen's cousin, Lady Bracknell's nephew, and Jack's best friend. He is a lovely bachelor and opulent dandy who excels at "Bunburying" or making cunning excuses to avoid social commitments. He poses as "Ernest," Jack's fabricated brother, to meet Cecily Cardew.
Gwendolen Fairfax – Algernon's cousin, Lady Bracknell's offspring, and Jack's fiancée. She has strong opinions about culture, morals, and fashion and is metropolitan, fashionable, and sophisticated. She is also highly conceited and narcissistic, as evidenced by the fact that she will only marry "Ernest" and no one else. 
Cecily Cardew – Algernon's love interest, Mr. Thomas Cardew's granddaughter, and Jack's ward. Starry-eyed Cecily prefers to write in her diary rather than study. She creates a complex, fictitious relationship between herself and this mysterious character in her dreams, "Ernest," the brother of Jack.
Lady Bracknell – She is Gwendolen's stuffy, judgmental mother and is referred to as Aunt Augusta by her nephew Algernon. Lady Bracknell will not permit Jack to marry Gwendolen until he finds some suitable "relations" because she has ideas deeply ingrained in Victorian social mores.
Miss Prism – As Cecily's prim and proper governess, she upholds moral standards that are so inflexible that they almost seem absurd. Dr. Chausible is her beau.
Doctor Chausible –  The rector on Jack's rural estate. He is relied upon by Algernon and Jack to give them both the name "Ernest." Miss Prism is Dr. Chasuble's love interest.
Mrs. Moncrieff – She is Algernon's mother and Lady Bracknell's sister, who is rarely mentioned in the play. She is the mother of the baby boy who was unintentionally left in a handbag in a coat room at Victoria station, which makes her Jack's biological mother.
General Moncrieff – Algernon's father, Lady Bracknell's brother-in-law, and Mrs. Moncrieff's husband. He is revealed to be Jack's father. Jack is named after him.