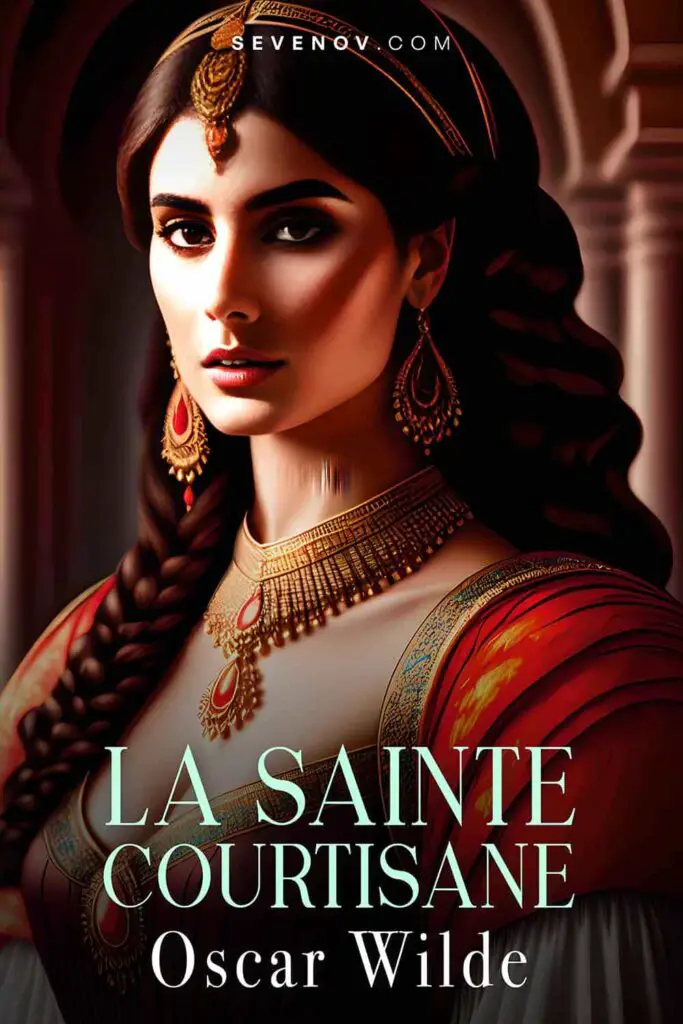 La Sainte Courtisane by Oscar Wilde
Author: Oscar Wilde
Published: Unfinished
Genre: Play, Tragedy
The world of literature often thrives on the mysterious allure of the incomplete. Oscar Wilde's La Sainte Courtisane is a prime exemplar of this phenomena. Wilde began crafting "La Sainte Courtisane" in 1894, sandwiched between his iconic works, Salome and The Importance of Being Earnest.
However, his work on this play came to a halt due to his infamous trial and imprisonment. The fate of the play took a peculiar twist when, during his trial, Wilde entrusted the nearly completed drama to Mrs. Leverson, who journeyed to Paris in 1897 to return it to him. Tragically,Wilde accidentally left the near-complete manuscript in a cab, and all attempts to recover it failed. Wilde did contemplate revisiting the play after his release, but it seems he lacked the motivation for literary pursuits during that period. In 1908, Robbie Ross, Wilde's literary executor, published fragments of the first draft. 
1. La Sainte Courtisane Synopsis
La Sainte Courtisane delves into themes of sin, repentance, temptation, and the nature of divine love. Set against the backdrop of the Thebaid desert, the drama unfolds as the opulent and alluring Myrrhina encounters Honorius, a young hermit dedicated to a life of asceticism and devotion to God.
2. La Sainte Courtisane Summary
La Sainte Courtisane unfolds in an ancient setting where Myrrhina, an Alexandrian noblewoman, ventures into the mountains to tempt Honorius, a devout Christian hermit, away from his ascetic life. The play tantalizingly portrays Myrrhina's efforts to sway Honorius with her beauty and wealth. However, an unexpected twist unfolds as Honorius reveals to her the secret of the Love of God. Myrrhina undergoes a profound transformation, converting to Christianity, only to meet a tragic fate at the hands of robbers.
Honorius, on the other hand, chooses to abandon his hermit life and return to Alexandria in pursuit of pleasure. This theme of conversion, of trading places in the moral and spiritual spectrum, reflects a recurrent motif in Wilde's writings. It speaks of the fickle nature of conviction, suggesting that when one passionately convinces another of an idea, they themselves often become disenchanted with it.
3. Intersecting Influences and Interpretations
La Sainte Courtisane reverberates with echoes from various influences. Scholars like Richard Ellmann have highlighted parallels between the play and Anatole France's Thaïs. Further, Rita Severi perceives inspirations from figures like Saint Mary the Egyptian and Mary Magdalen, even suggesting an Indian legend's influence on the plot.
Severi's insight into Wilde's "Parisian, Symbolist phase" reveals the play's dense layers of symbolism. The dialogues are not mere exchanges but orchestral notes in a symphony of allegory. They are crafted with the precision of pearls cascading into a silver basin, indicative of Wilde's mastery over language.
4. Between Reverence and Disdain: Wilde's Changing Moods
Wilde's own fluctuating perspective on La Sainte Courtisane is worth noting. Before his imprisonment, he regarded it as a gem among his literary treasures, a "beautiful coloured, musical thing." Yet, post his release, his demeanor changed. The same play he had once cherished was now dismissed with a jest, remarking that a cab was a suitable place for it.
Such oscillations in Wilde's appreciation are not mere quirks of personality but reflections of his evolving relationship with his own works.
6. Legacy and Critical Reception
Despite its fragmented existence, La Sainte Courtisane hasn't been completely relegated to obscurity. While Christopher S. Nassaar considers it a "minor jeux d'esprit," he also believes it serves as a link, a bridge between Wilde's other renowned works.
Moreover, its influence extended into the world of music. In 1930, Rudolf Wagner-Régeny brought life to the fragments, weaving them into a composition for speakers and a chamber orchestra.
7. Conclusion: A Fragmented Gem
In the annals of literature, La Sainte Courtisane remains a tantalizing enigma. Its incomplete narrative, punctuated by its dramatic history and Wilde's own ever-changing opinion, only serves to increase its allure. Through it, Wilde once again beckons us into a world where temptation meets spirituality, desires grapple with virtues, and where every dialogue holds a universe of allegory. Even in its unfinished state, La Sainte Courtisane stands as a testament to Wilde's unparalleled genius.