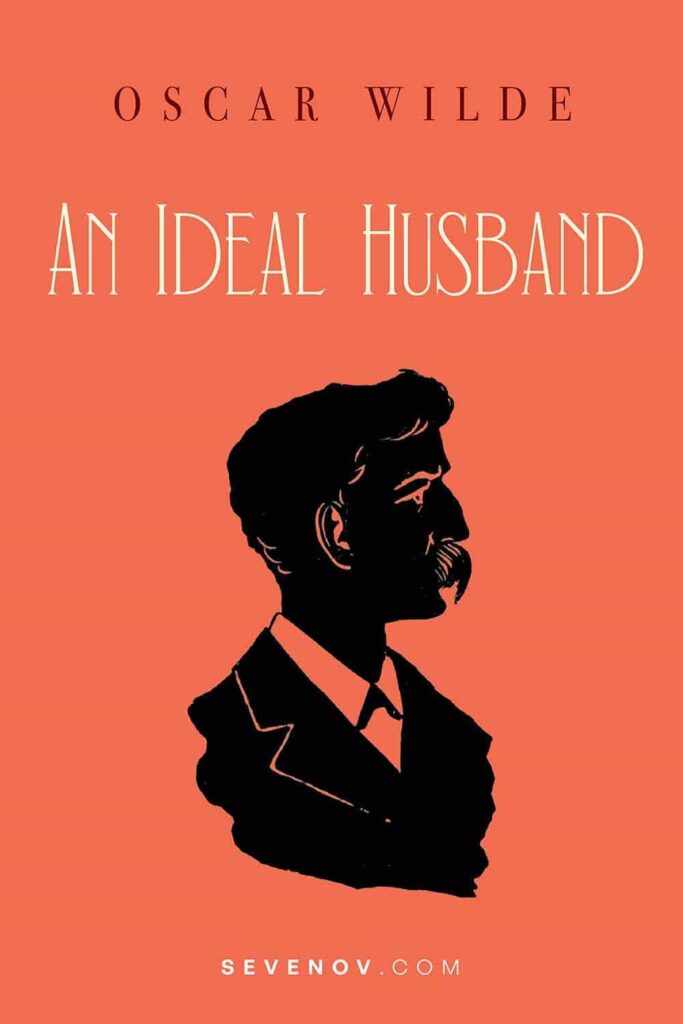 An Ideal Husband by Oscar Wilde
Author: Oscar Wilde 
Performed: 1895
Genre: Play, Drama, Humor
An Ideal Husband is a play written by Oscar Wilde, which was performed in 1895, a time when Wilde's reputation was at its zenith. It premiered at the Haymarket Theatre in London on January 3, 1895, under the management of the famous actor-manager Sir Herbert Beerbohm Tree. This period marked a prolific phase in Wilde's career, producing some of his most iconic works.
The play was an instant success with audiences and critics alike. Its blend of humor, social commentary, and Wilde's signature epigrams resonated with the Victorian audience, many of whom were living through the very hypocrisies the play exposed. Despite its success, this period was tumultuous for Wilde, as he faced trials and personal scandal which would eventually lead to his imprisonment later that same year.
1. An Ideal Husband Synopsis
Set in London's high society, An Ideal Husband revolves around Sir Robert Chiltern, a respected politician with a seemingly spotless reputation. However, his past contains a dark secret: a youthful indiscretion where he sold a government secret to achieve his wealth and position. Mrs. Laura Cheveley, an old acquaintance, arrives in London with knowledge of this secret and seeks to blackmail Sir Robert. With his career and marriage to the virtuous Lady Gertrude Chiltern hanging in the balance, the play delves into themes of honor, redemption, and the nature of idealism.
Sir Robert's friend, Lord Goring, becomes an instrumental character in the unraveling of the story. Known for his dandyism and wit, Goring is both a source of humor and insight. He navigates the complex moral terrain, helping Sir Robert confront his past while also dealing with his own romantic entanglements with Sir Robert's sister, Mabel.
The play's climax and resolution offer a nuanced look at the nature of human imperfection, arguing against the unrealistic standards of 'idealism' society often places on individuals. The story concludes with the idea that love and understanding can overcome the harshest of judgments.
2. An Ideal Husband Summary
Act 1
In a brilliantly lit octagon room at Sir Robert Chiltern's house, various guests engage in conversation. The room is filled with people, including Lady Chiltern, Mrs. Marchmont, Lady Basildon, Lord Caversham, and Lord Goring. Mrs. Cheveley, a woman with a mysterious background, arrives and interacts with the guests, particularly Sir Robert Chiltern. Lord Goring is introduced as the idlest man in London, and his witty banter with the ladies is a prominent feature of the scene. The conversation touches on various topics, including politics, marriages, and society. Some of the guests expressing their desire for supper, highlighting the superficial nature of London society.
Lord Goring is criticized for not engaging in conversation with Mabel. Later, Mrs. Marchmont and Lady Basildon also express their hunger. The Vicomte de Nanjac offers to escort Lady Basildon to supper, and Mr. Montford does the same for Mrs. Marchmont.
Meanwhile, Sir Robert Chiltern and Mrs. Cheveley discuss a political and financial scheme involving the Argentine Canal Company. Mrs. Cheveley wants Sir Robert to support the scheme, which he initially opposes, considering it fraudulent. However, Mrs. Cheveley reveals a compromising letter from Sir Robert's past and blackmails him into supporting the scheme in exchange for not disclosing the letter. Sir Robert reluctantly agrees, causing tension between him and his wife, Lady Chiltern, who later confronts him about his decision but is reassured that he has done the right thing.
As the events unfold, Lord Goring becomes involved when he finds a valuable brooch and a lettercase, leading to suspicions about Mrs. Cheveley's motives. The act ends with the letter being sent to its destination, and Lady Chiltern reaffirming her love for Sir Robert.
Act 2
In the Morning-room at Sir Robert Chiltern's house, Lord Goring discusses with Sir Robert Chiltern his recent predicament involving a secret from his past. Sir Robert is in turmoil over the potential revelation of this secret and seeks Lord Goring's counsel. Lord Goring advises him not to confess the truth, as it could ruin his career and reputation. They also discuss Mrs. Cheveley, a woman who possesses damaging information about Sir Robert.
Lady Chiltern joins the conversation, and they talk about the importance of maintaining a spotless public image. Lord Goring emphasizes the complexities of human nature and offers his assistance to Lady Chiltern if she ever needs it. Mabel Chiltern, Sir Robert's sister, enters the scene, and engages in playful banter with Lord Goring.
Lord Goring mentions a list of guests that he needs, and Mabel praises Tommy Trafford's usefulness. As Lord Goring leaves, Mabel expresses her annoyance with Tommy's frequent proposals. Lady Chiltern and Lady Markby discuss various topics, including the behavior of curates, politics, and society. Eventually, Mrs. Cheveley arrives, and Lady Chiltern confronts her about her true identity and threatens to expose her. Mrs. Cheveley counters with a threat of her own, revealing a scandal involving Sir Robert Chiltern's past. Lady Chiltern is devastated, and Sir Robert enters, admitting the truth and expressing his remorse. The act ends with Lady Chiltern in tears and anguish.
Act 3
In Lord Goring's elegant home, he prepares for an evening engagement while discussing fashion and society with his butler, Phipps. Meanwhile, his father, Lord Caversham, arrives to persuade him to get married. Lord Goring humorously deflects his father's pressure and emphasizes the importance of timing in such matters. Sir Robert Chiltern, a close friend, enters in distress, revealing that his wife, Gertrude, has discovered a past indiscretion. They discuss the situation, and Sir Robert confides in Lord Goring, seeking advice.
As they speak, Mrs. Cheveley, arrives to see Lord Goring. The conversation takes an emotional turn as Sir Robert expresses his love for his wife and his anguish over her discovery of a compromising secret that could ruin his reputation. Sir Robert's wife, Lady Chiltern, has discovered this secret and is deeply upset. Lord Goring offers comfort and understanding to his friend while trying to manage his own unexpected visitor.
Meanwhile, Mrs. Cheveley, a scheming woman, tries to manipulate the situation to her advantage. She offers to sell a letter that could expose Sir Robert's past actions but also hints at a romantic interest in Lord Goring. As the tension escalates, it is revealed that Mrs. Cheveley stole a letter from Lady Chiltern meant for Lord Goring. In the end, Mrs. Cheveley leaves triumphantly with the letter, leaving Lord Goring frustrated and unable to prevent her from causing further trouble.
Act 4
In the fourth act of the play, Lord Goring is waiting at the Chiltern house, feeling bored. Lady Chiltern is not yet downstairs, and he rings for a servant. They discuss the absence of Lady Chiltern and Lord Caversham's visit. Lord Goring is revealed to be in love with Miss Mabel Chiltern, and she arrives, teasing him about a proposal. Meanwhile, Lord Goring reveals that he intercepted a compromising letter written by Mrs. Cheveley to Sir Robert Chiltern, thus protecting Sir Robert. Lady Chiltern is relieved but worried about how to retrieve the letter before Sir Robert reads it. Lord Goring suggests involving Mr. Montford, one of Sir Robert's secretaries, to identify and intercept the letter.
Lord Goring helps Lady Chiltern intercept a letter that could have ruined her husband's political career. Afterward, Lady Chiltern realizes the importance of forgiveness and decides not to push her husband into retirement. Lord Goring reveals his love for Mabel Chiltern, and Sir Robert Chiltern accepts their relationship. The play ends with the prospect of a brighter future for all the characters.
3. An Ideal Husband Characters
Sir Robert Chiltern – A talented and respected politician. He's the main protagonist of the story, and his past mistake forms the central plot of the play.
Lady Gertrude Chiltern – Sir Robert Chiltern's wife. She is virtuous and has a very idealized image of her husband, viewing him as the "ideal husband".
Mrs. Laura Cheveley – The main antagonist. She is a cunning and manipulative woman who tries to blackmail Sir Robert Chiltern using a secret from his past.
Lord Arthur Goring – A close friend of Sir Robert Chiltern. He's a dandy, known for his wit and charm. He's instrumental in the resolution of the play's main conflict.
Mabel Chiltern – Sir Robert Chiltern's younger sister. She is spirited, clever, and is romantically interested in Lord Goring.
Lord Caversham – Lord Goring's father. He often expresses disappointment in his son's lack of ambition and direction in life.
Lady Markby – A typical representation of the London society matron. She brings Mrs. Cheveley to the Chilterns' party at the beginning of the play.
Vicomte de Nanjac – A young diplomat from France.
Miss Eleanor/Daisy – Friends of Mabel, mentioned in the play but not actively participating in the main events.
Phipps – Lord Goring's personal butler. His character adds a touch of humor to the play, particularly in his interactions with Lord Goring.
Mason – The Chilterns' butler.
Lady Basildon and Mrs. Marchmont – Two gossiping society ladies who provide comedic relief and commentary on the events of the play.