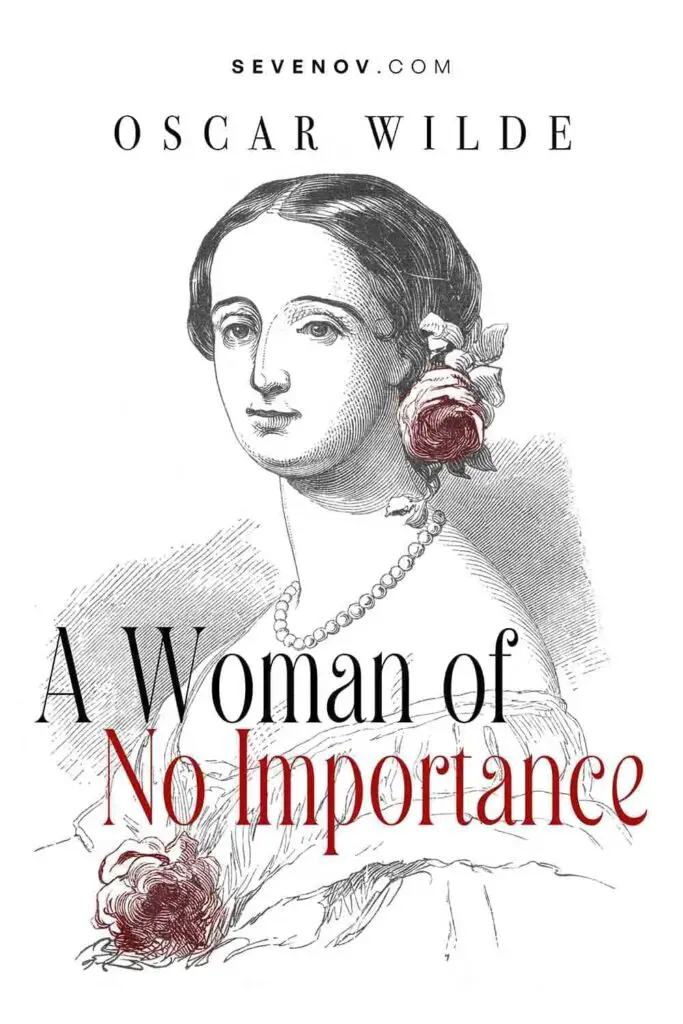 A Woman of No Importance by Oscar Wilde
Author: Oscar Wilde 
Performed: 1894 
Genre: Play, Drama, Humor
A Woman of No Importance is a play written by Oscar Wilde, which was performed in 1894. It is another of his satirical works about the contradictory standards that society has set for men and women, as well as upper-class morality in England. 
The play's central character is a single mother, Mrs. Arbuthnot, with a son. She is reported to be a widow. In an odd turn of circumstances, Gerald's biological father, Lord Illingworth, an amoral, cunning man, offers him a job. Gerald must decide whether to accept the job his father is offering or stick by his mother, who took care of him independently.
1. A Woman of No Importance Synopsis
A Woman of No Importance is a parody on upper-class morals in England and the social norms that hold men and women to different standards. Lord Illingworth, a bachelor and incessant flirt who is acclaimed for his wit, has to hide the disgrace of her son's illegitimacy from the woman he seduced 20 years ago.
After Lord Illingworth turned down her proposal of marriage, Mrs. Arbuthnot raised their son Gerald by herself. Gerald receives a fantastic job offer from Lord Illingworth in the first act, unaware that he will be serving as his father's secretary.
Gerald is caught in a dilemma between his mother and an exciting job after a dispute between Mrs. Arbuthnot and Lord Illingworth during Lady Hunstanton's country house party. 
It is both a comedy of manners and a protest against gender inequality. A Woman of No Importance was first performed on 19 April 1893 at the Haymarket Theatre in London. The play was published in 1894.
Wilde skillfully satirizes the hypocrisy of upper-class society and the cruelty of punishing only women, not men, for having sex outside of marriage. The play, however, is considered one of Wilde's weakest, with a plot that only takes shape halfway through and most of the first act devoted to witty repartee that has no bearing on the action. A Woman of No Importance has been multiple times adapted for film and radio.
2. A Woman of No Importance Summary
Act 1 
The performance starts in front of the patio at the country house in Hunstanton. Hester, a young American girl, and Lady Caroline converse about country life. Lady Hunstanton also contributes to the discussion, revealing that Gerald Arbuthnot, her friend's son, has landed a position working as Lord Illingworth's secretary. 
Gerald is delighted since becoming Lord Illingworth's secretary would be the young man's first step toward a successful career in business and politics. The guests then talk about the rumors that Lord Illingworth wants to be a foreign ambassador, and Lady Hunstanton writes Gerald's mother a letter inviting her to the party through her footman. 
Lady Stutfield and Mrs. Allonby join the conversation about the role of women in society. While one of the women speaks negatively about Lord Illingworth, he joins the group with cynicism and sardonic humor. The group speaks about British and American politics as well as morality. 
The remaining guests continue discussing their social circles while Gerald offers to accompany Hester for a stroll. Just as Lord Illingworth enters the terrace, Lady Hunstanton and Lady Stutfield are snarking about his immoral behavior with women. He declines their praises for hiring Gerald Arbuthnot, claiming he did so out of personal interest. After discussing Hester's upbringing and affluent father, Lord Illingworth hovers around Mrs. Allonby until the pair head for the conservatory together.
A footman comes carrying a note from Mrs. Arbuthnot that promises attendance at the post-dinner soiree. The remaining guests have relocated to another room for tea when Illingworth and Mrs. Allonby return. 
The duo are engaged in a scintillating discussion about marriage, women, and men when Gerald and Hester walk in. After some light conversation, Lord Illingworth and Mrs. Allonby are once more left alone. When Mrs. Allonby confronts the young American for her careless remarks about being eighteen and a Puritan, their conversation shifts to Hester. 
Lord Illingworth admits that he adores Hester's looks, utilizing the opportunity to flirt with Mrs. Allonby. He declares Hester is the most puritanical woman he has ever encountered, sure to reject all his advances resolutely. Mrs. Allonby insists Hester's request to be left alone is genuine, but Illingworth sees it as a humorous game. 
Mrs. Arbuthnot's letter is sitting on a table when Lord Illingworth examines it, commenting on how the lettering on the envelope looks familiar. He casually mentions "a woman of no importance" when Mrs. Allonby inquires about the person the handwriting reminds him of. 
Act 2
Towards the end of a debate between Hester and some upper-class women, Gerald's mother, Mrs. Arbuthnot, shows up. The moment Lord Illingworth appears, Gerald takes the chance to introduce him to her. The three have an awkward conversation as Mrs. Arbuthnot merely somewhat conveys her dislike of Illingworth's offer, much to Gerald's chagrin. Lord Illingworth withdraws, and shortly afterward, Lady Hunstanton invites everyone to her music room. However, Illingworth requests to stay behind to meet Mrs. Arbuthnot. 
It is then revealed that Gerald is the illegitimate child of Mrs. Arbuthnot and Lord Illingworth, formerly known as George Harford. George Harford and Mrs. Arbuthnot had a baby years ago, but Harford was reluctant to wed Arbuthnot. Although Harford had vowed to secure Mrs. Arbuthnot's financial future through his mother, she claims his hesitation to get married compelled her to leave him and lead an exhausting life as a single mother.
Mrs. Arbuthnot says that after going through twenty years of motherhood, Gerald is all she has left and begs Illingworth to leave her son alone. She still harbors tremendous resentment towards Illingworth. 
Illingworth wonders how she will get Gerald to comply with what she wants if she forbids him from staying with his father. He says to Mrs. Arbuthnot that Gerald should be granted the autonomy to carve his path in life. 
 Lord Illingworth then welcomes Gerald, reassuring him and his mother that Gerald possesses all the sought-after traits of a secretary. Illingworth challenges Mrs. Arbuthnot to provide any additional arguments against Gerald's opportunity. Not wanting to expose her son's true lineage, Mrs. Arbuthnot says she has no other reason.
Act 3 
In the first scene of Act III, Gerald and Lord Illingworth discuss Mrs. Arbuthnot. Gerald describes his love and protectiveness of his mother, saying that she is a wonderful woman and questioning why she has never revealed the identity of his father to him. While acknowledging that his mother is a wonderful woman, Lord Illingworth says that great women restrain the desires of young men. 
Lord Illingworth initiates a sarcastic dialogue about society and marriage by stating that he has never been wed and that Gerald will be living under his care. As soon as the additional guests arrive, Lord Illingworth engages them with his energizing perspectives on various topics. 
Every argument Lord Illingworth makes challenges the status quo and thrills his audience, giving Mrs. Arbuthnot the opportunity to express her regret in supporting his beliefs. She also disagrees with Lady Hunstanton's later viewpoint on wicked women by asserting that damaging a woman's life is impermissible. 
Lord Illingworth and Mrs. Allonby depart to observe the moon after Lady Hunstanton's group eventually disperses. Gerald tries to follow, but his mother begs him to drive her home instead. Gerald informs that he will be traveling to India with him at the end of the month and must first say farewell to Lord Illingworth.  
When Mrs. Arbuthnot and Hester are left alone, they pick up where they left off in their discussion about women. Mrs. Arbuthnot finds Hester's assertion that parents' misdeeds are carried on by their offspring repugnant. Hester resolves to get Gerald after realizing that Mrs. Arbuthnot is waiting for her son to return. However, Gerald soon returns alone, and he grows upset with his mother's continual condemnation of what he perceives as a chance to win Hester's affection and his mother's respect. 
Mrs. Arbuthnot chooses to tell her son the truth about his background and her relationship with Lord Illingworth after considering Hester's viewpoints. Still, she does it indirectly, highlighting the misery that deceived women experience. But Gerald doesn't change, so Mrs. Arbuthnot drops her protests. Just then, Hester storms into the room, upset that Lord Illingworth has horrendously offended her by attempting to kiss her. 
Gerald is about to confront Lord Illingworth in a fit of wrath when his mother intervenes by informing him that Lord Illingworth is his father. Gerald then takes his mother home after this realization while Hester departs alone. 
Act 4 
Gerald is penning a letter to Lord Illingworth at Lady Arbuthnot's home. Mrs. Allonby and Lady Hunstanton visit Lady Arbuthnot, but the two women depart as she is unavailable to greet them. When Lady Arbuthnot arrives, her son tells her he is writing Lord Illingworth a letter asking him to marry her. 
Lady Arbuthnot is adamantly opposed to it and tries to explain to her son why it would go against all she believes in and everything she has undergone throughout her life. Hester arrives, taking Arbuthnot's side in the argument.  
After realizing that the law of God is love, Hester pledges to use her fortune to care for the man she loves and the mother she never had. Gerald and Hester leave the house to sit in the garden after making sure Mrs. Arbuthnot must reside with them. 
Lord Illingworth enters the mansion after being summoned by the maid. He goes up to Mrs. Arbuthnot and informs her of his decision to grant Gerald some land and financial security. Lord Illingworth is shown Gerald and Hester sitting together in the garden by Mrs. Arbuthnot, who then informs him she no longer needs assistance from anyone other than her son and his lover. 
Gerald's letter is then presented to Illingworth, who reads it. Lord Illingworth asserts that he is willing to wed Mrs. Arbuthnot to be beside his son, even though it would mean giving up his ambition of becoming a foreign ambassador. Mrs. Arbuthnot tells Illingworth she will not marry him, adding that her hatred for Illingworth and her love for Gerald are complementary. 
She also adds the final blow: Hester was the one who hardened Gerald against him. Lord Illingworth concedes defeat, referring to Mrs. Arbuthnot as his mistress and dismissing her as his plaything for an affair. Before he can brand Gerald his bastard, Mrs. Arbuthnot gives him a swift slap with his own glove. 
After one last look at his son, a confused and enraged Lord Illingworth recovers and departs. Mrs. Arbuthnot calls out for Gerald as he and Hester enter and asks Hester if she wants to be her daughter-in-law. Hester tells her that she would like that. Gerald notices his father's glove on the floor and asks who has visited. Mrs. Arbuthnot responds it is someone unimportant.
3. Characters
Mrs. Arbuthnot – Mrs. Arbuthnot has raised her son Gerald for the past twenty years while living in the shadow of his illegitimacy, making her a devout mother willing to do anything for her treasured son. She is the titular woman whom George Harford deems unimportant enough to wed.
Gerald Arbuthnot – A very young and naïve bank employee, he falls victim to his mother's attempts to conceal the name of his biological father. Meanwhile, Hester Worsley has captured his heart, and he is suddenly presented with the alluring prospect of working as Lord Illingworth's secretary. He is unaware that Illingworth is his father when this proposition is made.
Hester Worsley – Hester is a lovely young American woman who visits Hunstanton Chase. She embodies American Puritanism and is unafraid to express her opinions on gender equality, sexual purity, and double standards. 
The play's lesson is made evident when she develops feelings for Gerald Arbuthnot: Her father's affluence is the driving force through which Mrs. Arbuthnot's sacrifices are ultimately positively recognized. Through Hester, both Arbuthnot and Gerald discover a way out of their financial binds.
Lord Illingworth – Lord Illingworth is the archetypal British dandy with no obvious support systems and a long history of mistreating and discarding women. Through a fortuitous encounter, he learns that Gerald is his son, but his troubled past makes it impossible for him to win over Gerald's love. Without an heir, society no longer sees him as a man of high value.