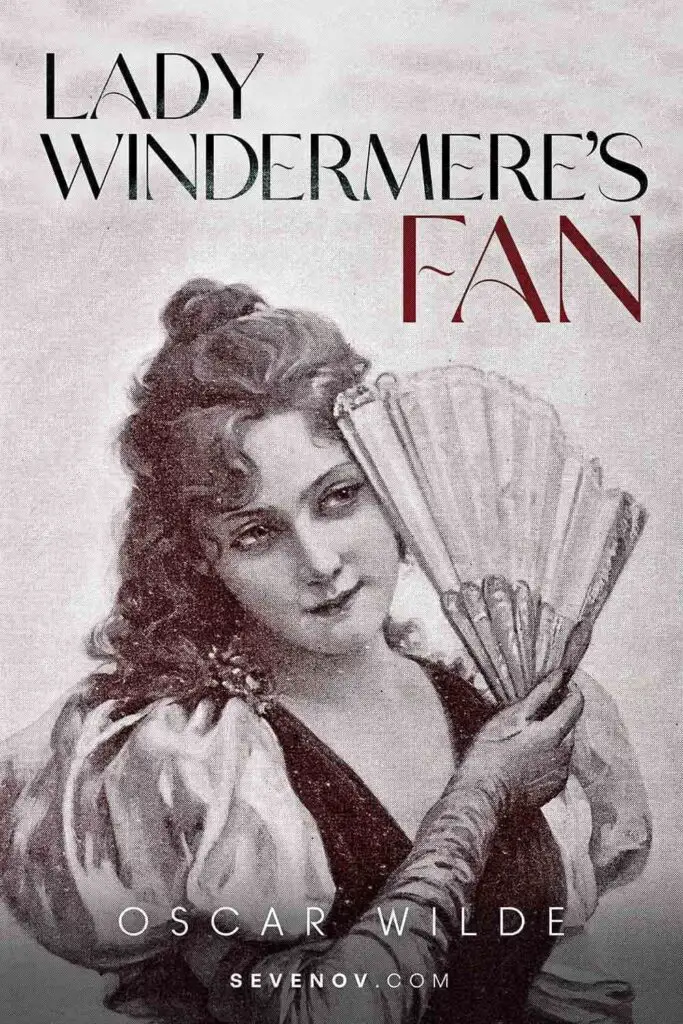 Lady Windermere's Fan by Oscar Wilde
Author: Oscar Wilde
Performed: 1892
Genre: Play, Drama
Lady Windermere's Fan is a play by Oscar Wilde and performed in 1892. This four-act comedy is about Lady Windermere's rocky marriage, where she suspects her husband of having an extramarital affair with Mrs. Erlynne. She subsequently attempts to get back at her unfaithful husband by taking another lover herself. Still, things do not go as planned after Mrs. Erlynne tries to persuade Windermere to salvage the marriage. A satirical reimagining of the colorful personalities in the upper class, the plot is peppered with a series of misunderstandings and deceptions.
1. Lady Windermere's Fan Synopsis
Lady Windermere, who suspects her husband of infidelity, confronts him about it. Despite his denial, he invites the other woman, Mrs. Erlynne, to his wife's birthday party. Enraged by her husband's audacity, Lady Windermere decides to leave him for another lover. Mrs. Erlynne tracks down Lady Windermere and attempts to persuade her to return to her husband; however, things do not go as planned as Mrs. Erlynne is caught in a tight spot. 
2. Lady Windermere's Fan Summary
Act 1
A charming young man, Lord Darlington, is paying a visit to Lady Windermere. She is seated in her morning room when she receives the news from Parker, her butler. When Lord Darlington enters, he compliments Lady Windermere's fan on its beauty. Thanking him, she remarks it was from her husband (Lord Windermere) as a birthday gift.
Darlington says he should have strewn Lady Windermere's front porch with flowers. At this, she rebukes Darlington for sweet-talking her the previous night at a party. She tells him that she does not like him pretending to be worse than other men when he is better off in reality. He admits he would not want her to be angry with him. Lady Windermere dismisses this, claiming his pretense exhibits his true modesty.
Lord Darlington requests to be closer friends with Lady Windermere. She consents, but only if he refrains from lavishly complimenting her. Even though she knows such distinctions between individuals are not common in the society she lives in, Lady Windermere insists on having a firm grasp of her moral code.
Lord Darlington wonders if it would be improper for a wife whose husband is disloyal to return the favor. In response, Lady Windermere asserts that a woman has no justification for bad behavior and would never pardon a lady who committed an immoral act. Lord Darlington thinks these strict guidelines cannot possibly govern life because they are too complex. 
Parker enters and announces the Duchess of Berwick and her daughter's (Agatha) arrival. Lord Darlington is greeted by the Duchess, who says he is "much too wicked" to speak to Agatha. The Duchess also expresses to Lady Windermere her excitement for the celebration that evening, especially since she is confident that Lady Windermere would only invite the appropriate people. 
Lord Darlington jests he would not be able to go if Lady Windermere didn't invite some scandalous guests to her mansion. After vaguely commenting on how marriage causes losses for wives, he leaves without any further context.
The Duchess then discloses the true purpose of her visit: she is there to inform Lady Windermere of allegations that her husband, Lord Windermere, has been visiting and paying a disreputable woman by the name of Mrs. Erlynne. Lady Windermere refutes the rumor, insisting that Mrs. Erlynne charms all the men of London Society, including her brother Augustus, despite an enigmatic past and lack of familial ties.
The Duchess swears the truth and counsels Lady Windermere to take Lord Windermere out of town to divert him despite Lady Windermere's refusal to accept that her husband would do such a thing. Agatha, who has been silent the entire time, departs with the Duchess.
To her dismay, Lady Windermere comes across a hidden bank book filled with evidence of her husband's transactions with Mrs. Erlynne. She confronts Lord Windermere when he comes in, but he insists that she misinterprets the circumstances. Lady Windermere does not listen, expressing her feelings of utter betrayal.
At this point, Lord Windermere admits he needs her help: he wants her to invite Mrs. Erlynne to the party so she can fit in with high society again. He claims that despite Mrs. Erlynne's past transgressions, she merits a second chance. Lady Windermere is horrified and declines. Lord Windermere takes matters into his own hands, delivering the invitation himself. Lady Windermere says she would strike Mrs. Erlynne across the face with the fan should she arrive. The first act ended with Lord Windermere alone and worried about his next steps because Lady Windermere would suffer greatly if she learned who Mrs. Erlynne truly was.
Act 2
The party is now in full swing, with guests already populating the space. Lord Darlington and Augustus are present, and Augustus asks Lord Windermere for guidance because he is in love with Mrs. Erlynne but is unsure of what to do given her lack of family ties.
Augustus is relieved to learn about Mrs. Erlynne's impending presence because having ties with Lady Windermere elevates one's social status. Mrs. Erlynne shows up in a stunning dress. Shocked, Lady Windermere drops her fan and exchanges pleasantries with Mrs. Erlynne. She then hastily leaves with Lord Darlington.
Mrs. Erlynne mixes with the guests effortlessly, deliberately dancing with Lord Windermere to incite Augustus's jealousy.
As a result of Lord Windermere's betrayal, Lady Windermere confides her anguish to Lord Darlington, telling him she does need a friend after all. Lord Darlington adds that she cannot stay with a husband who disrespectfully treats her. She concedes, right after which Darlington professes his love for her. She is shocked and tells him there is no way she could flee with him. Lord Darlington leaves after telling her he will not see her again and that he will leave England in the morning, disappointed by her rejection.
Several of the attendees mentioned how much they adore the endearing Mrs. Erlynne as the festivities come to an end. To the Duchess' delight, Agatha and Mr. Hopper become engaged. As Mrs. Erlynne asks Lord Windermere about the money he has promised to give her in exchange for her marriage, it also becomes evident that Augustus has proposed, and she intends to accept. Lady Windermere is enraged and humiliated as she watches Augustus and Mrs. Erlynne leave together.
Lady Windermere realizes she made a mistake rejecting Lord Darlington and informs Lord Windermere of her decision to leave in a letter. Mrs. Erlynne discovers the letter, expressing shock that history is repeating itself because she, too, had written a letter of a similar nature to Lady Windermere's father. She tells Lord Windermere that Lady Windermere has gone to bed while keeping the letter. Pulling Augustus aside, she advises him to distract Lord Windermere by bringing him to the club, should he want her to accept his proposal.
Act 3
Lady Windermere is in Lord Darlington's room, doubting herself about her actions. She is shocked when Mrs. Erlynne appears and pleads with her to return to her husband's house. Angrily declining, Lady Windermere says she would have if it meant she did not have to encounter Mrs. Erlynne once more.
Mrs. Erlynne tells Lady Windermere that if she leaves with Lord Darlington, her decision will wreck her life because Lord Windermere loves her. Lady Windermere continues to object but eventually caves after Mrs. Erlynne appeals to her motherly instincts and her love for her young son. Just as the duo prepares to go, they hear men's voices getting closer. Lady Windermere and Mrs. Erlynne hide.
Lord Darlington arrives, accompanied by Augustus, Lord Windermere, Dumby, and Cecil Graham. They lament about the club forcing them to leave while Lord Windermere tries making Augustus return home. Augustus insists on Lord Windermere remaining, and the topic shifts to Augustus's feelings for Mrs. Erlynne.
They debate whether she is wicked, the meaning of her absent family ties and whether the distinction between good and wicked women makes a difference. Lord Darlington enthusiastically agrees with Cecil's observation that women always think men are bad. He confesses to being in love with a "good woman" who does not want him back. 
Cecil notices Lady Windermere's fan on the couch and slyly queries Lord Darlington about his loyalty to the woman he loves. Cecil pulls Augustus aside and points out the fan once Lord Darlington proclaims his loyalty. 
The two men laugh at the mismatch between Darlington's declarations of commitment and the unmistakable signs of the presence of another woman. Lord Windermere gets up to leave, but Cecil stops him by pointing out the fan and remarking on how funny it is that a woman has been hidden in Darlington's rooms the entire while. 
Lord Windermere immediately recognizes the fan as belonging to Lady Windermere. Lord Darlington, who vehemently denies any knowledge of it, is confronted with Lord Windermere's angry demand for an explanation. Darlington thinks to himself with the hope that maybe Lady Windermere did come after all. 
As Lady Windermere is hiding behind a curtain, Lord Windermere threatens to investigate the apartments and is ready to do so when Mrs. Erlynne bursts into the room. Mrs. Erlynne expresses regret for unintentionally stealing Lady Windermere's fan from the celebration. Lady Windermere comes out from behind the curtain and leaves undetected while the men respond with astonishment and laughter.
Act 4
Lady Windermere is alone once again in her morning room. She knows she has to tell Lord Windermere about what transpired the previous night, but she is terrified to do so. Lord Windermere enters and informs Lady Windermere about Mrs. Erlynne and how she is right.
Lady Windermere protests Mrs. Erlynne's innocence and is about to tell him what she knows, but he cuts her off, telling her to stop worrying about Mrs. Erlynne and concentrate on their upcoming trip to the countryside. Lady Windermere observes that drawing a clear line between good and bad individuals is far more challenging than she initially believed.
Despite Lord Windermere's objections, Lady Windermere requests Parker to bring in Mrs. Erlynne. When Mrs. Erlynne comes, she first apologizes for taking Windermere's fan by mistake before announcing that she will leave England. Mrs. Erlynne asks for a picture of Lady Windermere and her son to remember them by, with Lady Windermere departing to retrieve it.
Angered, Lord Windermere accuses Mrs. Erlynne of blackmailing him and threatens to reveal the truth: Mrs. Erlynne is actually Lady Windermere's mother, whom she believes is dead. Mrs. Erlynne admits to exploiting her daughter's wealthy husband but refuses to apologize; she simply takes advantage of the opportunity she sees. She used Lord Windermere's love for his wife to help reintegrate herself into polite society.
Mrs. Erlynne also warns him that if he tells Lady Windermere the truth, she will subsequently doom Lady Windermere's social standing. Lord Windermere is disgusted by Mrs. Erlynne's behavior, but the latter insists she loves her daughter and that, while she does not want to be a mother, she wants to protect her from pain by lying.
Lady Windermere reappears, carrying the picture. Mrs. Erlynne notices Lady Windermere's fondness for her deceased mother, and Lady Windermere affirms her mother as the priceless ideal she strives for. Lord Windermere walks away to summon Mrs. Erlynne's carriage, and the two women briefly reunite in a personal and sweet moment. Mrs. Erlynne persuades Lady Windermere not to tell Lord Windermere the truth, saying that she should always place her happy marriage and motherhood first.
Mrs. Erlynne also asks whether she can keep the fan, and Lady Windermere agrees. They both bond over their shared first name: Margaret.
Bidding farewell to Lord and Lady Windermere, Mrs. Erlynne invites Augustus to accompany her as she leaves. When Lord and Lady Windermere are alone, they reconcile their love for one another and look forward to viewing the roses at their country estate.
Augustus reenters, informing the Windermeres of Mrs. Erlynne's confession; that night, she visits Lord Darlington's room as she wants to accept Augustus's proposal. Thrilled, Augustus tells everyone in the room about their swift engagement and departure from England. He is marrying "a very good and clever woman," Lord and Lady Windermere both remark to him.
3. Characters
Lady Windermere – The young, morally upright wife who becomes the central figure in the play's drama.
Lord Windermere – Lady Windermere's husband, who tries to protect her from scandal.
Mrs. Erlynne – A mysterious and enigmatic woman with a scandalous past.
Lord Darlington – A charming and flirtatious bachelor who pursues Lady Windermere.
Mrs. Cowper-Cowper – A gossipy and judgmental society lady.
Duchess of Berwick – Lady Windermere's mother, known for her meddling in her daughter's life.
Agatha – Lady Windermere's maid.
Mr. Dumby – A friend of Lord Windermere.
Mr. Cecil Graham – Another of Lord Windermere's friends.
Lord Augustus Lorton – An older and amiable bachelor.
Lady Plymdale – A society lady.
Lady Jedburgh – Another member of high society.
Rosalie – A servant in the Windermere household.