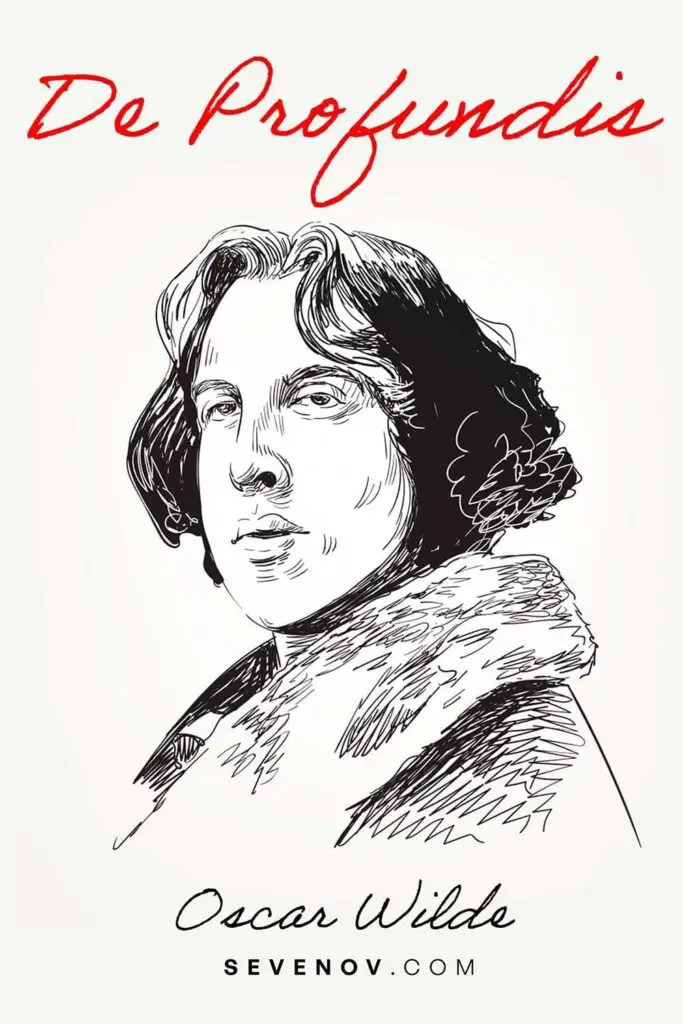 De Profundis by Oscar Wilde
Author: Oscar Wilde
Published: 1905
Genre: Non-fiction, Essay
"De Profundis" is a long letter written by Oscar Wilde during his imprisonment in Reading Gaol, a prison in the United Kingdom. The letter is addressed to Wilde's former lover, Lord Alfred Douglas, whom he refers to as "Bosie." The title, "De Profundis," is Latin for "from the depths." It was written between January and March 1897
In this letter, Wilde reflects on his life, his relationship with Douglas, and his experiences in prison. It serves as a profound and introspective meditation on themes of love, suffering, spirituality, and personal growth. Wilde discusses the mistakes he made in his life, his trials and tribulations, and his search for meaning and redemption.
The letter also contains elements of self-examination and spiritual exploration. It is a deeply personal and emotional document that provides insight into Wilde's thoughts and emotions during a challenging period in his life. "De Profundis" is considered one of Oscar Wilde's most significant works and a testament to his intellectual and emotional depth. In this blog post, we will embark on a journey through the rich tapestry of emotions, reflections, and insights that Wilde weaves into this extraordinary piece of literature.
1. Background Behind De Profundis
1.1. The Rise of Oscar Wilde: The Pinnacle of Wit and Charm
Oscar Wilde's ascent to literary stardom was nothing short of meteoric. Born in Dublin in 1854, he grew up to become one of the most celebrated playwrights and poets of his time. His razor-sharp wit, scathing humor, and a unique ability to satirize the social norms of Victorian England made him an iconoclast and a darling of London's high society. Works like "The Picture of Dorian Gray" and "The Importance of Being Earnest" solidified his reputation as a literary genius, but it was his flamboyant persona and unconventional lifestyle that set him apart as a controversial figure.
As Wilde's fame reached its zenith, he reveled in the extravagant lifestyle of London's upper echelons. His witty aphorisms and sparkling repartee became legendary, and he was often the center of attention at glittering soirées. However, beneath the glittering facade, cracks were beginning to form. His affair with Lord Alfred Douglas, a tumultuous relationship that would eventually lead to his downfall, was a closely guarded secret that would haunt him in the years to come. Wilde's world was on the cusp of change, and the winds of adversity were about to blow his life in a completely unexpected direction.
1.2. The Fall from Grace: Wilde's Legal Battle and Incarceration
Oscar Wilde's relationship with Lord Alfred Douglas was tumultuous and passionate. Bosie's father, the Marquess of Queensberry, disapproved of the relationship and accused Wilde of being a "posing somdomite" (a misspelled term for "sodomite") in a calling card he left at Wilde's club. This led to a series of events that culminated in Wilde's arrest and imprisonment.
Wilde sued the Marquess for libel, but the case backfired when evidence of Wilde's homosexual relationships came to light during the trial. Wilde withdrew his libel case but was subsequently arrested and charged with "gross indecency" under the Criminal Law Amendment Act of 1885.
In 1895, Wilde was sentenced to two years of hard labor in prison. During his time in prison, he experienced physical and emotional suffering. His health deteriorated, and he endured the harsh conditions of Victorian prisons.
1.3. The Redemption Through Words: The Birth of "De Profundis"
While in prison, Wilde wrote several letters, including "De Profundis," as a form of self-examination and emotional release. The Latin title translates to "From the Depths" or "Out of the Depths" and is taken from Psalm 130. The letter is a reflection on his life, his relationship with Bosie, his spiritual journey, and his understanding of suffering and redemption.
"De Profundis" delves into themes of love, suffering, forgiveness, and self-discovery. Wilde writes about the profound changes he underwent during his imprisonment and expresses his complex feelings toward Bosie, ranging from anger and blame to moments of affection and understanding.
After Wilde's release from prison in 1897, "De Profundis" was not immediately published. It was initially divided into two parts, with the more personal sections addressed to Bosie withheld from publication for many years due to their sensitive nature. The letter remained unpublished during Wilde's lifetime.
"De Profundis" was eventually published in 1905, several years after Wilde's death, with significant portions omitted. The complete and unexpurgated version of the letter was published in 1962, shedding further light on Wilde's emotional and spiritual journey during his incarceration.
2. De Profundis Summary
In De Profundis, Oscar Wilde reflects on the profound and unending nature of suffering. He describes how time seems to stand still in his prison cell, where each day is a repetition of the last, and external forces remain oblivious to his pain. Wilde paints a vivid picture of isolation, both physical and emotional, as he grapples with the consequences of his choices.
As he continues his narrative, Wilde's words convey the depth of his sorrow, exacerbated by the death of his beloved mother and the tarnishing of his family's name. He reveals his sense of disgrace and his longing for redemption, emphasizing the sensitivity of sorrow as a force that touches every aspect of one's life.
Wilde also touches on the contrast between how the poor and the privileged view imprisonment, highlighting the isolation and ostracism faced by those of his social rank. He acknowledges his own responsibility for his downfall, having squandered his talents and indulged in excess. He candidly explores the range of emotions he has experienced during his imprisonment, from despair and rage to humility and acceptance, ultimately conveying the enduring and infinite nature of suffering.
He reflects on the idea that suffering, though at times seemingly endless, must have meaning. He identifies humility as a hidden treasure within himself, something that has the potential to transform his life. Wilde acknowledges that this revelation could not have come earlier or later; it has arrived at the right time.
He expresses his desire to avoid bitterness and resentment toward the world, despite his current state of homelessness and financial destitution. Wilde embraces the idea that external circumstances are of little importance compared to the internal transformation of one's character. He emphasizes the importance of accepting all experiences, whether good or bad and turning them into spiritual growth.
Wilde acknowledges his past actions and the consequences they brought, both good and bad. He reflects on the importance of realizing what he is and what he has become, rather than being ashamed of it. He states his intention to absorb all that has happened to him and find comfort in his own identity and experiences.
Wilde reflects on various aspects of his life and experiences, particularly his changing perspective on sorrow and suffering. At first, he regarded sorrow as a distant and unreal concept, but later, during his time in prison, he experienced a deep desire for death and contemplated suicide. However, over time, he learned to appreciate life and happiness once again. He recognized the significance of sorrow as a profound human emotion and its connection to great art. He also explored the idea that suffering and love are intertwined, suggesting that love is the driving force behind the existence of suffering in the world.
Wilde mentions his past pursuit of pleasure and avoidance of suffering but acknowledges that this approach was limiting. He emphasizes the importance of embracing all experiences, both pleasurable and painful, as part of personal growth. He discusses his evolving understanding of Christ's life and teachings, highlighting Christ's role as an individualist who valued the soul and the importance of self-acceptance. Wilde's reflections lead him to a profound realization that individualism and self-discovery are essential and that embracing one's own soul and experiences is a path to true understanding and fulfillment.
Wilde discusses the influence of art, especially Christ's life and teachings, on his perspective during his imprisonment. It highlights the transformative power of art and its ability to inspire empathy and love. He reflects on the value of suffering and the potential for personal growth through difficult experiences. He also touches on the contrast between the superficiality of society and the deeper truths revealed by art and suffering. Ultimately, he suggests that art and the human spirit can transcend adversity and lead to a richer understanding of life.
Wilde reflects on his past experiences, including a year of weeping in prison, the lack of understanding from society, and the value of individualism. He discusses the characters of Rosencrantz and Guildenstern in Shakespeare's Hamlet, emphasizing their limited perspective. Wilde anticipates his release from prison and plans to find solace in nature's simplicity and purity. He longs for a deeper connection with the mystical aspects of life and express gratitude for nature's acceptance despite society's rejection. Wilde concludes by contemplating the trials he has faced and the solace he seek in the natural world.
3. Conclusion
"De Profundis" by Oscar Wilde is a literary masterpiece that chronicles a journey from darkness to light, from despair to self-discovery. Through Wilde's eloquent prose and active voice, we are drawn into the depths of his soul, and with him, we find redemption and liberation. This timeless work is a testament to the enduring power of human introspection and the resilience of the human spirit.