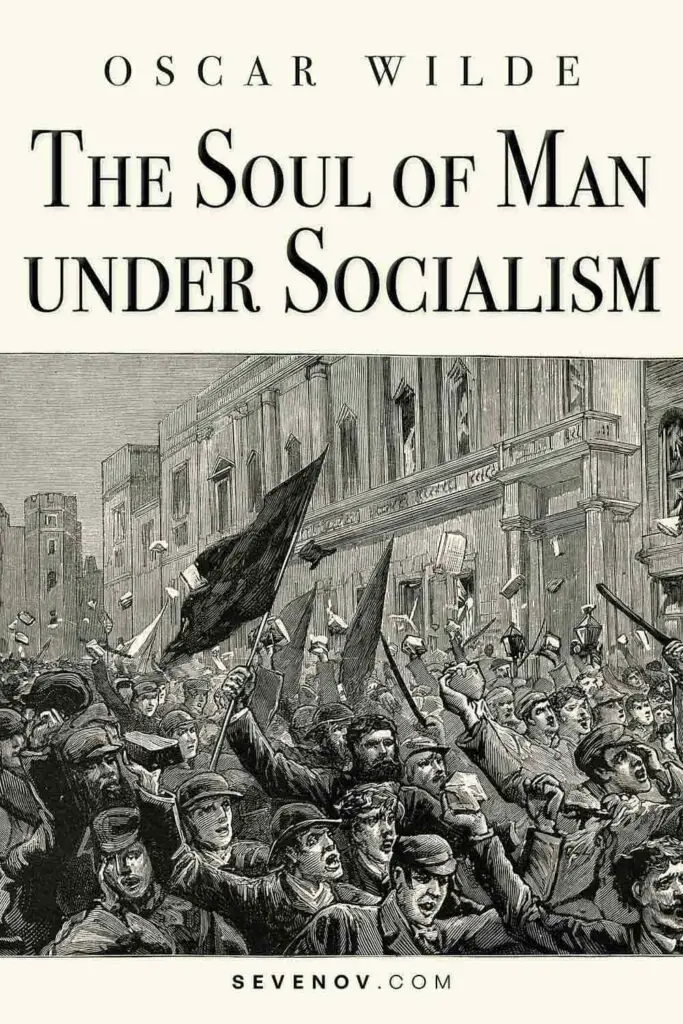 The Soul of Man under Socialism by Oscar Wilde 
Author: Oscar Wilde
Published: 1891
Genre: Non-fiction, Essay
"The Soul of Man under Socialism," written in 1891, stands as a testament to Oscar Wilde's unparalleled ability to dissect the prevailing socio-political climate. It was a time when industrialization was reshaping the world, and the tenets of socialism were beginning to challenge the status quo. In this essay, Wilde embarked on a journey of philosophical exploration, seeking to redefine the very essence of individualism and its relationship with socialism.
Within the pages of "The Soul of Man under Socialism," Wilde offered a unique perspective on the societal structures of his era. He articulated his vision of socialism not as a suppressor of individuality but as its truest champion. Against the backdrop of a rapidly changing world, Oscar Wilde's essay emerged as a profound critique of Victorian capitalism and a compelling argument for a future where genuine freedom and creativity would flourish. To fully grasp the essence of this work, we must embark on a journey into Wilde's philosophical world, where the soul of man and the tenets of socialism converge in thought-provoking harmony.
1. The Soul of Man under Socialism Summary
"The Soul of Man under Socialism" argues for the establishment of Socialism to free individuals from the oppressive need to live for others, a condition prevalent in the current system where most are burdened by economic responsibilities and societal expectations. The few exceptions who break away are anomalies, while the majority remain trapped in a cycle of "unhealthy and exaggerated altruism." They strive to remedy visible societal ailments, such as poverty, through short-term solutions like charity, which the author deems ineffective and even harmful.
Socialism, according to the essay, would eradicate the institution of private property, thereby eliminating the associated evils. This transition would not only alleviate economic disparities but also foster a genuine form of Individualism. True Individualism is currently stifled by the overemphasis on material possessions and the societal value placed on private property. With the abolition of private property, individuals would be free from these societal constraints, allowing them to truly live instead of merely existing.
Wilde delves into the concepts of individualism, the true expression of personality, the limitations of authority, and the role of machinery in the future. It emphasizes that the full expression of personality is rarely witnessed outside the realm of art. Many historical figures, despite their strengths, faced challenges that prevented them from fully realizing their potential. The ideal personality is one that evolves naturally and is free from external influences. Such a personality does not dispute or argue but knows and understands. It values internal richness over material wealth.
Christianity is mentioned as a potential aid in developing a true personality. The essence of Christ's message, according to Wilde, was to emphasize individualism and be oneself. Wealth is not condemned, but the attachment to material wealth is. The core argument is that a person's true worth and richness lie within, not in the material possessions they have.
Wilde also critiques forms of government, arguing that all are failures and have shortcomings, resulting in the oppression of individuals. The writer feels that punishment has been misused throughout history and believes in a future where punishment will be redundant. The ideal state, in the writer's view, is one that organizes labor and produces necessities, while individuals create beauty.
"The Soul of Man under Socialism" also discusses the future role of machinery. In the future, machines will take over menial and unpleasant jobs, resulting in humans having more time for leisure, creation, and contemplation. The ultimate goal for humanity is not labor but cultivated leisure and the creation and enjoyment of beautiful things. The future depends on the "slavery of the machine", where machines work for humans' benefit, enabling a higher form of civilization. The essay pushes the idea that progress is the realization of Utopias, emphasizing the importance of always aiming for a better future.
Wilde emphasizes the tension between the individual artist and public opinion, particularly in the realm of journalism. The central argument is that true art arises from the unique expression of the individual artist, uninfluenced by the demands or tastes of the community. Any interference, especially by powerful community factions or governments, can distort or suppress genuine art, leading it to become mere craft or even degenerate. An artist, according to this viewpoint, should create based on their own temperament and not based on the demand of the public. Catering to public demands can dilute an artist's authenticity, relegating them to a mere craftsman or tradesman.
This essay also critiques public opinion's understanding and treatment of art. It suggests that public opinion, especially as channeled through journalism, is often uninformed, vulgar, and more interested in scandal and sensationalism than genuine artistic value. This is damaging both to art and artists. England is particularly highlighted for its perceived shortcomings in this area, with an unflattering contrast made to France's treatment of personal affairs and the freedom granted to artists.
"The Soul of Man under Socialism" posits that journalists in England, due to public demand, are often forced into a role they might find personally distasteful or morally wrong, focusing on scandal and personal details rather than substantive issues. The negative influence of public opinion on both art and journalism is attributed to a broad, societal miscomprehension of the nature and value of individual expression.
Wilde discusses the relationship between art, the artist, and public opinion. He critiques the public's desire to exercise authority over art and argues that true art can only flourish when the artist is free from such constraints. The best arts in England, for instance, have thrived when the public wasn't particularly interested in them.
A highlight of this idea is Mr. Irving, a dramatist who succeeded not by catering to popular tastes but by being true to his own artistic vision. This adherence to personal vision educated and developed taste among the audience. The essay emphasizes that when it comes to art, the audience should be receptive and not domineering. To truly appreciate art, one must approach it without prejudice or the need to exert authority over it.
The discussion moves to literature and decorative arts, citing examples of how popular authority has stifled artistic expression. It points out that artists thrive best in an environment where they aren't subjected to authority, be it from princes, popes, or the people. The best state for an artist is no governance at all. The piece also touches upon the changing nature of human behavior, suggesting that individualism, a trait where one acts based on their own interests and beliefs, is the future. Individualism, according to the essay, doesn't impose duties or sacrifices on an individual but emerges naturally and is the pinnacle of evolution.
"The Soul of Man under Socialism" delves into the concepts of individualism, society's perception of it, and the evolution of societal ideals. It critiques society for labeling those who follow their own desires rather than conforming to societal expectations as 'affected' or 'selfish'. True selfishness is imposing one's views on others. Individualism acknowledges and celebrates the diversity of humanity. The writing also challenges common conceptions of sympathy, suggesting that merely sympathizing with suffering doesn't decrease the amount of pain. It promotes sympathy with all aspects of life, including joy, beauty, and health. 
The essay then looks at historical representations of Christ and how they reflect societal values. For instance, during the Middle Ages, Christ was often portrayed as a sufferer, while during the Renaissance, he was portrayed more joyously, suggesting a shift in societal focus. The text further indicates that the real message of Christ might still be essential in some parts of the world where pain is a path to self-realization. 
Lastly, "The Soul of Man under Socialism" anticipates a future society where suffering and pain are minimized through advancements in Socialism and Science. This would pave the way for an Individualism that expresses itself through joy and pleasure, aligning with human desires to live fully and intensely.
2. The Essence of Wilde's Argument: Socialism as a Doorway to True Self 
At the heart of "The Soul of Man under Socialism" lies a central thesis that challenges conventional wisdom and offers a provocative reimagining of society and individuality. Two key components form the cornerstone of this thesis: Wilde's view on socialism as a pathway to individualism and his belief in the artificial nature of poverty, advocating for its eradication as essential for true freedom.
2.1. Wilde's View on Socialism as a Pathway to Individualism
In a time when socialism was often associated with the suppression of individuality, Oscar Wilde took a bold stance by contending that socialism, when properly understood and implemented, could be the ultimate vehicle for genuine individual expression. He rejected the prevailing notion that socialism and individualism were inherently contradictory, asserting that, on the contrary, socialism could liberate the individual from the constraints imposed by economic inequality.
Wilde's vision of socialism as a catalyst for individualism is rooted in the belief that true freedom can only be attained when individuals are no longer burdened by the oppressive forces of poverty and economic inequality. By advocating for a society where wealth is shared more equitably, he argued that socialism paves the way for individuals to pursue their passions and talents without being shackled by the necessity of toil for mere survival. In this context, Wilde's central thesis paints socialism not as a stifling force but as a liberating one, allowing the individual to flourish in ways previously unattainable.
2.2. The Idea that Poverty is an Artificial Construct and Its Eradication as Essential for True Freedom
Wilde's essay goes a step further by challenging the prevailing notion of poverty as an inevitable and natural state of affairs. He vehemently rejected the idea that poverty was a result of some inherent deficiency in individuals or a necessary consequence of economic systems. Instead, Wilde argued that poverty is an artificial construct, a product of societal structures and economic disparities.
In Wilde's view, the eradication of poverty was not just a matter of economic redistribution but a moral imperative. He saw it as an essential precondition for true freedom. Only by eliminating poverty, he believed, could society enable individuals to pursue their passions, cultivate their talents, and engage in creative endeavors without the constant burden of financial struggle. This, in turn, would lead to a society where the true potential of the individual could be realized, and a more harmonious and just social order could be established.
In summary, Oscar Wilde's central thesis in "The Soul of Man under Socialism" challenges the prevailing narratives of his time. He envisions socialism as a means to unlock the full potential of individuality and argues passionately for the eradication of poverty, emphasizing its artificial nature and its role as a barrier to true freedom. In doing so, Wilde presents a thought-provoking and unconventional perspective that continues to inspire discourse and contemplation on the relationship between socialism, individualism, and societal progress.
3. Unveiling Core Thoughts: Wilde's Vision of a Socialistic Society
Wilde's perspective on individualism contrasts commonly held views. He saw socialism as a supporter of real individual expression, debunking myths of it being inherently altruistic. This, he believed, would give rise to true personal freedom.
Furthermore, Wilde envisioned a future where machines, rather than subduing humanity, would become our liberators. By minimizing human toil, these machines would release a reservoir of creativity. This leads him to another profound assertion: the critical relationship between artists and society. For Wilde, artistic freedom was paramount, but he also warned against the dictatorial nature of public opinion on creativity.
4. Tackling the Contradictions and Critiques 
"The Soul of Man under Socialism," while celebrated for its thought-provoking ideas and eloquent prose, is not without its contradictions and criticisms. Two notable aspects merit discussion in this regard: the paradoxical nature of Wilde's thoughts on individualism within socialism and the criticisms regarding how he may oversimplify or misrepresent socialism and its potential outcomes.
4.1. The Paradoxical Nature of Wilde's Thoughts on Individualism within Socialism
One of the most intriguing aspects of Wilde's essay is the apparent paradox it presents concerning individualism within the context of socialism. While Wilde passionately argues for socialism as a means to liberate the individual from the constraints of poverty and societal expectations, some readers find his stance paradoxical. They question how a collectivist ideology like socialism can align with Wilde's promotion of individualism.
Wilde navigates this paradox by emphasizing that true individualism can only thrive in a society where economic disparities are eradicated, allowing individuals to pursue their passions and creative endeavors freely. However, the tension between individualism and collectivism remains, leaving room for interpretation and debate. Critics argue that Wilde's vision may be overly idealistic and that reconciling individualism and socialism in practice may prove more complex than his essay suggests.
4.2. Views on How Wilde Might Oversimplify or Misrepresent Socialism and Its Potential Outcomes
Wilde's essay has faced criticism for its potential oversimplification and misrepresentation of socialism. Some argue that he paints an overly rosy picture of socialism's consequences, neglecting to address the practical challenges and complexities involved in its implementation. Critics contend that Wilde's idealized vision of socialism as a panacea for societal woes may not align with the realities of political and economic systems.
Furthermore, some critics assert that Wilde's essay lacks a detailed examination of the potential pitfalls and unintended consequences of socialism. They argue that his focus on individualism and artistic freedom might overshadow critical issues such as economic planning, resource allocation, and the role of government in a socialist society. In this sense, they believe that Wilde's essay may not provide a comprehensive and balanced perspective on the complexities of socialism and its potential outcomes.
While "The Soul of Man under Socialism" is celebrated for its innovative ideas and impassioned defense of individualism within socialism, it is not immune to criticisms and contradictions. The tension between individualism and socialism remains a point of debate, and some argue that Wilde's portrayal of socialism oversimplifies its complexities and potential challenges. Nonetheless, Wilde's essay continues to be a source of inspiration and discussion in the exploration of the relationship between individual freedom and collectivist ideologies.
5. Its Contemporary Significance
"The Soul of Man under Socialism," written in the late 19th century, continues to resonate in today's world, offering insights and provocations that remain highly relevant. Several key aspects of Wilde's vision find echoes in contemporary discussions and challenges:
5.1. Comparison to Modern Socialist Movements and Theories
Wilde's vision of socialism as a means to liberate the individual and foster genuine creativity remains pertinent in the context of modern socialist movements and theories. In today's world, where income inequality and social disparities persist, many continue to look to socialism as a potential solution. Wilde's assertion that socialism can coexist with individualism challenges the misconception that socialism inherently stifles personal freedom. This perspective aligns with contemporary debates about balancing collective welfare with individual autonomy.
5.2. The Ongoing Debate on Automation, Labor, and the Role of Machines in Society
In an age characterized by rapid technological advancements, the debate on automation, labor, and the role of machines in society closely mirrors the concerns raised by Wilde. The prospect of automation replacing jobs has become a pressing issue, with questions about how society should adapt to ensure that individuals are not left without means of subsistence. Wilde's idea of a future where machines serve humanity, reducing toil and unleashing creativity, resonates with discussions on how technology can be harnessed for the betterment of society without causing widespread economic disruption.
5.3. The Persistent Struggle for Artistic Freedom in the Face of Commercialism and Popular Opinion
Wilde's emphasis on the importance of artistic freedom and his critique of the dangers of conforming to public opinion remain highly relevant. In today's world, where commercialism and mass media often shape artistic expression, artists continue to grapple with the tension between creative integrity and commercial success. The struggle for artistic freedom and the preservation of unique voices in the face of popular opinion and market demands remain ongoing challenges.
6. Conclusion: Why "The Soul of Man under Socialism" Still Matters
In wrapping up, the enduring significance of "The Soul of Man under Socialism" cannot be understated. It serves as a beacon for discussions around society, freedom, and the essence of individualism.
To truly appreciate Wilde's genius, one must delve deep into this essay. Its lessons, challenges, and questions remain as pertinent today as they were in Wilde's time. As we navigate an ever-changing world, let us keep Wilde's insights close to heart, reflecting on how they apply to our lives and society at large.