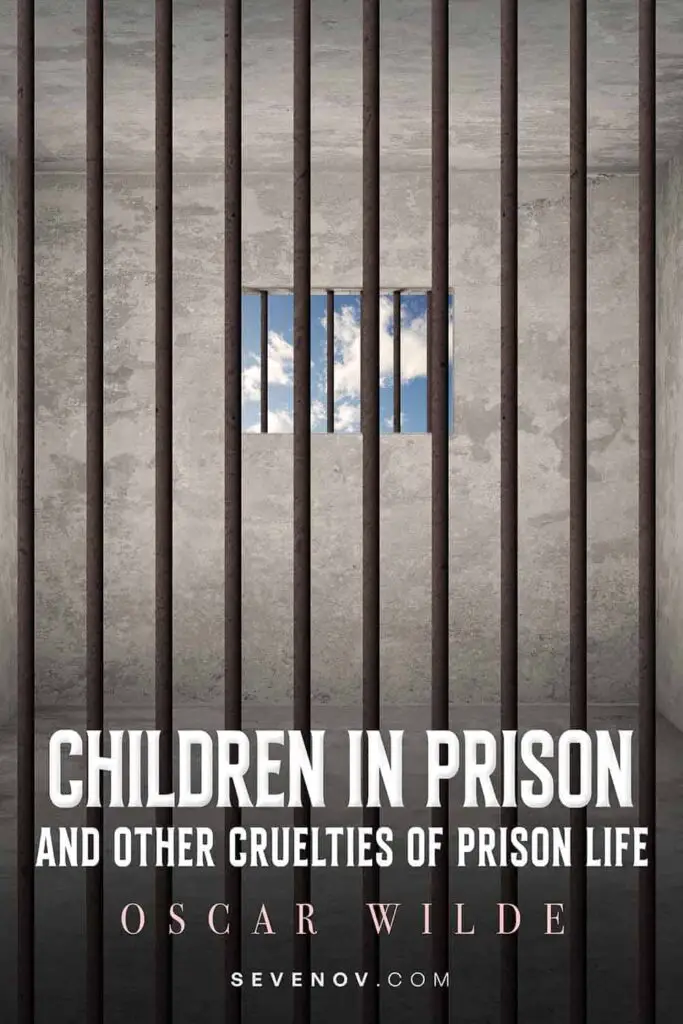 Children in Prison and Other Cruelties of Prison Life by Oscar Wilde 
Author: Oscar Wilde
Published: 1898
Genre: Non-fiction, Essay
"Children in Prison and Other Cruelties of Prison Life" by Oscar Wilde was published in 1898.  In this pamphlet, Oscar Wilde expresses his deep concern and criticism regarding the treatment of children and inmates in English prisons, specifically focusing on his observations at Reading Prison. He criticizes the prison system's lack of empathy, rigid rules, and its detrimental effects on inmates, especially children and those with mental health issues. He calls for reform and compassion in the treatment of prisoners.
1. Children in Prison and Other Cruelties of Prison Life Summary
In this letter, Oscar Wilde expresses great concern and outrage over the treatment of children and mentally ill prisoners in English prisons, particularly focusing on Reading Prison. The letter starts by discussing the dismissal of a warder named Martin for giving sweet biscuits to a hungry child in prison, highlighting the cruelty within the prison system.
Wilde argues that the root cause of this cruelty is not malicious intent but rather the result of a flawed system characterized by centralization, officialism, and a lack of imagination. He emphasizes the psychological impact on children, who cannot comprehend the punishment imposed by an impersonal society, leading to a profound sense of terror.
Wilde then delves into the terrible conditions children face in prison, including solitary confinement for 23 hours a day and a meager diet that often leads to illness. He recount an incident where Warder Martin showed kindness by helping an ill prisoner, even though it violated the rules and led to his dismissal.
Furthermore, Wilde highlights the contamination of children by the prison system itself, not by fellow inmates. He suggests alternative measures, such as allowing children to spend time in workshops or schoolrooms and providing them with better food.
The letter also discusses the prevalence of mental illness in prisons, with a specific focus on a prisoner named Prince, who is slowly becoming insane. Wilde criticizes the prison doctors' inability to recognize and treat mental illness, leading to punitive measures like flogging. They call for an examination of Prince's case by experts in brain diseases and compassionate individuals.
In conclusion, the letter highlights the inhumanity and stupidity of the English prison system, emphasizing the need for reform and a more humane approach to incarceration, especially for children and those suffering from mental illness. Wilde acknowledges the efforts of the current Governor of Reading Prison but stresses that systemic changes are required to address these issues adequately.
2. Conclusion
"Children in Prison and Other Cruelties of Prison Life" criticizes the harsh conditions, mistreatment of children, and lack of understanding of mental health issues within the English prison system, while also highlighting instances of kindness and the potential for positive change.