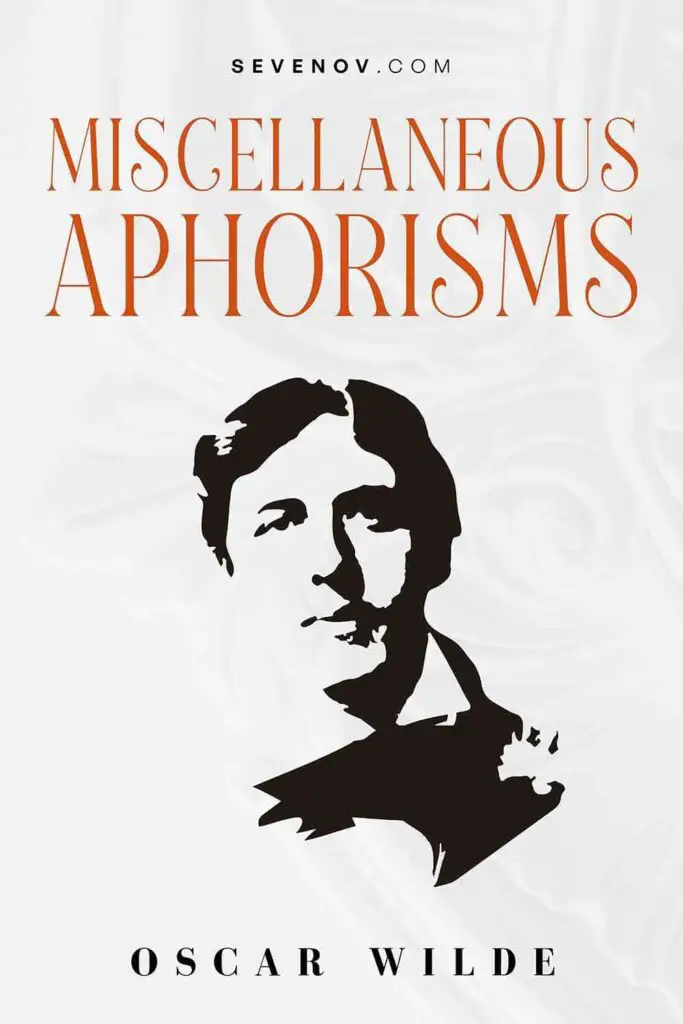 Miscellaneous Aphorisms by Oscar Wilde 
Author: Oscar Wilde
Published: 1911
Genre: Non-fiction, Essay
Miscellaneous Aphorisms is a collection of quotes and aphorisms by the famous Irish writer and playwright Oscar Wilde, published posthumously in 1911. These quotes cover a wide range of topics and themes, including love, beauty, society, art, morality, and human nature. Wilde's writings often contain wit, humor, and a keen sense of observation. He frequently challenged conventional wisdom and social norms with his provocative and paradoxical statements. Overall, his quotes reflect his distinctive perspective on life and society during his time.
1. Miscellaneous Aphorisms Summary
Miscellaneous Aphorisms covers a wide range of topics, including love, beauty, art, society, morality, and human nature. Oscar Wilde was known for his wit and sharp observations, and these quotes reflect his distinctive style and perspective on various aspects of life and culture.
Here's a brief summary of some recurring themes and ideas found in these quotes:
Love and Relationships
Wilde had a knack for crafting memorable statements about love and relationships. Let's dissect some of his most striking thoughts on this eternal subject.
The Mystery of Love: Wilde asserts, "The mystery of love is greater than the mystery of death." This quote highlights the enigmatic and complex nature of love, suggesting that it holds greater intrigue than even death itself. Love, in Wilde's view, is a profound and enduring mystery of life.
Women and Love: Wilde famously quipped, "Women are made to be loved, not to be understood." In this statement, he encapsulates the sentiment that women are complex beings, and instead of trying to dissect their every nuance, it's better to cherish and love them.
Love and Beauty: Wilde believed that beauty played a significant role in love. He proclaimed, "It is better to be beautiful than to be good, but it is better to be good than to be ugly." This statement underscores the importance of physical attraction but also emphasizes the virtue of goodness in a person.
Sympathy and Success: According to Wilde, "Anyone can sympathize with the sufferings of a friend, but it requires a very fine nature to sympathize with a friend's success." This observation highlights the human tendency to be more supportive in times of suffering than in moments of triumph.
Society and Morality
Wilde was a keen observer of society and morality, often critiquing the conventions and hypocrisies of his time.
Purity and Morality: He noted, "In old days nobody pretended to be a bit better than his neighbor. In fact, to be a bit better than one's neighbor was considered excessively vulgar and middle class." Wilde suggests that the obsession with appearing morally superior is a modern phenomenon, leading to pretentiousness and hypocrisy.
Optimism and Pessimism: Wilde remarked, "Such is the astounding stupidity of optimism." This cynical view highlights his belief that excessive optimism can blind people to harsh realities and practicality.
Public Perception: Wilde had a unique take on public perception, stating, "There is only one thing in the world worse than being talked about, and that is not being talked about." This implies that even negative attention or scandal can be preferable to anonymity.
Politics and Society: Wilde touched on the political landscape, saying, "Nowadays it is only the unreadable that occurs." He suggests that the media and society are more interested in the sensational and shallow aspects of life rather than intellectual discourse.
Art and Aesthetics
Wilde had a deep appreciation for art and aesthetics, which often featured prominently in his works and philosophy.
The Nature of Art: Wilde believed, "To be natural is to be obvious, and to be obvious is to be inartistic." He contended that art should not strive for mere realism but should transcend the obvious to create something extraordinary.
The Role of Art in Life: He asserted, "Life makes us pay too high a price for its wares, and we purchase the meanest of its secrets at a cost that is monstrous and infinite." Wilde implies that art offers a reprieve from the harshness of life and its infinite costs.
The Worship of Beauty: For Wilde, "The worship of beauty" was a central theme. He opined that "It is a terrible thing for a man to find out suddenly that all his life he has been speaking nothing but the truth." This reflects his belief in the transformative power of beauty, which can lead individuals to question their reality and engage with life in a new way.
2. Conclusion
Miscellaneous Aphorisms' profound insights on love, society, and aesthetics continue to resonate with readers today. Wilde's sharp wit and clever observations have left an indelible mark on literature and philosophy, challenging conventional wisdom and encouraging us to reevaluate our perspectives on life. Wilde's enduring relevance underscores the timelessness of his ideas and the enduring allure of his words.