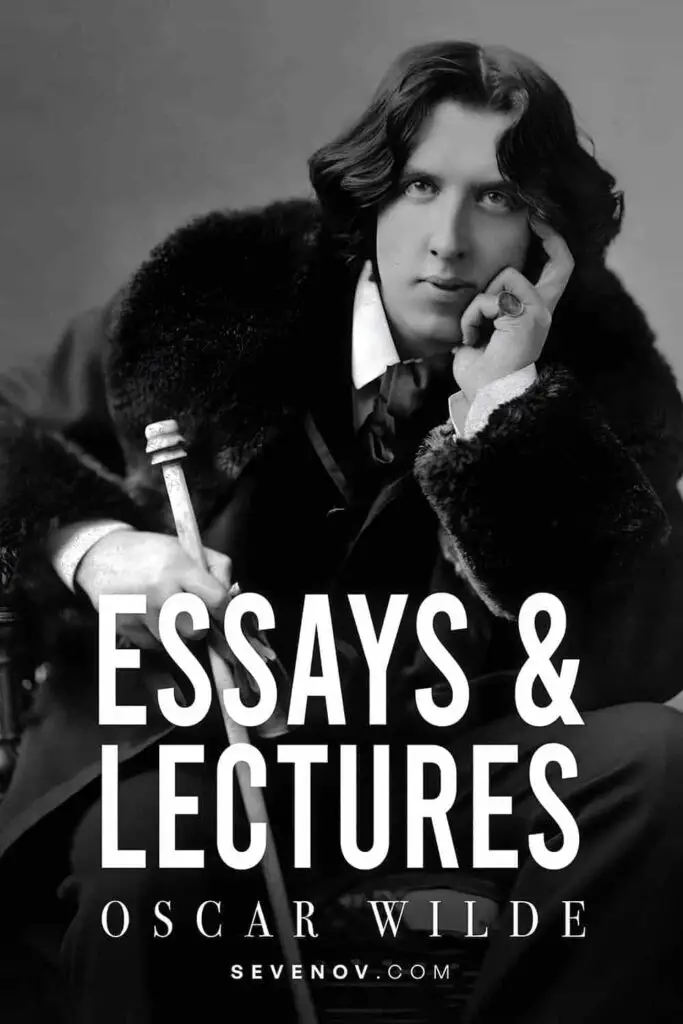 Essays and Lectures by Oscar Wilde
Author: Oscar Wilde
Published: 1913
Genre: Non-fiction, Essay
As the title implies, this is a collection of essays and lectures by Oscar Wilde, published posthumously in 1913.
1. Essays and Lectures Summary
Essays and Lectures includes the following content: The Rise of Historical Criticism, The English Renaissance of Art, House Decoration, Art and the Handicraftman, Lecture to Art Students, London Models, and Poems in Prose. We have selectively summarized some of the essays and lectures below:
1.1. The Rise of Historical Criticism
Chapter 1
Historical criticism is part of the broader movement against authority and represents a spirit of innovation. It's not found in ancient Asian despotisms or Egyptian civilization. Chinese records lack free criticism, and Hindu history is a mix of legend and fact. The Greeks, particularly in the 6th century B.C., embraced historical criticism as they sought enlightenment. This spirit drew from democracy, physical science, and philosophy. It began with questioning religion and expanded to investigate the causes of events and the philosophy of history. Greek historical criticism is distinct from sacred and uninspired history, each with its own methods and motives. Greek intellectual development, including historical criticism, progressed rationally over time.
Chapter 2
The Greeks, in their intellectual development, reached a critical point where they questioned traditional beliefs and sought more rational explanations for various phenomena. Myths and legends with supernatural elements were rationalized. Thucydides, a pioneer of rational historical criticism, applied naturalistic explanations and psychological probability to events. He emphasized the importance of evidence and was skeptical of supernatural explanations. He rejected the traditional story of Harmodios and Aristogeiton as liberators of Athens, instead, he attributed their motives to personal reasons. Thucydides laid the groundwork for rational historical analysis, but his approach lacked consideration for social and economic factors, making it incomplete. His work aimed at understanding the laws governing past events to inform future decisions.
Chapter 3
The chapter explores ancient Greek thinkers' investigation into the origin of society and the philosophy of history, highlighting the importance of figures like Plato and Aristotle in shaping historical criticism. It discusses their views on the primitive condition of society, the role of evidence, and the development of early civilization. Thucydides is noted for his approach to history, and Aristotle's theory on the origin of society is mentioned. The chapter also touches on Polybius' perspective. Overall, it underscores the Greeks' early exploration of historical and societal concepts, laying the foundation for future historical thought.
Chapter 4
Thucydides acknowledges the influence of external causes on human nature but lacks a detailed analysis. Plato presents an ideal state and explores the causes of political revolutions through deductive reasoning. Aristotle combines empirical and speculative methods, emphasizing the interpretation of facts. He rejects divine intervention in history and emphasizes the influence of free will. Polybius identifies the principle of political instability and the importance of balanced constitutions. His work marks an era in historical criticism and lays the foundation for understanding the evolution of political systems.
Polybius, an ancient historian, sought to make explicit and expand upon the ideas of his predecessors. He focused on the scientific study of history, emphasizing the importance of discerning rational causes and laws underlying historical events. He rejected the supernatural, viewing miracles as a sign of ignorance of natural causes. Polybius believed in examining normal, undisturbed development in societies to understand historical processes. He applied an abstract method and emphasized the organic nature of society. He was critical of historians who relied solely on books and valued the perspective of eyewitnesses. He criticized Timaeus for making unwarranted historical inferences from customs and stressed the need for accurate and empirically grounded historical analysis.
This chapter discusses various aspects of historical criticism, focusing on the contributions and attitudes of different ancient historians, such as Aristotle, Timæus, Polybius, Herodotus, Thucydides, and Plutarch. It also touches on the development of historical writing in Greece and Rome, emphasizing the transition from myth to more critical approaches. Ultimately, it underscores the importance of Greek thought in shaping modern historical criticism.
1.2. The English Renaissance of Art
This essay discusses the impact of the artistic spirit and its influence on poetry and art. It emphasizes the importance of clear language and technical excellence in artistic expression. Wilde highlights the idea that art should not merely imitate reality but should create a separate realm of beauty. It also touches on the notion that the artist transcends time and place to capture the eternal essence of beauty. Wilde ultimately celebrates the role of the artist in shaping culture and aesthetic values.
The essay also discusses the importance of art and its role in enriching human life. It emphasizes the value of art in various aspects, from its influence on culture and society to its power to inspire and bring joy. Wilde touches upon the connection between art and beauty, the impact of decorative arts on daily life, and the idea that art can bridge divides and promote understanding among people. Wilde encourages the integration of art into everyday life, highlighting the significance of design and the need for beautiful surroundings to nurture creativity and artistic expression. Ultimately, Wilde suggests that the secret of life lies in art.
1.3. House Decoration
In this lecture, Wilde discusses the importance of art and craftsmanship in everyday life, emphasizing the need for beautiful and rational designs in all work. He argues that art enriches the workman's life and must be integrated into daily surroundings. He also calls for a school of rational art in America, where good work is exemplified to teach the principles of simplicity, truth, and beauty. Wilde highlight the value of art education for children, promoting craftsmanship and instilling a love for nature and beauty.
1.4. Art and the Handicraftman
In this essay, Wilde argues for the importance of integrating beauty and utility, emphasizing that there is no opposition to beauty except ugliness. He stresses that beautiful design is essential in craftsmanship and that it attracts skilled artisans. Wilde encourages the pursuit of beauty in everyday life, expressing the belief that the beauty of life is a fundamental necessity. He also points out that commerce and art can coexist and highlight the importance of teaching good design to workmen.
Additionally, Wilde advocates for the creation of a school of design, the use of natural materials like marble in architecture, and the development of fine craftsmanship, particularly in goldsmithing. He reflects on his own experience in England and encourages individuals to find their own artistic path. Finally, Wilde asserts that art is timeless and resilient in the face of death.
1.5. Lecture to Art Students
The lecture focuses on the essence of art and the artist's relationship with their surroundings. It rejects the idea of defining beauty abstractly and emphasizes creating beauty rather than discussing it. The artist's role is to transform life into art, and the lecture encourages artists to transcend the limitations of their era. It highlights the importance of light and conditions in art, dismissing the need for beautiful subjects. The lecture also celebrates the work of Mr. Whistler and the notion that an artist should be capable of painting anything. It concludes by asserting that a picture's primary purpose is to be a beautiful, decorative object with no other meaning or message.
1.6. London Models
In the Victorian era, professional models were a modern invention, unknown to the Greeks and not common among old masters. English models were often pretty girls, aged 12 to 25, who posed without much interest in art. These models accepted all artistic styles, and their main concerns were comfort and a warm studio. Male models included veterans, Academy models, Oriental models, and Italian youths, each with unique characteristics. The role of acrobats and gymnasts in art was noted for their natural grace and athleticism. Model-painting could lead to artistic isolation and mannerism. Costume models in historical paintings were criticized for lacking authenticity compared to those in France who painted directly from life.