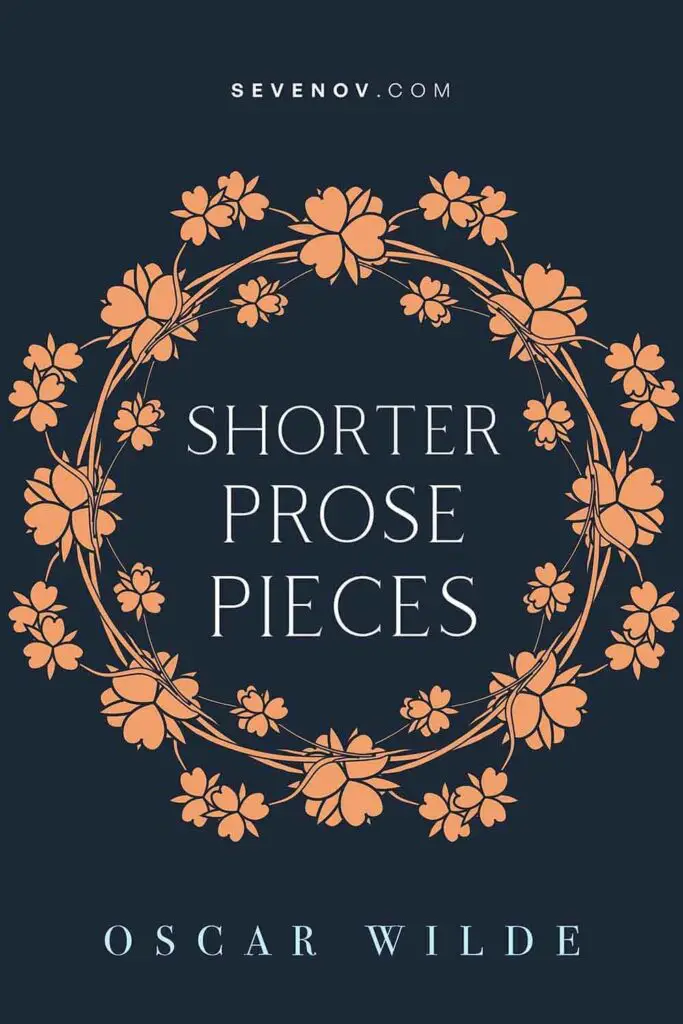 Shorter Prose Pieces by Oscar Wilde
Author: Oscar Wilde
Published: –
Genre: Non-fiction, Essay
Oscar Wilde, the eminent Irish playwright, poet, and author, is renowned for his wit, flamboyant style, and audacious commentary on society. While many are familiar with his plays and novel, it's his Shorter Prose Pieces that often go unnoticed yet remain equally captivating. These gems provide keen insights into Wilde's musings, opinions, and observations on various subjects. In this blog post, we'll explore some of these pieces, unveiling the wit and wisdom beneath Wilde's words.
1. Phrases and Philosophies for the Use of the Young
The effervescence of youth and its desire to make sense of the world is beautifully captured in "Phrases and Philosophies for the Use of the Young." Wilde presents aphorisms that are both witty and profound, showcasing his unmatched ability to distill complex ideas into crisp, memorable lines. These phrases urge the young to think, reflect, and perhaps even defy convention – a hallmark of Wilde's own life.
2. Mrs. Langtry as Hester Grazebrook
"Mrs. Langtry as Hester Grazebrook" extols the remarkable beauty of a face, likened to Hester Grazebrook, emphasizing its pure Greek characteristics reminiscent of ancient artworks. This beauty is described not just in its static form, but also in its ability to emote, transitioning seamlessly between different expressions, blending classic grace with the vitality of life. Wilde suggests that while the era of wars being fought for the beauty of women, as in the case of Helen of Troy, might have ended, the power and influence of women's beauty persist, especially in the realm of art. In the context of modern English art, the text underscores the shift from the romantic type prevalent in the previous century, which eventually succumbed to superficial attractiveness, to the resurgence of Greek-inspired beauty influenced by Pre-Raphaelites. This Hellenic influence, symbolized by Hester Grazebrook's face, has breathed new life and inspiration into modern English artwork, establishing a new artistic ideal.
3. Slaves of Fashion
"Slaves of Fashion" discusses the extreme measures women have historically gone to, and continue to go to, in the pursuit of fashion and perceived beauty. It critically examines the extreme lengths women have historically taken in the pursuit of beauty, as dictated by the prevailing fashions of their times. It also touches upon the responsibility and approach of chronicling fashion in publications.
4. Woman's Dress
"Woman's Dress" discusses historical and contemporary fashion choices, particularly critiquing the physical discomforts and health implications of specific styles. Wilde responds to criticisms and comments, particularly from a "Girl Graduate" and Mr. Wentworth Huyshe. Wilde addresses the practicality and health implications of corsets, high heels, the suspension of clothing from shoulders rather than hips, and the potential beauty of clogs. He argues for the adaptability and health benefits of styles inspired by Greek dress, emphasizing the material's importance in warmth and comfort.
Wilde also compares men's dress from different periods, advocating for the comfort, ease, and aesthetic value of 17th-century attire over that of the late 18th century. He ends by expressing hope for a revival of 17th century dress in England.
5. More Radical Ideas upon Dress Reform
"More Radical Ideas upon Dress Reform" is a discussion on various aspects of fashion, particularly in response to reactions from a lecture they gave on Dress. Wilde, evaluates criticisms and suggestions from various correspondents. He addresses the practicality, health implications, and aesthetics of historical and proposed fashion choices. Wilde emphasizes the importance of beauty in design, asserting that clothing should prioritize comfort, freedom, and adaptability, with beauty emerging naturally from these principles.
Topics touched upon include the suspension of garments from the shoulders, the functionality and design of hats, boots, and overcoats, and the appropriateness of items like clogs and divided skirts. Wilde critiques contemporary choices that don't align with his principles of dress and reflects upon historical clothing for their merits.
6. The American Invasion
The piece discusses the influence and perception of Americans in London society, highlighting two imminent figures of the time, Buffalo Bill and Mrs. Brown-Potter. Buffalo Bill's appeal to the English is tied to their fascination with the "wild" American West, which contrasts starkly with the perceived tedium of American urban life. Mrs. Brown-Potter, an actress, represents American women in London society. These women are praised for their vivacity, charm, and adaptability, being cosmopolitan and adept at social interactions. They are depicted as lively, fun, and refreshingly different from their English counterparts.
However, Wilde humorously critiques American mothers, finding them dull and provincial, and mentions the "educational system" wherein American children are depicted as frequently correcting the perceived shortcomings of their parents. The American father, in contrast, remains an absent figure tethered to Wall Street. The narrative concludes by acknowledging the positive and transformative influence of American women in English society, lauding them for their vivacity and adaptability.
7. Sermons in Stones at Bloomsbury
"Sermons in Stones at Bloomsbury" discusses the unveiling of classical artifacts and sculptures at the British Museum, brought to light through the efforts of Sir Charles Newton. These artifacts, mainly tombstones, provide insights into the Greek and Roman perceptions of death. The artifacts display not only the technical brilliance and beauty of ancient craftsmanship but also the deep cultural significance and emotions associated with death, parting, and remembrance.
The Greek artifacts emphasize the pathos of parting, often depicting scenes of farewell, while the Roman stones lean more towards individualistic, realistic portraits of the deceased. Apart from the tombstones, the museum's new Sculpture Room showcases stunning examples of Roman decorative art from the Imperial era. The artifacts mentioned range from intricate bas-reliefs depicting mythological scenes to friezes of children in various playful activities. Wilde expresses hope that more hidden treasures will be displayed, lamenting that valuable works remain in storage.
8. In Conclusion: Oscar Wilde's Shorter Prose Pieces
In conclusion, Oscar Wilde's shorter prose pieces are a testament to his literary prowess and his ability to craft compelling narratives and profound insights in a compact form. These miniature masterpieces are a must-read for anyone who appreciates wit, humor, and thought-provoking commentary. So, dive into the world of Wilde's Shorter Prose Pieces and discover the brilliance of this iconic writer in a shorter but no less impactful format.