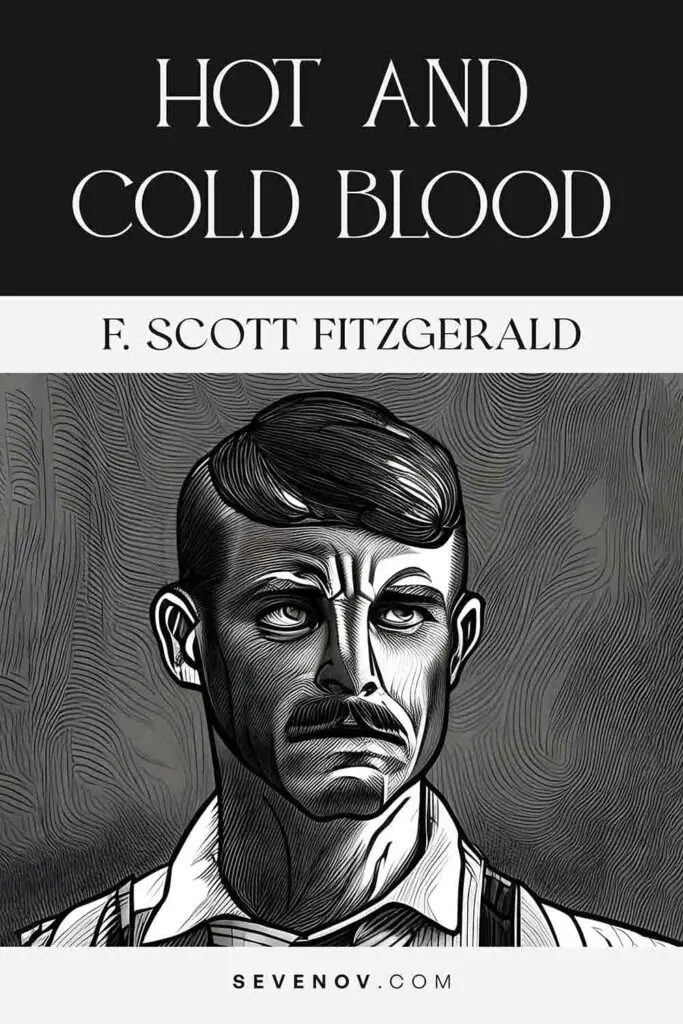 Hot and Cold Blood by F. Scott Fitzgerald
Author: F. Scott Fitzgerald 
Published: Hearst's International Cosmopolitan (August 1923)
Genre: Short Stories
"Hot and Cold Blood" is a short story by F. Scott Fitzgerald, published in Hearst's International Cosmopolitan on August 1923. It was later published in All the Sad Young Men in 1926.
1. Hot and Cold Blood Synopsis
"Hot and Cold Blood" revolves around Jim Mather, a kind and generous man, and his wife, Jaqueline. Jim's habit of helping others and being too accommodating leads to financial strain and emotional exhaustion for him and his wife. Jaqueline becomes increasingly frustrated with his generosity, feeling neglected and exploited.
One day, Jim cannot lend money to an old acquaintance, Mr. Lacy, due to his financial struggles. On his way home, he faces another test of his generosity when a young girl appears to need a seat in a crowded street car. Despite the temptation, Jim prioritizes Jaqueline's needs and remains seated.
However, the situation takes a dramatic turn when the young girl faints and it is revealed that she is Jaqueline. Distraught, Jim carries her off the street car and tends to her at home. Realizing the impact of his actions on his wife, he reevaluates his behavior and reaches out to Mr. Lacy to offer the help he initially refused.
2. Hot and Cold Blood Summary
Chapter 1
"Hot and Cold Blood" revolves around a young couple, Jaqueline and Jim Mather. Jaqueline unexpectedly visits Jim's office and finds him lending money to a man named Bronson, who is in some trouble. After the encounter, they argue about Jim's habit of being too generous and kind to others, often being taken advantage of. Later, while traveling in a street car, Jim offers his seat to a large and rude woman, which angers Jaqueline, leading to a heated argument. She accuses him of always being a pushover and too eager to please others, calling him a "professional nice fellow."
Chapter 2
Jim has a habit of being overly kind and accommodating, often lending money to friends in need and giving up his seat for others. Jaqueline becomes increasingly frustrated with this behavior, feeling that Jim's generosity is being taken advantage of and negatively affecting their financial situation.
One day, Jaqueline sees Bronson, who owes Jim three hundred dollars, showing off a new expensive sports car he just bought. She confronts Jim about it, pointing out Bronson used him to buy the car. Jaqueline expresses her need for his support and attention as she is going through a difficult time in her pregnancy.
Later, when Jim needs money to pay for a delivery, he approaches his friend Drake for a loan. However, Drake refuses, citing a personal rule never to make personal loans to friends. Although disappointed, Jim diplomatically accepts the refusal and returns to his office, realizing that Jaqueline was right about his willingness to help others at his own expense.
Ultimately, Jim admits to Jaqueline that she was right about his behavior, and he apologizes for not prioritizing her needs.
Chapter 3
However, as time goes on, Jim realizes that his generous nature has led to financial strain and emotional exhaustion for himself and his pregnant wife, Jaqueline.
Reflecting on his past, Jim realizes that he has lent a significant amount of money, about thirteen hundred dollars, which he knows he will never see again. Additionally, he has been constantly doing favors for others, giving away his time and energy freely. Jaqueline becomes increasingly frustrated with this behavior, feeling he neglects her and their unborn child.
One day, an old acquaintance named Mr. Lacy approaches Jim and asks for a loan of four hundred and fifty dollars to prevent the loss of his insurance policy. However, being in a tough financial situation, Jim cannot help. He feels torn between wanting to help and needing to prioritize his family's well-being.
After Mr. Lacy leaves, Jim is overcome with emotion and shivers, realizing the weight of his situation.
Chapter 4
Earlier in the day, an old acquaintance, Mr. Lacy, approached Jim seeking financial assistance, but he could not provide it, citing his financial struggles and the impending arrival of his child with his wife, Jaqueline.
As Mather rides a crowded street car on his way home, he reflects on the emotional burden of turning down Mr. Lacy's request. He becomes conflicted when a young girl stands beside him, seemingly tired and needing a seat. Though tempted to give up his seat, he reminds himself of Jaqueline's needs and decides to remain seated.
However, the girl eventually faints, and the situation quickly escalates. A passenger reveals that she is Mather's wife, Jaqueline. Distraught and guilty, Mather carries her off the street car. Later, back at their house, he places Jaqueline on the settee and tends to her. After she falls asleep, he calls Mr. Lacy to inform him that he can help him after all.
3. Theme
The story explores the themes of generosity, boundaries, and the challenges of balancing personal responsibilities with the desire to help others. It also emphasizes the importance of supporting one's partner in times of need.
The story delves into the dynamic between Jaqueline and Jim, with Jaqueline frustrated by Jim's tendency to be overly accommodating and generous to others, even at the expense of their own financial stability and personal comfort.
The story highlights Jim's struggle between his desire to help others and his need to prioritize his family's well-being. The incident with Jaqueline fainting on the street-car becomes a wake-up call for Jim, prompting him to reevaluate his actions and find a balance between being generous and caring for his family.