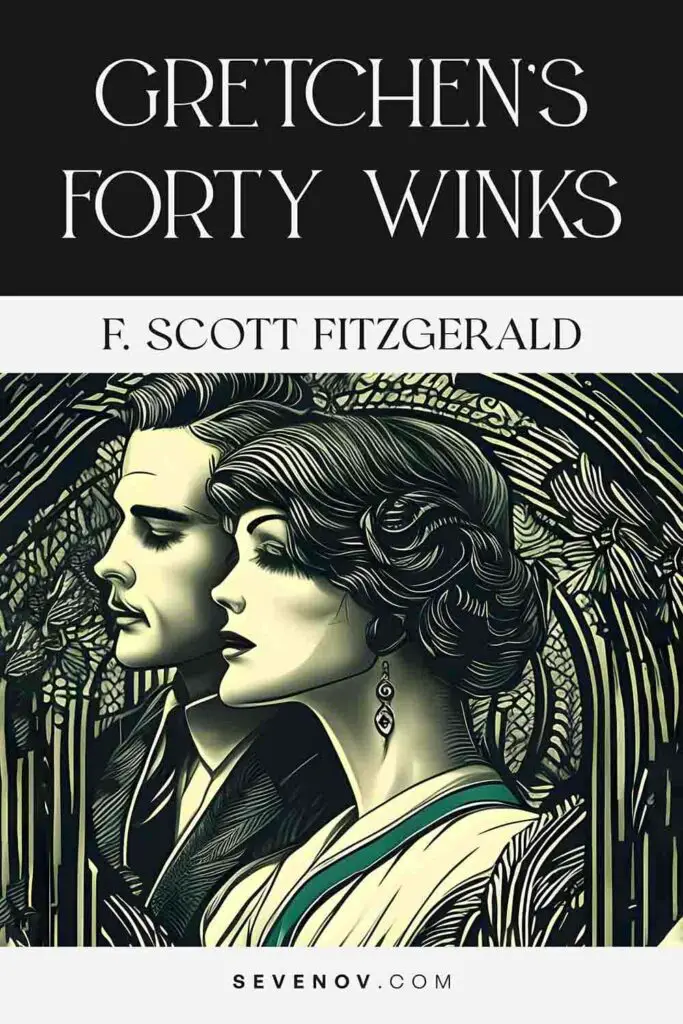 Gretchen's Forty Winks by F. Scott Fitzgerald
Author: F. Scott Fitzgerald 
Published: The Saturday Evening Post (March 15, 1924)
Genre: Short Stories
"Gretchen's Forty Winks" is a short story by F. Scott Fitzgerald, published in The Saturday Evening Post on March 15, 1924. It was later published in All the Sad Young Men in 1926.
1. Gretchen's Forty Winks Synopsis
The story centers around Roger Halsey, a determined man living in a small suburban town with his supportive wife, Gretchen. Roger's aspirations of achieving success and escaping their humble suburban home drive him to work relentlessly, believing that the next six weeks are pivotal in his pursuit of wealth. Despite the physical toll it takes on him, Gretchen remains a steadfast pillar of encouragement, unwavering in her faith in Roger. However, Roger's unease grows when his friend, Tompkins, starts taking Gretchen out on occasion. The possibility of Tompkins being interested in Gretchen unsettles Roger, stirring feelings of jealousy and insecurity. 
2. Gretchen's Forty Winks Summary
Chapter 1
"Gretchen's Forty Winks" follows Roger Halsey, a hardworking young man in the advertising business, and his wife, Gretchen. Roger is determined to make it big in his career and has decided to focus on his work for the next six weeks to secure important accounts. He asks Gretchen to support him during this period, and she reluctantly agrees, although she worries about his excessive workload.
They attend a dinner at their friend George Tompkins' house, who leads a balanced and enjoyable life. George advises Roger to take breaks, play golf, and find leisure activities to avoid burnout. However, Roger is stubborn and insists that his dedication to work is necessary for their future.
After the dinner, Roger and Gretchen discuss their different perspectives on life and work. Gretchen wishes they could have more fun and go out like other couples. Roger remains firm in his decision, believing that hard work is essential for their success.
As they stand outside their house, Roger reassures Gretchen that he will achieve success in forty days. Gretchen worries about the sacrifices she has to make, but Roger promises that everything will be fine. However, they still feel the tension between them as Roger's dedication to work strains their relationship.
Chapter 2
As Roger works day and night, Gretchen becomes increasingly resentful and frustrated with his lack of attention. George Tompkins, who has a more balanced approach to life, tries to counsel Roger to avoid overworking himself. However, their discussion leads to a heated argument, causing tension between Roger and Gretchen. Despite Roger's objections, Gretchen goes out with George, and their conflict escalates.
Feeling overwhelmed and on the verge of a nervous breakdown, Roger takes drastic measures to ensure his and Gretchen's well-being. He secretly drugs Gretchen with a sleeping potion, giving her a much-needed rest. He then packs her belongings and takes her away for a day to let her relax and regain her strength.
Ultimately, Roger shows love and concern for his wife's well-being by taking this step, hoping to reconcile their relationship and find a healthier balance between work and personal life.
Chapter 3
Roger Halsey has been working tirelessly to secure an important account with H. G. Garrod's shoe company. The deadline for the decision is approaching, and Roger is under immense pressure to deliver excellent work.
Amid this stress, the building superintendent, Mr. Golden, comes to remind Roger about the overdue rent. Roger is visibly distressed and overwhelmed, hinting at a possible nervous breakdown. He also mentions a suitcase full of his wife's shoes, which he keeps in the office for some reason.
As the decisive moment approaches, Roger's anxiety reaches a breaking point. He spends the night in the office anxiously awaiting Mr. Garrod's call. When the call finally comes, and Mr. Garrod praises Roger's work, Roger is overcome with relief and joy. He bursts into tears, feeling the weight of the pressure and stress that had been building up.
Chapter 4
The story continues with Roger Halsey revealing the successful acquisition of the big advertising account, which will bring in substantial income for the agency. His wife, Gretchen, is surprised and thrilled by the news, and they start discussing the possibilities of a luxurious lifestyle with their newfound wealth.
However, Gretchen becomes confused when she realizes that the newspaper claims it's Friday, while she believes it's Thursday. She begins to feel anxious and scared, unable to find her shoes or comprehend the discrepancy in the day. Roger is puzzled by her behavior but tries to reassure her.
The doctor arrives, and Gretchen confides her fears of a nervous breakdown due to losing a day and the shoe incident. The doctor suggests she needs rest to recover from the strain. He also mentions George Tompkins, who had a balanced lifestyle but suffered a nervous breakdown and left town.
Roger, wanting to avoid a similar fate, wonders if he needs a rest too, but the doctor dismisses his concerns, saying he looks healthy. Secretly, Roger smiles at the irony, knowing that he is the one who caused George Tompkins' breakdown by tricking him about the day and hiding Gretchen's shoes. The story concludes with Roger's amusement and relief that the big account has been secured. 
3. Theme
The story portrays the toll that intense work pressure and the pursuit of success can take on a person's mental and emotional well-being. Roger's breakdown at the end is a poignant reminder of balancing and managing stress in one's professional and personal life.
The incident also serves as a cautionary reminder about the importance of maintaining a balanced and healthy lifestyle amidst the pressures of work and success. In conclusion, the story is about a man determined to succeed and make it big. He works hard for six weeks and finally achieves his goal. However, his hard work takes a toll on him, and he becomes exhausted. The story raises questions about the price of success and whether it is worth sacrificing one's health for it.