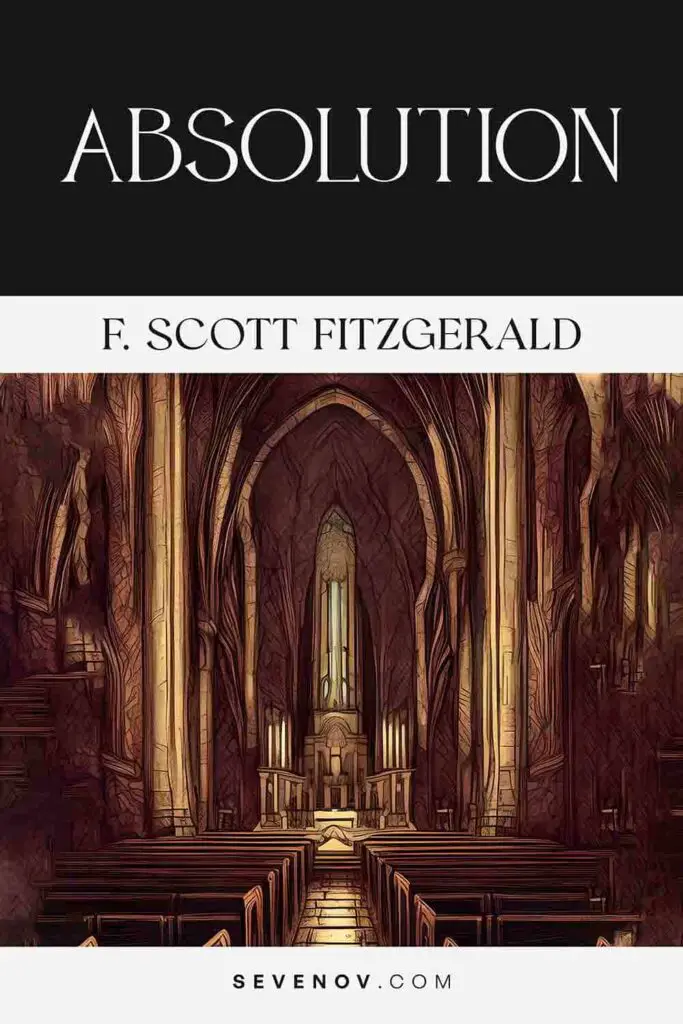 Absolution by F. Scott Fitzgerald
Author: Francis Scott Fitzgerald 
Published: The American Mercury (Jun 1924), All the Sad Young Men (1926)
Genre: Short Stories
"Absolution" is a short story written by F. Scott Fitzgerald in 1924 and published in The American Mercury in the same year. It was later published in his anthology All the Sad Young Men in 1926. Fitzgerald intended for "Absolution" to serve as a background to The Great Gatsby's plot and Jay Gatsby's origins. He changed his mind on further revision as it disrupted the novel's plot and intended effect. 
1. Synopsis
"Absolution" follows eleven-year-old Rudolph Miller, who has an alter ego named Blatchford Sarnemington. As a Catholic, Rudolph is expected to partake in confession monthly. However, lying during a confession is considered an extreme transgression to God; unfortunately, this is just what Rudolph does. 
2. Story Summary
The story opens with Rudolph Miller visiting a Catholic priest named Father Adolphus Schwartz. The visit is nerve-wracking for Rudolph because he has to confess a lie he made in a previous confession. Rudolph has an alter ego named Blatchford Sarnemington, who tries, without success, to comfort Rudolph. 
Lying during a confession is considered a heavy sin, and in Catholicism, one cannot partake in the Holy Communion if they have sinned. Rudolph panics because by not partaking, his strict father will realize that Rudolph has sinned, but by partaking, he will commit further sins. Rudolph remembers a loophole: if he eats or drinks before service, he can avoid partaking in the Holy Communion. However, his father catches Rudolph before he eats and reprimands him fiercely. Later, Rudolph has no choice but to partake in the Holy Communion.
Later during confession, he admits everything to Father Adolphus. To his horror, the priest collapses on the floor, and a frightened Rudolph scampers away.
3. Characters
Rudolph Miller
A young child that is pressured by the high religious standards his father holds him to. 
Father Adolphus Schwartz
Father Adolphus is expected to be exemplary in his faith and conduct as a priest. However, he finds that he, too, is susceptible to temptations, and he struggles as well.
4. Theme: Religion and Morality
"Absolution" addresses the religious and moral standards that some people adhere to. It questions whether hypocrisy is avoidable in attempting to adhere to them and asking others to do the same. 
5. Influence on The Great Gatsby
"Absolution" was meant to tell the story of Jay Gatsby's childhood, with Rudolph Miller displaying similar character traits as Jay Gatsby. Both Rudolph and Jay are charming middle-class boys who desire to make something of themselves and have a rich, elegant alter-ego that they identify with. 
6. Quotes from Absolution
"An invisible line had been crossed, and he had become aware of his isolation–aware that it applied not only to those moments when he was Blatchford Sarnemington but that it applied to all his inner life."
7. Frequently Asked Questions about Absolution
Why did Fitzgerald ultimately not include Absolution in The Great Gatsby?
Fitzgerald originally meant for "Absolution" to give more context to Jay Gatsby's character but decided against it to preserve his air of mystery.