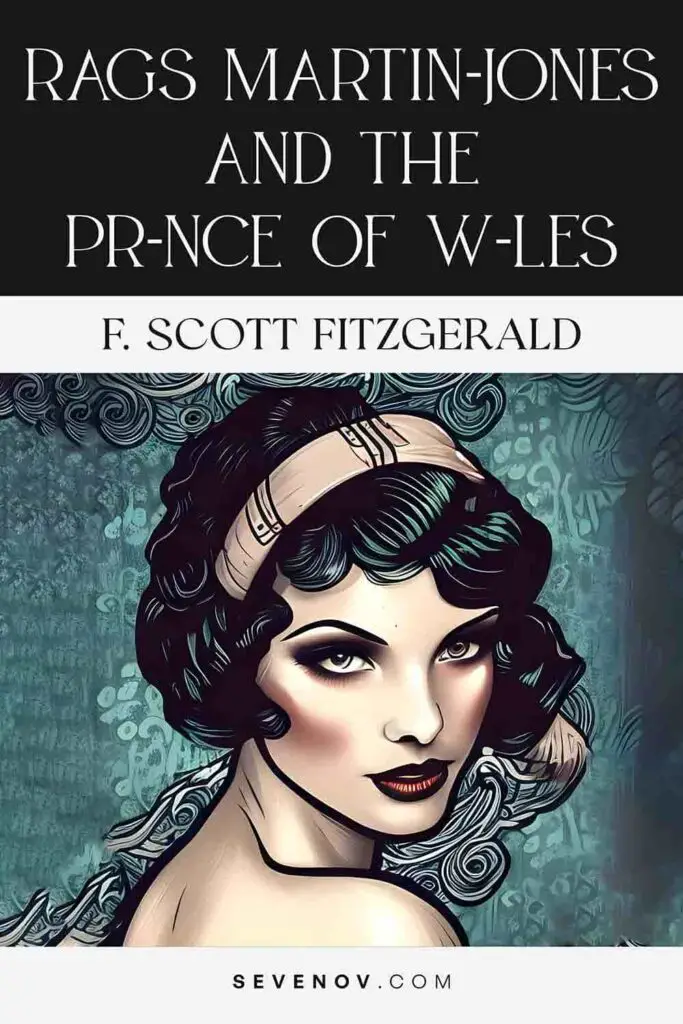 Rags Martin-Jones And The Pr-nice Of W-les by F. Scott Fitzgerald
Author: Francis Scott Fitzgerald 
Published: McCall's (July 1926), All the Sad Young Men (1926)
Genre: Short Story
"Rags Martin-Jones And The Pr-nce Of W-les" by F. Scott Fitzgerald was published in McCall's in July 1926 and anthologized in All the Sad Young Men in 1926.
1. Rags Martin-Jones And The Pr-nce Of W-les Synopsis
In F. Scott Fitzgerald's short story 'Rags Martin-Jones and the Prince of Wales,' the world of glamour, intrigue, and fabricated fantasies unfolds. Rags Martin-Jones, a captivating and vivacious character, finds herself at the heart of an orchestrated event involving the elusive Prince of Wales. Amidst a rooftop soirée, Rags becomes the focal point of a carefully crafted drama, replete with mistaken identities, sudden revelations, and a touch of romance.
Fitzgerald's narrative masterfully weaves together the allure of the upper echelons of society with the subtle art of deception. The story showcases Fitzgerald's ability to create an ambiance of heightened sophistication while exploring the dynamics of appearance versus reality. Through Rags and John Chestnut, the reader glimpses the shimmering facade of New York's high society, where even the prince himself becomes a pawn in their beguiling game. 'Rags Martin-Jones and the Prince of Wales' is a delightful exploration of the seductive power of illusion, rendered in Fitzgerald's signature prose style."
2. Rags Martin-Jones And The Pr-nce Of W-les Summary
Chapter 1
The ocean liner "Majestic" arrives in New York harbor, bringing various notable passengers and creating a flurry of activity on the dock. Among the passengers are Gloria Swanson, buyers from Lord & Taylor, a minister from Graustark with a funding proposal, and an African king feeling seasick. Photographers capture the arrivals, including Rags Martin-Jones, a young woman returning from Europe.
Rags is described as unique and beautiful, with eccentric accessories. She interacts with the captain, Sir Howard George Witchcraft, and draws attention with her appearance. Rags is revealed to have inherited a large fortune after her parents perished on the Titanic. A handsome young man named John M. Chestnut, who is deeply in love with her, awaits her on the dock.
Rags and John reunite, but their conversation escalates into an argument about their past feelings for each other. The argument becomes heated, and Rags accidentally pushes John into the river. Despite the commotion and John's predicament, Rags remains composed and schedules a meeting at the Ritz hotel for later that day. She then walks away from the scene with her signature haughty demeanor.
Chapter 2
Rags Martin-Jones and her entourage, including dogs, maids, and an orphan, settle into a luxurious suite at the Ritz hotel. Rags indulges in a series of spa treatments and pampering, including a bath, massages, and hairstyling. John M. Chestnut arrives at the hotel to meet Rags, but is faced with a delay due to a group of lawyers and bankers who have been waiting to discuss the Martin-Jones trust fund.
When John finally meets Rags, he pleads with her to give him a chance and get to know him better. However, Rags dismisses him, claiming that she cannot marry an uninspired American and that she craves more excitement and romance in her life. John insists he loves her, but Rags argues that she wants someone capable of a "gallant gesture" and imagination.
Rags reveals her perception of life as a series of unfulfilled opportunities and lackluster experiences. John proposes taking her out for a night of excitement, hinting at something extraordinary. He mentions that the Prince of Wales will be in town, and Rags becomes incredibly excited at the prospect of seeing him. She quickly prepares herself with the help of her maids, demanding extravagant outfits and accessories.
In the midst of her preparations, Rags instructs her maids to gather various luxurious items and jewelry. John takes his leave, informing the trustees that Rags is too tired to meet with them. The scene portrays Rags as someone who craves grandiosity, excitement, and novelty, contrasting with John's more down-to-earth demeanor.
Chapter 3
Rags and John are at a rooftop venue called the "Hole in the Sky." Rags is excited to see the Prince of Wales, but he has not arrived yet. The rooftop is warm due to a new invention that keeps the warm air from rising. The entertainment begins with a performance by a singer and a comedian. Rags becomes mesmerized when a group arrives and takes a table in the half-darkness.
The comedian, Sheik B. Smith, singles out Rags with a spotlight, engaging her in a humorous exchange. Rags responds with poise, maintaining an air of self-possession and amused detachment. After the spotlight fades, Rags laughs off the incident, but she is disappointed when the Prince of Wales momentarily leaves the table.
Later, Lord Charles Este, a member of Baron Marchbanks' party, approaches John and requests Rags to join their table during a performance. Rags accepts and moves to the table in half-darkness, capturing the attention of both John and Lord Charles. The scene portrays Rags as a captivating and enigmatic figure, drawing the interest of those around her.
Chapter 4
The scene unfolds at the rooftop venue. Rags and John sit together as the entertainment continues. Suddenly, a young man named Monte approaches John and warns him that they've picked up the trail, suggesting that he's in trouble. John becomes agitated, revealing to Rags that there's a warrant out for him for murder. Rags urges him to leave the country immediately, suggesting that he go to Canada with her help.
Rags speaks to Baron Marchbanks, a member of the Prince of Wales' party, asking if there's room in their car for two passengers. They agree to take John with them, planning to leave the rooftop quickly. However, when the lights go up, they realize that the plain-clothes police are searching the venue for John. The police begin questioning the people in the room, causing panic.
A confrontation ensues as Este and John attempt to leave. Shots are fired, causing chaos and confusion. Eventually, John takes charge of the situation, pretending that the whole incident was a performance he orchestrated. He tells everyone that the party is over and offers champagne, causing a mix of relief and amusement. John explains to Rags that he had fabricated the entire scenario to divert attention from himself, and that the only real part was his name.
Rags faints from the overwhelming situation, and John calls for help. The Prince of Wales offers assistance, and John's car is ordered to take Rags away. The scene ends with a mixture of relief and laughter as the truth about the fabricated incident becomes clear.
Chapter 5
Rags Martin-Jones stands on a skyscraper, looking out at the city below. She is invited into John Chestnut's private office. They discuss the fabricated incident and how it was all for her. John reveals that he used the opportunity to sell the idea of a night-club to a restaurant owner. They talk about their upcoming wedding plans. On the elevator ride down, John points out the striking resemblance between the elevator-boy, Cedric, and the Prince of Wales. Rags gives Cedric her monocle as a gift. John playfully promotes their story as a "bazaar" of love, and Rags happily agrees to "buy" the love they share.