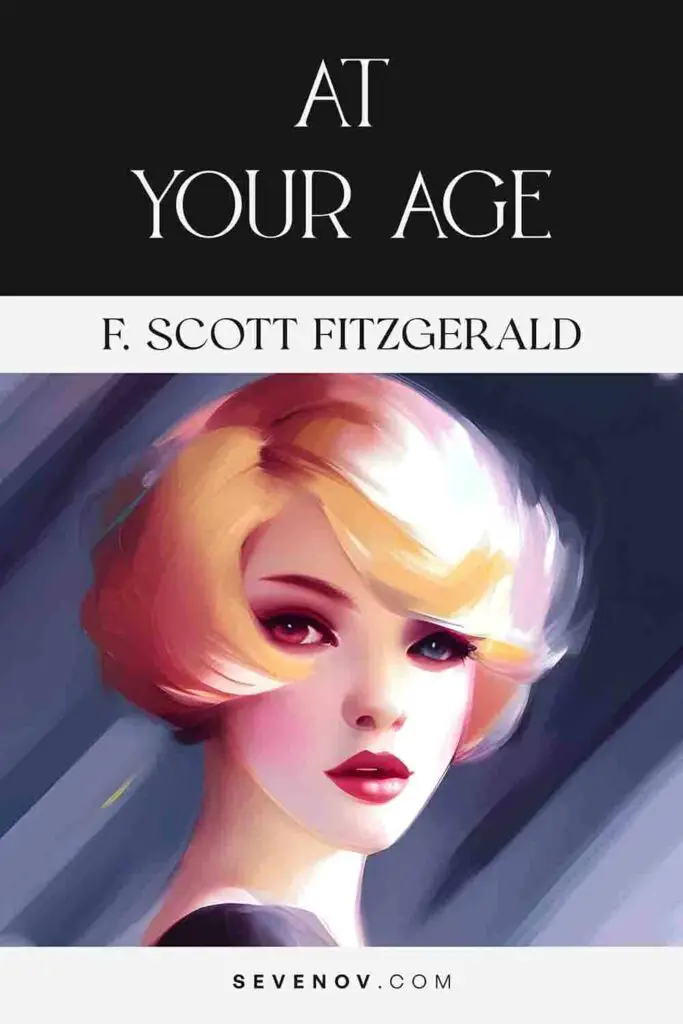 At Your Age by F. Scott Fitzgerald
Author: Francis Scott Fitzgerald 
Published: The Saturday Evening Post (August 17, 1929)
Genre: Short Story 
"At Your Age" is a short story by F. Scott Fitzgerald published in The Saturday Evening Post on August 17, 1929.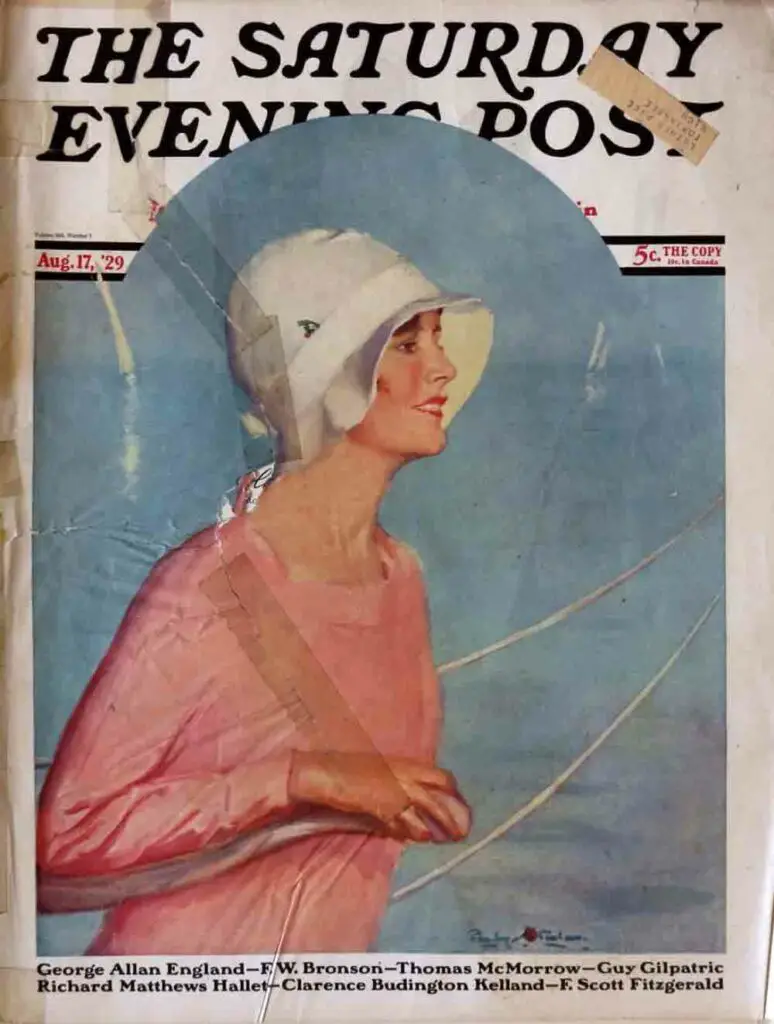 1. At Your Age Synopsis
"At Your Age" follows a romance where age is indeed just a number and explores the dynamics of a relationship with an apparent age gap. Tom is a 50-year-old man who lives in Minneapolis. He meets young and charming Annie, who he feels guilty for being attracted to. He questions the morals and norms behind falling for and pursuing a girl that is much younger than he is.
2. At Your Age Summary
Chapter 1
Tom Squires, a methodical man who has lived alone for many years, encounters a blonde girl in a drug store during Christmas week. He becomes captivated by her beauty and youth, prompting reflections on his own age and desires. Despite his successful business ventures and financial wealth, he feels a renewed longing for youth. Tom attends parties and social events, contemplating the idea of connecting with the younger generation. He becomes particularly interested in Annie Lorry, a young woman, but she doesn't share the same intensity of feelings. Tom's attempts to pursue a romantic connection with Annie are hindered by their age difference and her attraction to a younger man named Randy Cambell. As Tom reflects on his feelings while lying in a bath, it's clear that his pursuit of youth and romantic interests has left him grappling with the passage of time.
Chapter 2
Tom Squires, despite his initial intention to let go, can't get Annie Lorry out of his mind after a kiss. He realizes his age and the potential impracticality of pursuing a relationship with her, but he's drawn to her youth and beauty. He writes a letter to her mother seeking permission to court Annie, but it's met with a refusal. Annie defies her mother's wishes and continues seeing Tom in secret. Tom decides to end the relationship to protect her from potential harm caused by their age difference. They part ways as he travels to Mexico. However, he finds himself tormented by thoughts of Annie and his concern for her well-being. He returns unexpectedly to Minneapolis to find her waiting for him at the train station, and their reunion is filled with a deep sense of longing and affection.
Chapter 3
Tom and Annie's engagement brings happiness to Tom's life, and he finds himself experiencing a sense of rejuvenation. As they plan their future together, they decide to announce their engagement in June and eventually marry in the fall. Spring and summer unfold, and they enjoy their time together. However, Tom becomes increasingly bothered by Annie's tardiness and her interactions with Randy Cambell. One night, after waiting for Annie for hours, he begins to feel his age more acutely, sensing a divide between himself and Annie's younger generation. When Annie finally returns, she explains that they had a car trouble and got lost. Tom feels the gap between their ages more than ever, and despite Annie's attempts to explain, he leaves her feeling upset and walks away, grappling with the realization that they belong to different worlds.
Chapter 4
Throughout that summer, Tom frequently walked around the neighborhood, finding solace in revisiting the landmarks of his youth. He would stop by his childhood home and other familiar places, reflecting on the past and its changes. He often passed a drug store that held memories, hoping to catch a glimpse of a blonde clerk he once admired. After inquiring, he learned she had married and sent her a wedding gift as a gesture of gratitude. Tom felt he had lost the battle against the passing of time and the vitality of youth, accepting the price of growing older. The memories, pain, and conflict he experienced were valuable in their own way, and despite his struggle, he recognized the significance of those three months of intense emotions.
3. Characters
Tom Squires
A handsome gentleman of 50.
Annie Lorry
A beautiful young woman who is the love interest of Tom
4. Writing Style
Like many of Fitzgerald's other novels, he pays close attention to the environment and setting details. Similar to The Great Gatsby, there is also a clear narrator with a strong presence.
---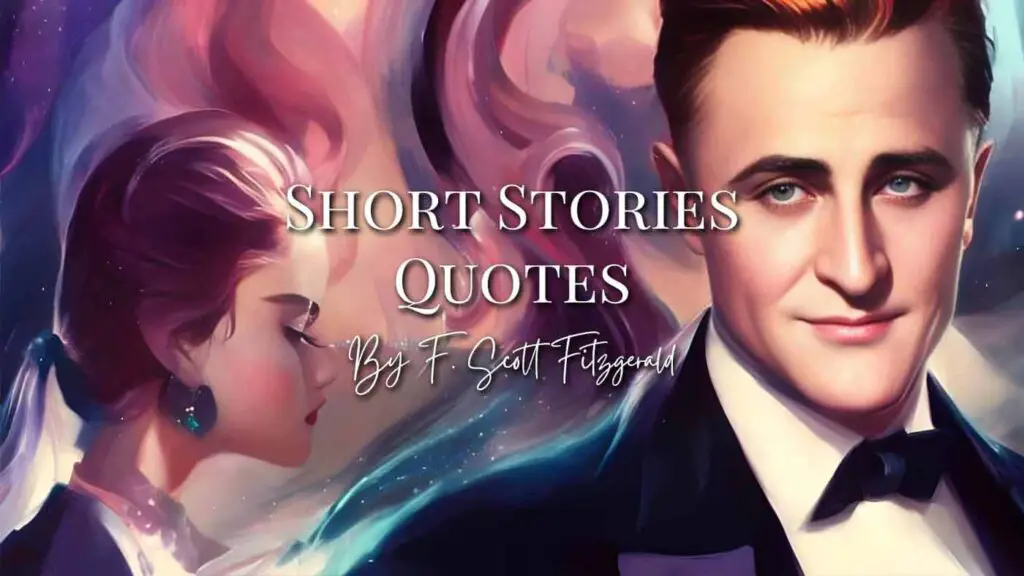 Recommended: Short Stories Quotes by F. Scott Fitzgerald
5. Frequently Asked Questions about At Your Age
Why does Annie leave Tom for Randy?
Annie realizes that what she feels for Tom is admiration for an older man. She realizes that she needs to be realistic about choosing a marriage partner and chooses Randy because he is of a similar age range as her.