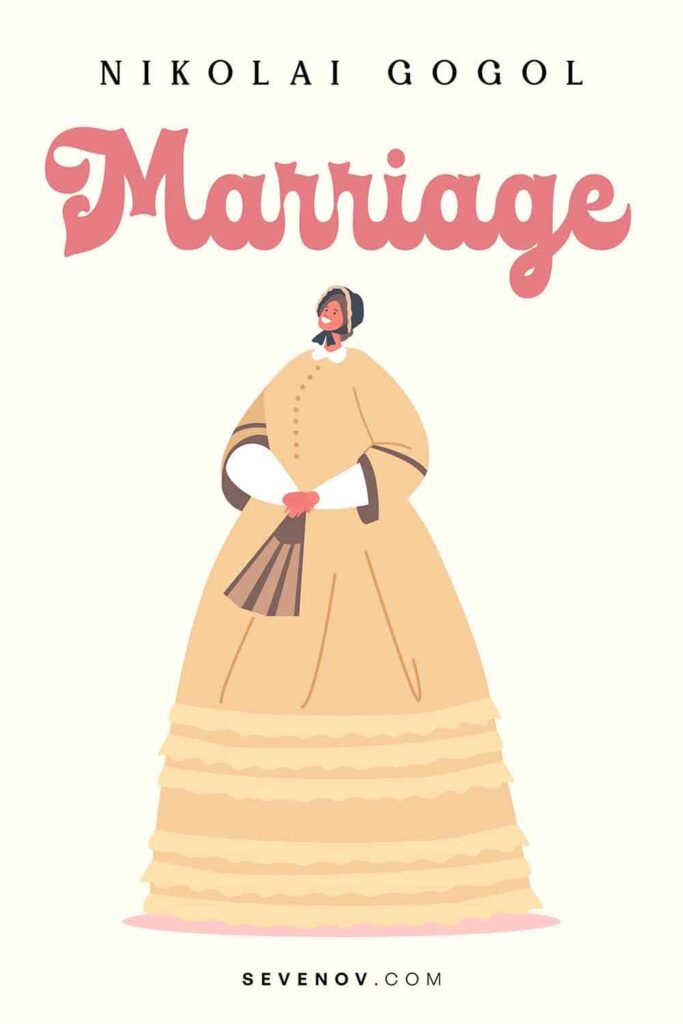 Marriage by Nikolai Gogol
Author: Nikolai Gogol
Published: 1842
Genre: Comedy
Marriage (Женитьба, translit. Zhenit'ba) is a play by the Ukrainian-born Russian author Nikolai Gogol. First published in 1842, the comedy depicts an indecisive civil servant who struggles to find a bride. 
1. Synopsis
Podkolyosin is an indecisive civil servant looking for a bride. He enlists the help of a matchmaker, Fyokla, and his friend, Kochkaryov, to find a suitable match. Anxious that she would not make any money if Podkolyosin made a match without her assistance, Fyokla tries to impede Podkolyosin's marriage to a merchant's daughter, Agafya, by surrounding her with suitors. Even when Agafya chooses him over the other suitors, Podkolyosin remains ambivalent about marriage.  
2. Story Summary
The play opens in the house of Podkolyosin, a St. Petersburg civil servant who seems keen on getting married. He engages a matchmaker, Fyokla, who sets him up with a merchant's daughter, Agafya. Podkoyolsin and Fyokla's conversation reveals that Podkoyolsin has been searching for a bride for a long time but has been unable to make any marriage decision. 
Kochkaryov, Podkoyolsin's friend, drops by his home and learns of his intention to marry when he sees the matchmaker Fyokla. Fyokla had set Kochkaryov up with his wife, and he became displeased with his marriage. Hence, he does not trust Fyokla's expertise. Kochkaryov cunningly gets Fyokla to tell him Agafya's address and then informs her that her services are no longer needed. 
The next scene takes place in Agafya's house. As she discusses marriage with her aunt, Arina, the matchmaker Fyokla walks in on them. Fyokla tells Agafya that she has found some fine suitors for her, who will be arriving soon. The truth is that Fyokla worries she will not earn any money if the marriage takes place without her help. As such, she hastily rounded up an array of undesirable suitors for Agafya before meeting her. 
Before Podkoyolsin and Kochkaryov arrive, three suitors of Agafya's come to see her. The first suitor, Yaichnitsa, bears a name that means 'omelet.' Yaichnitsa appears to be fixated on Agafya's dowry and doubts that Fyokla has told him the truth. The second, Anuchkin wants a bride who speaks French though he cannot speak the language himself. The third, Zhevakin, is a retired sea captain who tells the other suitors stories about the time his squadron was stationed in Sicily. 
When Podkoyolsin and Kochkaryov enter, all of Agafya's suitors sit down for a chat. Yaichnitsa pressures Agafya to make a decision, which causes her to feel so awkward that she leaves. After Agafya has gone, Kochkaryov tries to discourage the other suitors by saying that she is not pretty. Anuchkin starts to worry that Agafya does not speak French, insisting that a woman must know the language. Yaichnitsa leaves for a walk around the house, joined by Zhevakin and Anuchkin. 
Kochkaryov goes to see Agafya in her room and persuades her to choose Podkolyosin over the other suitors. The other suitors return and are told off by Kochkaryov and Agafya, leaving only Podkoyolsin behind. 
Kochkaryov pushes Podkoyolsin to marry Agafya soon, though Podkoyolsin wants to put off the marriage for another month. On the wedding day, Podkoyolsin fantasizes about the joys of marriage but suddenly changes his mind. He jumps out of a window and calls for a cab to send him home. As the play closes, Kochkaryov is chastised by Arina and Fyokla for setting Agafya up with Podkoyolsin, who has humiliated her.