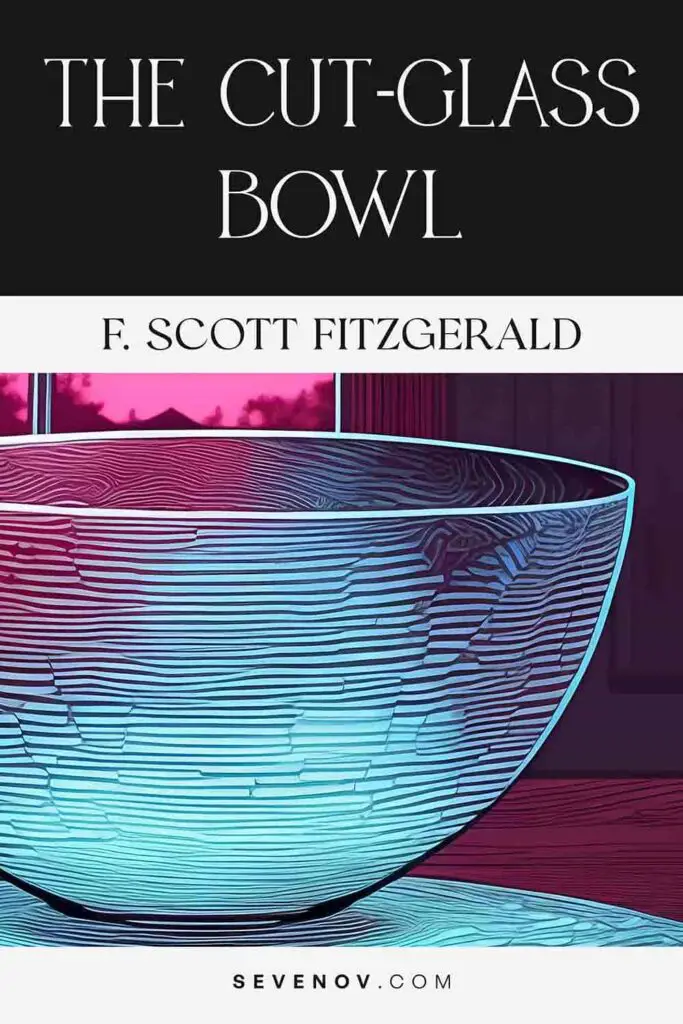 The Cut-Glass Bowl by F. Scott Fitzgerald
Author: F. Scott Fitzgerald 
Published: Scribner's Magazine (May 1920)
Genre: Short Stories
"The Cut-Glass Bowl" is a short story written by F. Scott Fitzgerald in 1920 and published in Scribner's Magazine and Flappers and Philosophers in the same year. 
1. Synopsis
Evylyn Piper has a cut-glass bowl in her home, a traditional wedding gift in the Middle West. The cut-glass bowl serves as a metaphor which Fitzgerald intertwines suspense with. Unfortunately, it is also a tragic metaphor for fate and the hardships Evylyn will face. This somber story vividly depicts marital life versus individual identity. 
2. Story Summary
2.1. Evylyn Piper
The story opens with Evylyn Piper being visited by Mrs. Roger Fairboalt, an old woman who loves to gossip. Mrs. Fairboalt's visit is because she heard about Evylyn having a rumored affair with a man named Freddy Gedny and wishes to gather as much information to ascertain the truth. 
They make small talk about the furniture and decorations in Evylyn's home. One that stands out, particularly, is a cut-glass bowl, a wedding gift from Evylyn's former suitor. 
2.2. The Affair
Shortly after Mrs. Fairboalt leaves, Freddy arrives. We come to know that the affair is true, and Evylyn attempts to end it. However, her husband Harold reaches home earlier than usual. Freddy goes to hide but hits the bowl, and Harold finds him. 
After the affair is uncovered, the Pipers' marriage is strained, and Evylyn focuses on raising her children, which takes a physical and mental toll on her.
2.3. The Dinner Party
A few years passed. One day, Harold informs Evylyn that they will have important guests for dinner. They are potential business partners, and Harold asks to use the glass bowl for punch. Unfortunately, Evylyn's daughter cuts herself on the bowl and develops blood poisoning. The poisoning results in her hand being amputated. 
Soon after, a letter is placed in the glass bowl that informs Evylyn that her son was killed in World War I. Evylyn decides to get rid of the bowl, but while carrying it, she falls, and it breaks apart. 
3. Characters
Evylyn Piper
Evylyn feels unfulfilled in her marriage and life, and her life spirals downward as the story progresses.
4. Theme
One of Fitzgerald's more morbid stories, the cut-glass bowl, is an important metaphor and symbol in the story, just like how Fitzgerald's other works often include unique symbols. 
5. Quotes from The Cut-Glass Bowl
"It was astonishing to think that life had once been the sum of her current love-affairs. It was now the sum of her current problems."

F. Scott Fitzgerald
"Evylyn, I'm going to give a present that's as hard as you are and as beautiful and as empty and as easy to see through."

F. Scott Fitzgerald
6. Frequently Asked Questions about The Cut-Glass Bowl
What does the cut-glass bowl represent?
The cut-glass bowl represents Evylyn's life and the key experiences that shape her. 
The glass bowl is given as a present by her first love, who explains it symbolizes her as a person. As her life goes on, the glass bowl plays a central role in her marriage, affair, and children's lives.