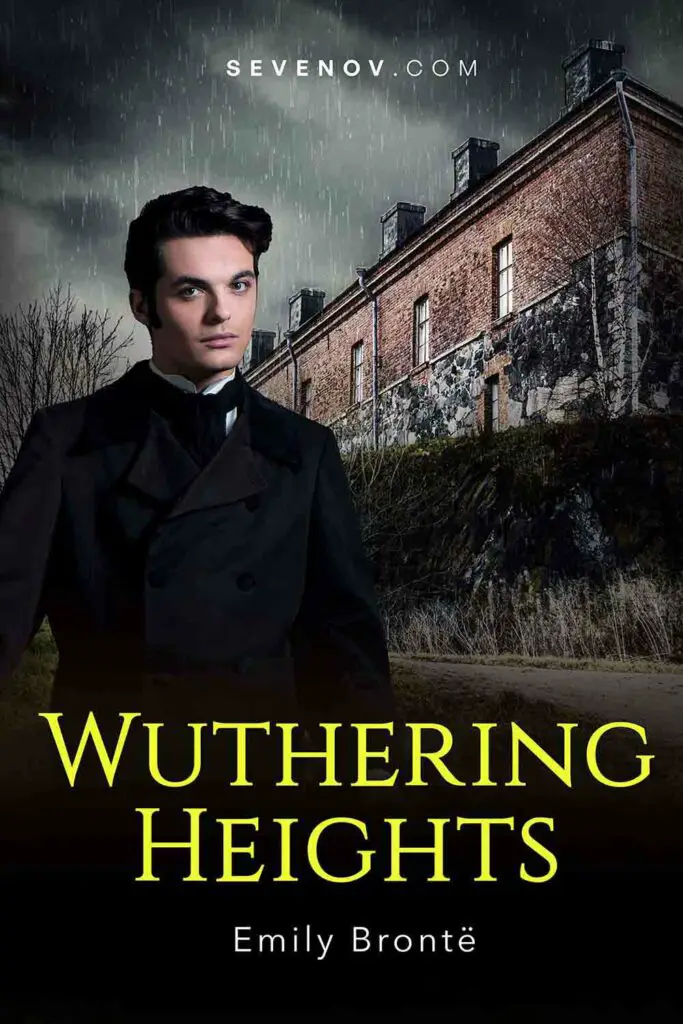 Wuthering Heights by Emily Brontë
Author: Emily Brontë
Published: 1847
Genre: Romance, Gothic
Wuthering Heights is an 1847 novel by Emily Brontë, which was first published under her androgynous pen name Ellis Bell. "Wuthering" is a Northern English adjective meaning "characterized by strong winds." The title of the novel alludes to the turbulent, stormy passions of various members of the Earnshaw and Linton families, whose tangled relationships form the basis of the novel's plot. Considered a modern classic of English literature, Emily Brontë's Wuthering Heights has spawned numerous adaptations, including a 1978 song of the same name by the singer-songwriter Kate Bush. 
1. Synopsis
Wuthering Heights explores the tragic love story between Catherine Earnshaw and Heathcliff, an orphan boy who her father takes in. Although she is in love with Heathcliff, Catherine decides to marry her neighbor Edgar Linton due to his high social standing. Misunderstanding Catherine's feelings, Heathcliff flees heartbroken and filled with resentment. Three years later, he returns as a wealthy gentleman to seek revenge on the Earnshaw and Linton families. 
Covering themes of love, revenge, and social class, the story of Wuthering Heights spans three generations. Through the perspectives of several narrators, the complex relationships between the Earnshaws and Lintons start to unravel. 
2. Story Summary
2.1. Opening 
The story of Wuthering Heights opens from the viewpoint of Lockwood, a tenant at Thrushcross Grange, the former home of the Linton family. 
He visits his landlord Heathcliff at his farmhouse, Wuthering Heights. There, he meets Catherine Linton, Heathcliff's widowed daughter-in-law, the elderly servant Joseph and Hareton Earnshaw, an illiterate and coarse young man. 
Trapped by the snow storm outside, Lockwood stays at Wuthering Heights for the night and reads the diary of his room's former inhabitant, Catherine Earnshaw. 
When he returns to Thurshcross Grange, his housekeeper, Nelly Dean, who used to work for the Earnshaw family at Wuthering Heights, tells him the tragic story of Catherine Earnshaw and Heathcliff. 
2.2. Catherine and Heathcliff's Childhood
Thirty years ago, Catherine Earnshaw's father, Mr. Earnshaw, adopted a dark and mysterious orphan boy who he named Heathcliff. Earnshaw favored Heathcliff over his children, causing his elder son, Hindley, to abuse Heathcliff out of jealousy. 
After Earnshaw's death, Hindley becomes the master of Wuthering Heights and demotes Heathcliff to the status of a servant. Nevertheless, Catherine and Heathcliff, sharing the same wild and passionate temperament, are drawn to each other and fall in love. 
Hindley marries Frances, who dies after giving birth to their son, Hareton. Distraught at his wife's death, Hindley spirals into alcoholism. 
Out of curiosity, Catherine and Heathcliff spy on the Linton family at Thrushcross Grange which comprises Mr. and Mrs. Linton, their son Edgar and daughter, Isabella. When Catherine is attacked by one of the Lintons' dogs, she spends five weeks recuperating at Thrushcross Grange. During this time, Catherine and Edgar grow close. 
2.3. Catherine's Betrayal 
Edgar eventually proposes to Catherine. Conflicted about whether to accept his proposal, Catherine confides in her servant, Nelly, revealing her intense love for Heathcliff, who is so similar to herself that the two of them are like the same person. In this climactic scene, Catherine remarks, "He's more myself than I am. Whatever our souls are made of, his and mine are the same." 
However much she loves Heathcliff, Catherine insists that she cannot marry him as Hindley has brought him down so low that to marry him would degrade herself. Furthermore, as the heir of the wealthy Linton family, Edgar would give her a much more comfortable life than Heathcliff. 
Heathcliff overhears Catherine and Nelly's conversation and flees the house, heartbroken and humiliated. Tragically, he did not stay long enough to hear Catherine describe how much she loves him. 
2.4. Heathcliff's Revenge
Three years later, Catherine marries Edgar and moves into Thrushcross Grange. Nelly follows her there as her servant. Catherine, Edgar, and Isabella live a peaceful life together until the return of Heathcliff, who is now a wealthy gentleman. Desirous of Heathcliff's money, Hindley, a gambler, allows him to stay at Wuthering Heights. After gambling with Heathcliff, Hindley sinks into debt and has no choice but to mortgage Wuthering Heights to him. 
Despite Edgar's disapproval, Catherine continues to see Heathcliff as her feelings for him have not changed. She later learns that Isabella has fallen for Heathcliff and tells him that she will persuade Edgar to allow their marriage if he truly loves her. Heathcliff mocks Catherine, saying that he only wants to marry Isabella to take revenge on her for betraying him. 
Edgar forbids Isabella from marrying Heathcliff and threatens to throw her out of the Linton household if she does so. Isabella elopes with Heathcliff and Edgar disowns her, furious at her betrayal. Heathcliff treats Isabella cruelly after their marriage, causing her to leave him and give birth to a son, Linton Heathcliff, alone. 
Meanwhile, Catherine's health fails and Heathcliff comes to see her shortly before her death.  In despair, he implores her to haunt him as a ghost for the rest of his life as he cannot live without her. 
Catherine dies after giving birth to her daughter, Catherine Linton. Hindley drinks himself to death not long after, leaving Heathcliff as the master of Wuthering Heights and the guardian of Hindley's son, Hareton. 
Out of resentment for Hindley's past mistreatment of him, Heathcliff abuses Hareton and denies him an education. As a result, Hareton grows up to be a savage, uneducated and ignorant young man. 
Many years pass and the younger Catherine Linton grows up to be a refined and beautiful lady. After Isabella's death, her son Linton is sent to live with his father Heathcliff. Linton and the younger Catherine fall in love, and Heathcliff encourages them to marry so that he can gain control of Thrushcross Grange, thus completing his revenge on the Lintons. 
The young couple marries and Catherine moves into Wuthering Heights to live with her husband. The sickly Linton does not live long however, leaving Catherine behind at Wuthering Heights after his death. 
2.5. Ending
Here, Nelly's tale concludes. Lockwood leaves Thrushcross Grange but returns eight months later. On his second visit, he learns that Catherine Linton has been teaching Hareton to read. Although Catherine is contemptuous of Hareton at first, she is touched by his sincere love for her and earnest efforts to improve himself. Gradually, she falls for Hareton and the two decide to get married. 
Meanwhile, despite having had his revenge, Heathcliff is emotionally unfulfilled. Lonely and yearning for his lost love, he stops eating and dies in Catherine Earnshaw's room. 
In the last scene, Lockwood passes by the graves of Catherine Earnshaw, Heathcliff, and Edgar. He is moved by the serenity of the surrounding moors and believes that the three of them are finally at rest in the afterlife. 
3. Characters
Catherine Earnshaw – A free-spirited and temperamental young lady. She is described as beautiful but spoiled and stubborn. Her love for Heathcliff is intense but selfish and ends up destroying both of them. Ultimately, she betrays her own heart by choosing to marry Edgar for his social status instead of Heathcliff.
Heathcliff – An orphan boy taken in by Mr. Earnshaw. Abused by Hindley and rejected by Catherine, he seeks revenge on those who have wronged him. He is an antihero who is eventually destroyed by his bitterness, rage, and thirst for vengeance. 
Hindley Earnshaw – Catherine Earnshaw's older brother. Jealous of the favor Heathcliff receives from his father, he beats him and makes him a servant once his father is dead. After his wife Frances' death, he descends into a life of alcoholism, gambling, and madness. 
Edgar Linton – The heir of the Linton family and Catherine Earnshaw's husband. A gentle and kind character, he is incompatible with Catherine. After her death, he raises their daughter who he calls Cathy. 
Isabella Linton – Edgar's younger sister. Kind but naive, she falls for Heathcliff and does not see the cruel and violent side of his personality until she has married him. 
Ellen "Nelly" Dean – A servant of the Earnshaw family and the narrator for most of the story. She has a down-to-earth and pragmatic personality. Some critics have claimed that she is an unreliable narrator as she is too involved in the events of the story. 
Lockwood – A tenant at Thrushcross Grange who learns the story of the Earnshaw and Linton families through Nelly Dean. He is a traveler from London who holds an arrogant attitude towards the inhabitants of the Yorkshire countryside. 
Hareton Earnshaw – Hindley and Frances' son. After the death of his parents, he is brought up by Heathcliff who abuses him out of resentment for his father. Although he is brutish and illiterate at first, he has a kind heart and shows a genuine desire to improve himself. 
Catherine "Cathy" Linton – Catherine Earnshaw's daughter with Edgar Linton. She has a kind and gentle nature like her father but inherited a rebellious streak from her mother. 
Linton Heathcliff – Heathcliff and Isabella Linton's son. Frail and sickly, he is treated with disdain by his father. He dies shortly after marrying Catherine Linton. 
Mr. Earnshaw – Hindley and Catherine's father. He takes in Heathcliff, an orphan from Liverpool, and treats him better than his children. 
Mrs. Earnshaw – Mr. Earnshaw's wife. She dislikes Heathcliff and dies shortly after he is brought into the Earnshaw household. 
Joseph – An elderly servant at Wuthering Heights. He is a religious fanatic who uses his faith to cast judgment on others. Unlike the other characters, he speaks with a thick Yorkshire accent. 
Frances Earnshaw – Hindley's wife. She is a silly and childish woman who dies of consumption after giving birth to her son, Hareton. 
Mr. Linton – Edgar and Isabella's father. He is a member of the gentry and very wealthy.
Mrs. Linton – Edgar and Isabella's mother. She is snobbish and looks down on Heathcliff, not wanting him to come near her children. 
Dr. Kenneth – The village doctor who is called by the Earnshaws and Lintons. 
Zillah – A housekeeper at Wuthering Heights who is described as a "stout housewife" and a "narrow-minded, selfish woman". 
Mr. Green – Edgar's attorney. He arrives too late to help Edgar change his will such that ownership of Thrushcross Grange would not fall into Heathcliff's hands. 
4. Themes 
4.1. Love 
The theme of love pervades the whole story of Wuthering Heights. Transgressive and all-consuming, the love between Catherine and Heathcliff is one destined for a tragic ending. The intensity of their love stems from the similarity of their nature, which causes them to see themselves in the other. While Catherine claims to love Heathcliff, she loves herself more and does not consider his feelings as she considers him an extension of herself. This leads to her betrayal which turns their love into a destructive hatred.
The story contrasts this love with that of Edgar and Catherine, a tamer form of love that exists within a socially acceptable marriage. Catherine loves Edgar only for superficial attributes: his wealth, looks, youth, and pleasant demeanor. This is because the two of them are so different that she finds it hard to relate to him and love him for who he is. Although her marriage to Edgar gives Catherine the social status she desires, they are ultimately incompatible. Gentle, refined Edgar is not able to accept Catherine's fiery nature, and neither can Catherine accept him. 
Lastly, the calm and tender love of the younger Catherine Linton and Hareton is a sort of 'middle ground' between the two earlier relationships. The two lovers could not be more different –  Catherine Linton was brought up with the generous love of her father Edgar and given everything she requires. Protected from the outside world, she develops a mild and innocent character. Meanwhile, Hareton was abused by his father figure, Heathcliff, and denied an education, causing him to become an illiterate and brutish young man. Nevertheless, the two are able to overcome their differences and fall in love as Hareton strives to improve himself and Catherine lets go of her prejudice against him. 
4.2. Revenge
Throughout the story, Heathcliff seeks vengeance on those who have wronged him. Abused by Hindley as a child, he subsequently mistreats Hindley's son Hareton and makes him a servant. He also elopes with Isabella to take revenge on Catherine for betraying him and Edgar for taking Catherine away from him. In the end, he schemes to ensure the marriage of the younger Catherine Linton and his son so that he can gain control of Thrushcross Grange, thus completing his revenge on the Lintons. Although he succeeds in making his enemies suffer, Heathcliff is left emotionally empty and lonely, unable to attain his one true desire of being with Catherine. 
Wuthering Heights portrays revenge as a futile desire that harms those who resort to it as much as its targets. Heathcliff's relentless pursuit of vengeance ultimately fails to bring him happiness and peace. It is only after he lets go of his desire for retaliation that he finds happiness by being reunited with Catherine in death. 
4.3. Social Class
Wuthering Heights portrays the constantly shifting nature of social class through the characters of Heathcliff and Hareton. Heathcliff starts as a homeless orphan, the lowest rung in society. He rises in standing after being adopted by Earnshaw and treated as his son. After Earnshaw's death, he is demoted to a servant by Hindley, causing him to be rejected by Catherine. When he returns as a wealthy gentleman, the other characters are unsure of how to treat him. While he now has money and land, they still see him as the former servant boy of Wuthering Heights. 
Hareton, on the other hand, is born the heir of the landowning Earnshaw family. However, he is made a servant by Heathcliff after his father dies. Heathcliff deprives Hareton of an education and never taught him proper manners. Thus, his upbringing shapes him into an illiterate brute, negating the status of his high birth. 
Despite the precariousness of social class, it remains a rigid barrier that prevents the characters from achieving happiness. Even as Catherine declares her undying love for Heathcliff to Nelly, she believes that she, as the daughter of a gentry family, cannot marry him due to his low status. It is her desire for status that leads her to betray Heathcliff, the only person she loves. In the end, her attainment of a higher social class by marrying Edgar does not bring her happiness as she is unable to let go of her feelings for Heathcliff. 
5. Writing Style 
Emily Brontë wrote a considerable volume of poetry before writing Wuthering Heights and the romantic and lyrical style of her poems shines through this novel. The novel uses highly emotional language to draw out the characters' intense passions unlike most Victorian novels, which tend to adopt a more restrained style. 
Emily's love of nature can be seen in how she draws on the wild, desolate Yorkshire moors in Wuthering Heights to express emotions and ideas that are hard to put into words. The savage winds, vast untamed grasslands, and violent storms of the moors make them dangerous and difficult to navigate. This harsh environment mirrors the stormy, passionate relationship between Catherine and Heathcliff in all its beauty and danger. In a dramatic scene, Heathcliff overhears Catherine's rejection and flees into the moors in the middle of a storm, representing his inner turmoil and rage. 
Some critics have noted the authenticity of natural scenery descriptions in Wuthering Heights. For example, the writer David Cecil said that nowhere in the novel can be found a "set-piece of landscape-painting". He likened the experience of reading Wuthering Heights after reading works by other authors to "leaving an exhibition of landscape-paintings to step into the open air." Emily's sister, Charlotte wrote that "[Emily's] native hills were far more to her than a spectacle; they were what she lived in, and by, as much as the wild birds, their tenants, or as the heather, their produce. Her descriptions, then, of natural scenery, are what they should be, and all they should be." 
In terms of cultural influences, Wuthering Heights was inspired by Romanticism, a cultural movement that emphasized the power of emotion, art, and nature. Romantics revered individualism and had a keen interest in the supernatural. The Gothic genre is closely associated with Romanticism due to its exploration of the darker side of human passions and nature, as well as its supernatural elements. Emily Brontë's Wuthering Heights has been cited as an example of 'Female Gothic', as it depicts a female character, Catherine, who is forced to repress her wild nature to conform to the expectations of her domestic role as a wife.  
Apart from its romantic style, Wuthering Heights is distinguished by its unusual structure. The story has no single narrator but is mostly told through the overlapping narrations of Lockwood and Nelly. There are also sections taken from Catherine Earnshaw's diary and Isabella's letter to Nelly. Altogether, the use of several narrators creates a rich story told from multiple perspectives. None of the storytellers are completely impartial and it is up to the reader to piece together the truth of what happened from their flawed narratives. 
6. Influence on Pop Culture and Legacy
Although Wuthering Heights received mixed reviews when it first came out, it has since been acknowledged as a classic English novel. The novel has received praise from 20th-century literary figures such as Virginia Woolf and John Cowper Powys as well as modern book critics. 
Virginia Woolf wrote in her 1916 critique of Charlotte Brontë's Jane Eyre and Emily Brontë's Wuthering Heights:
"Wuthering Heights is a more difficult book to understand than Jane Eyre, because Emily was a greater poet than Charlotte…the impulse which urged her to create was not her own suffering or her own injuries. She looked out upon a world cleft into gigantic disorder and felt within her the power to unite it in a book."
The influence of Wuthering Heights on pop culture is evident in its numerous film, TV, stage, and music adaptations. 
6.1. Film Adaptations
The first film adaptation of Wuthering Heights was the 1939 film directed by William Wyler and starring Merle Oberon as Catherine and Laurence Olivier as Heathcliff. The film received the 1939 New York Film Critics Award for Best Film and nominations for eight Academy Awards. 
Some film adaptations of Wuthering Heights have transplanted the story into other settings. For instance, Yoshishige Yoshida's 1988 film, Arashi ga oka, shifts the story of Wuthering Heights from England to medieval Japan. Heathcliff is now Onimaru, a young boy adopted by a family of priests, who falls for their daughter,  Kinu, and goes berserk when she marries another man. 
French director Jacques Rivette's adaptation, Hurlevent (1985) retells the story of Wuthering Heights in 1930s Southern France. In an interview, Rivette said that he hated Wyler's 1939 adaptation which he likened to a Jane Austen story with all the ball scenes it added in. Hence, in creating Hurlevent he wanted to remain faithful to the wild and stormy atmosphere of Emily Brontë's novel. 
6.2. Influence on Music 
Inspired by the 1967 BBC TV adaptation of Wuthering Heights, the singer-songwriter Kate Bush wrote a song of the same name in 1977. The song, Wuthering Heights, was released as her debut single in February 1978 and topped the UK Singles Chart for four weeks. Written from the perspective of Catherine Earnshaw, the lyrics depict her pleading at Heathcliff's window to be let in.
In 1980, singer-songwriter Pat Benatar released a cover of Kate Bush's Wuthering Heights in her album, Crimes of Passion. 
Apart from Kate Bush's song, Japanese singer Yoko Ono's single "You're the One" from her 1984 duet album with John Lennon, Milk and Honey, compares their relationship to that of Catherine and Heathcliff from Wuthering Heights. 
6.3. Other References in Pop Culture
The Twilight Saga mentions Wuthering Heights as one of the protagonists Bella Swan's favorite books. In Eclipse, Bella compares herself to Catherine in that they are both selfish and indecisive. Her lover Edward also sympathizes with Heathcliff after reading the book. Similar to Emily Brontë's iconic antihero, he feels an intense passion for his beloved that almost drives him insane. 
In Truman Capote's novel, Breakfast at Tiffany's, Holly Golightly criticizes the narrator's writing and says that he should aspire to create a work like Emily Brontë's Wuthering Heights. 
The 2009 romantic comedy film The Proposal also references Wuthering Heights as the main character, Margaret's favorite book when she tells her assistant and love interest, Andrew, facts about herself. 
7. Quotes from Wuthering Heights
"My love for Linton is like the foliage in the woods: time will change it, I'm well aware, as winter changes the trees. My love for Heathcliff resembles the eternal rocks beneath: a source of little visible delight, but necessary." 

Catherine when she confesses her love for Heathcliff to Nelly. 
"Treachery and violence are spears pointed at both ends; they wound those who resort to them worse than their enemies."

Isabella tells Hindley that she does not want to take revenge on Heathcliff, even though he has treated her cruelly.
 "I have dreamt in my life, dreams that have stayed with me ever after, and changed my ideas; they have gone through and through me, like wine through water, and altered the color of my mind." 

Catherine tells Nelly about a dream in which she went to heaven and felt miserable there. The dream foretells her marriage to Edgar, in which she is materially comfortable but discontented without Heathcliff by her side. 
"Time brought resignation and a melancholy sweeter than common joy." 

Nelly describes how Edgar came to terms with his wife Catherine's death.
---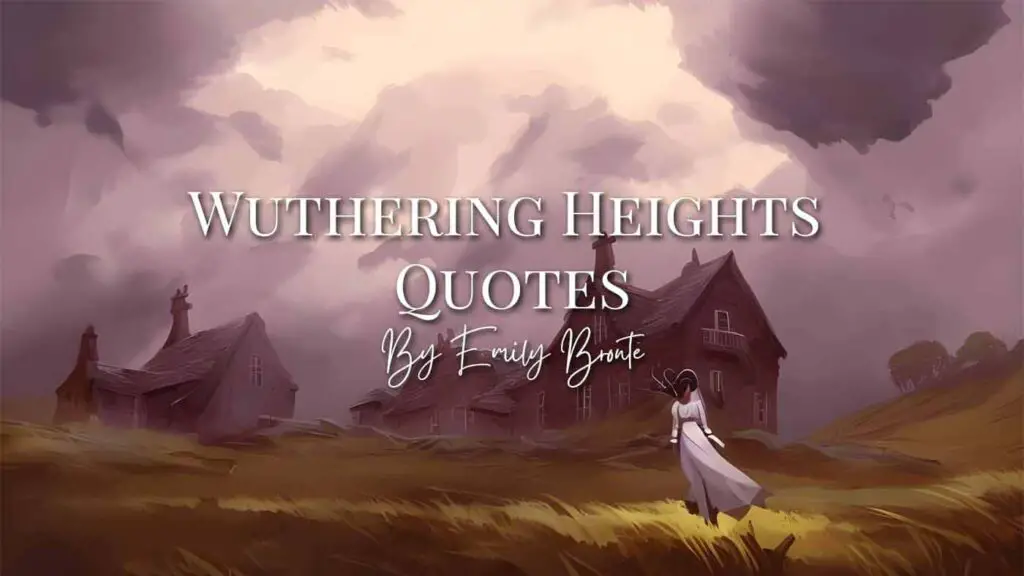 Recommended: Wuthering Heights Quotes by Emily Brontë
8. Notable Book Covers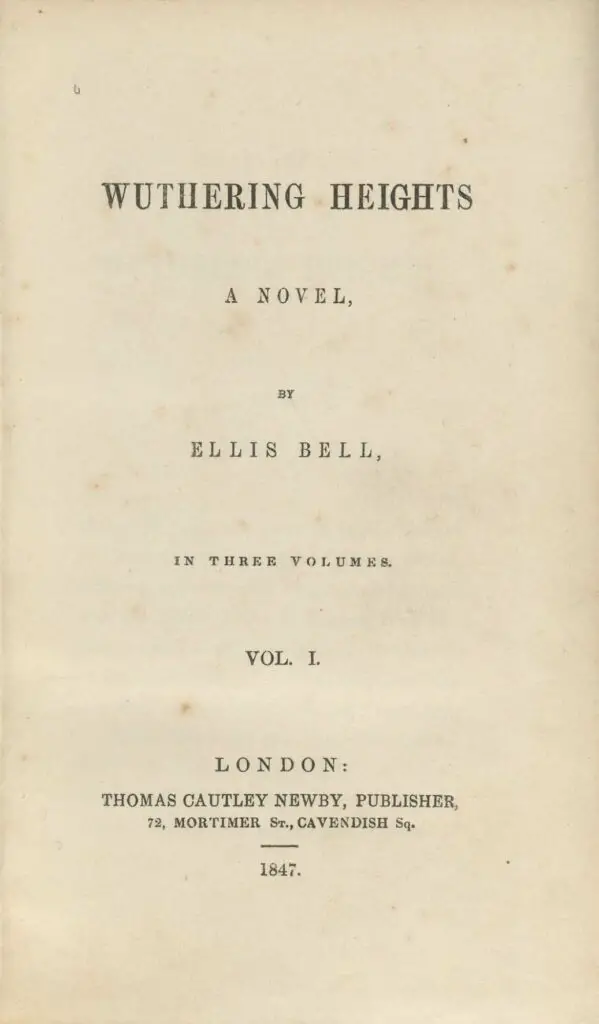 9. Frequently Asked Questions about Wuthering Heights
Is Heathcliff Catherine's half-brother?
It is not stated in Wuthering Heights that Heathcliff and Catherine are half-siblings. However, Mr. Earnshaw's preference for Heathcliff over his children and Mrs. Earnshaw's disdain for him have led some readers to speculate that Heathcliff is Mr. Earnshaw's illegitimate son and thus Catherine's half-brother. 
Who said 'I am Heathcliff'?
Catherine says this famous line when she confesses her love for Heathcliff to Nelly. She is trying to express that her love for Heathcliff is based on their identical fierce and free-spirited nature. Not only are they similar, but Catherine sees herself and Heathcliff as essentially the same person. 
Is Heathcliff a gypsy?
Heathcliff's ethnicity is not explicitly stated. However, he is described by other characters as "a dark-skinned gypsy, in aspect" and having "deep black eyes". Some readers have theorized that Heathcliff has African heritage as Liverpool, where he was picked up by Mr. Earnshaw, was a slave-trading hub at the time. Another common theory is that he is the illegitimate child of Mr. Earnshaw and his gypsy mistress, thus making him half-gypsy. 
Is Wuthering Heights a real place?
Wuthering Heights is a fictional estate where the Earnshaws live. However, Ponden Hall, a house in Stanbury, West Yorkshire, is believed to be the inspiration for Wuthering Heights. Emily and Anne Brontë often visited this house as children to use the library. Moreover, the window in the main guest room bears similarities to the window in Catherine Earnshaw's room in Wuthering Heights.