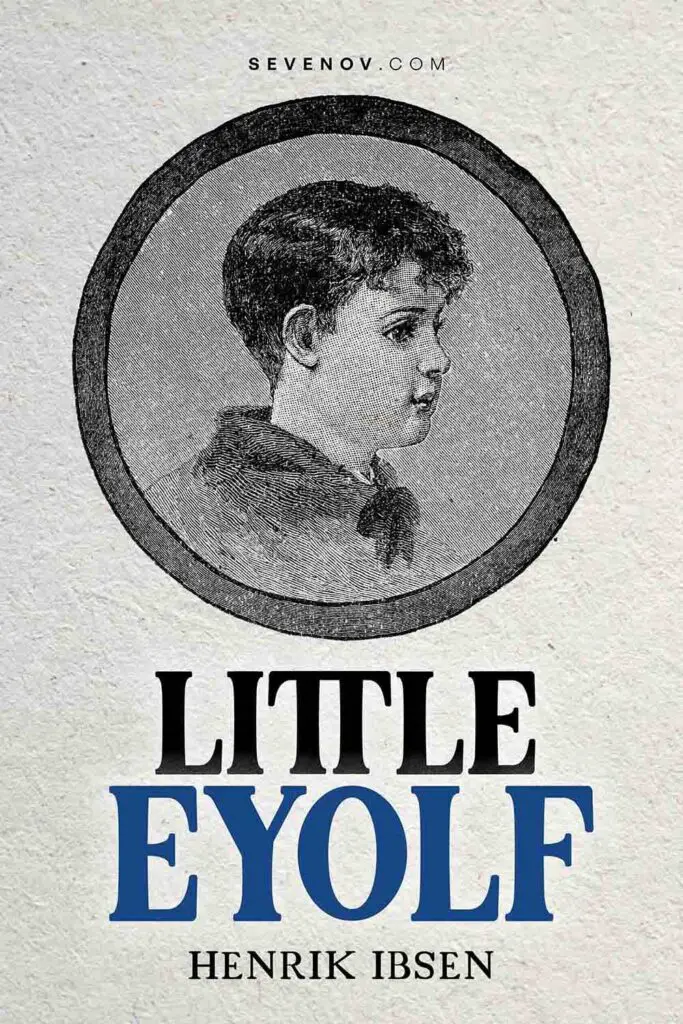 Little Eyolf by Henrik Ibsen
Author: Henrik Ibsen 
Published: 1894
Genre: Drama
Little Eyolf (Lille Eyolf) is a play by the Norwegian playwright Henrik Ibsen. Published in 1894, Little Eyolf premiered in December that year at the Haymarket Theatre, London. The play depicts a couple's troubled marriage haunted by guilt because of an accident that left their son paralyzed in one leg. 
1. Synopsis of Little Eyolf
Alfred Allmers is a landed proprietor who has just returned from a mountain trip. He devotes himself to raising his son, Eyolf, who is paralyzed in one leg. Since Eyolf cannot lead an active life, Alfred wants to develop his intellectual talents. A mysterious woman known as the Rat-Wife visits their house and lures Eyolf to the fjord, where he drowns. Eyolf's death causes Alfred's marriage to his wife, Rita, to fall apart as they struggle with guilt. 
2. Story Summary
Act I
As Little Eyolf opens, Rita confides in her sister-in-law, Asta, about her loneliness since her husband went on a mountain trip. Rita's husband, Alfred Allmers, returns from his trip, bringing their son, Eyolf, back with him. Allmers is a landed proprietor working on a book titled Human Responsibility. The Allmers' only child, Eyolf, is a young boy who is lame and walks with a crutch under his left arm; he has beautiful and intelligent eyes. 
During his trip, Allmers did not make any progress with his book as he was busy thinking. He hints that Eyolf will become a better writer than him when he grows up. 
Eyolf says he wants to climb a mountain with his father and become a soldier. However, his parents know it is unlikely that he will accomplish these dreams because of his handicap. Hence, his father, Alfred, wants to turn him towards intellectual pursuits. 
A mysterious old woman known as the Rat-Wife visits the Allmers' house, offering her services to get rid of rats. The Rat-Wife tells Eyolf that she can lure rats out by playing her pipes and then lead them to deep waters where they drown. Rita informs the Rat-Wife that her services are not needed, and she leaves. Eyolf slips away and follows the Rat-Wife out of the house. 
After the Rat-Wife leaves, Allmers shares his plan to help Eyolf attain happiness with Rita. Borgheim, an engineer, enters. He is in love with Asta, Allmers' sister. As Borgheim and Asta take a walk outside, Rita reveals her possessive love for her husband. She wishes Eyolf had not been born as he competes with her for Allmers' attention. 
Asta and Borgheim return from their walk. Shouts are heard from the fjord; the passers-by tell Borgheim that a boy has drowned. Allmers and Rita realize that the drowned boy is their son, Eyolf. 
Act II
Allmers is devastated, and Asta tries to comfort him. Rita and Borgheim follow them, and Bogheim takes Asta away. A heated confrontation between Rita and Allmers ensues. Allmers accuses Rita of never loving Eyolf, and Rita claims he does not truly love Eyolf either. She says he only devoted himself to raising Eyolf so he could have something to fill his life. 
Allmers retorts that it was Rita's fault that Eyolf became crippled and could not save himself when he fell into the fjord. When Eyolf was a baby, he fell off a table while Rita and Allmers made love, causing him to be paralyzed in one leg. Allmers says the accident happened because Rita seduced him. He also admits that he only married Rita so he could use her wealth to improve the life of his sister, Asta. 
Asta and Borgheim return. Allmers tells Asta that he wants to leave Rita and live with her as brother and sister. Asta reveals they are actually half-siblings as their mother was unfaithful to her husband. 
Act III
Borgheim tries to persuade Asta to leave her brother and make a new life with him. Allmers and Rita beg Asta to remain with them as they cannot cope with their grief alone. They say that she can take Eyolf's place. Asta is repulsed by this suggestion and decides to leave with Borgheim on a steamer. 
The departure of Asta is a heavy blow to Allmers. He feels he no longer has a life to live. Without Asta and Eyolf, there is nothing to tie him to his wife anymore. Allmers expresses his desire to part with Rita and to live in the mountains. 
Rita comes up with the idea of taking care of poor neglected children so that she has something to give her life purpose. Allmers sees that Rita is trying to change and decides to remain with her. 
3. Characters
Alfred Allmers
Allmers is a landed proprietor devoted to his disabled son, Eyolf. He tried to write a book about 'human responsibility' but decided to stop working on it so he could focus on raising Eyolf. 
Rita Allmers
Allmers' wife. She has a possessive love for her husband and is jealous of the attention Eyolf receives from him. 
Eyolf Allmers/'Little Eyolf'
The Allmers' son. He is a lively boy who dreams of becoming a soldier. Due to an accident that happened when he was a baby, he is paralyzed in one leg. 
Asta Allmers
Allmers' sister. She has a close relationship with her brother and was heartbroken when he married. 
Borgheim
An engineer who is in love with Asta. 
The Rat-Wife
The Rat-Wife is a mysterious old woman who plays her pipes to lure rats into deep waters where they drown.