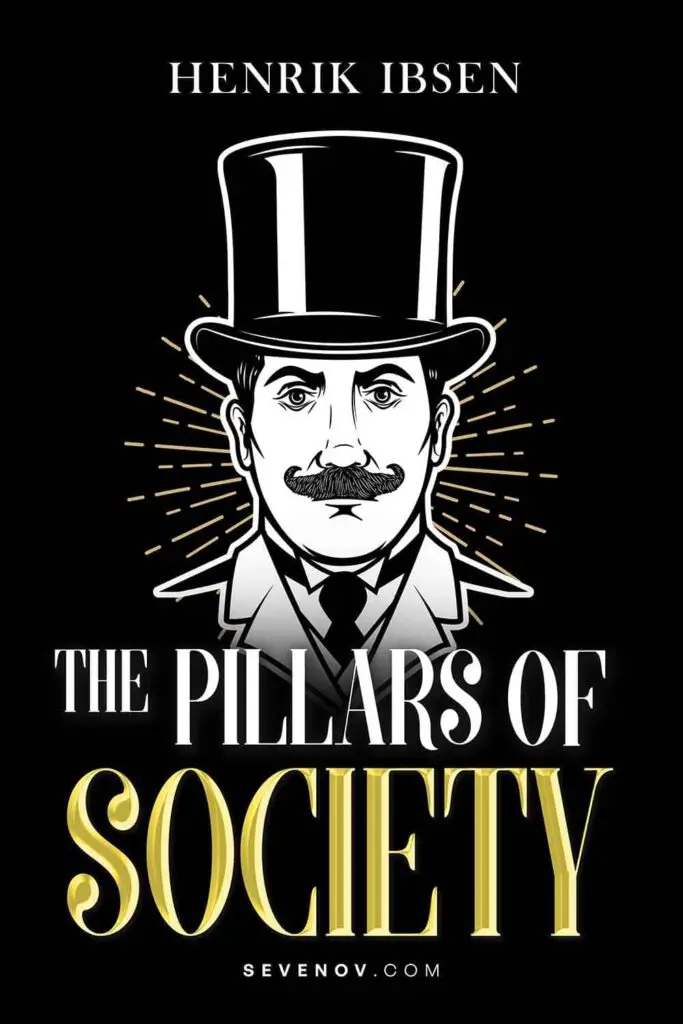 The Pillars of Society by Henrik Ibsen
Author: Henrik Ibsen
Published: 1877
Genre: Realistic
The Pillars of Society is a play by the Norwegian playwright Henrik Ibsen. It was published and first performed in 1877. The plot follows Karsten Bernick, a wealthy businessman who hides the sins of his past at the expense of another man's good name. Being the first of Ibsen's realistic social dramas, The Pillars of Society has a more optimistic ending than his later works, such as Ghosts and A Doll's House. Its corrupt protagonist, Bernick, ultimately redeems himself by sacrificing his reputation to save his conscience. 
1. Synopsis of The Pillars of Society
Karsten Bernick is a successful businessman who is highly respected in his community. On the surface, he appears to be a devoted family man and an honorable leader. However, the return of Bernick's brother-in-law threatens to expose the lies behind his closely guarded reputation. 
2. Story Summary
Karsten Bernick is the most respected citizen of his small Norwegian town. A successful businessman, he is the head of a shipping firm and a consul. Lately, he has embarked on an ambitious project – he is planning to back a railway connecting the town to the main line. Bernick has been secretly buying forests, mines, and water power that will reap profits once the railway opens up.
Johan Tonnesen, the younger brother of Bernick's wife, returns from America. He is accompanied by his half-sister, Lona Hessel, Bernick's ex-lover. Many years ago, Johan had been accused of embezzling from Bernick's family business and having an affair with an actress. Afterward, he ran off to America to avoid scandal. 
However, the truth is that Bernick was the one who had an affair with the actress. His family business was nearly bankrupt then, so there was no money for Johan to steal. Johan left to take the blame for Bernick, his best friend, and cover up the ruin of Bernick's family and the affair. 
Although Bernick was in love with Hessel, he chose to marry Betty Tonnesen for her money. Heartbroken, Hessel left for America with Johan. 
Dina Dorf, Bernick's daughter with his actress lover, now lives with his family. She gets romantically involved with Johan Tonnesen, who the community believes to be her father. Johan demands Bernick tell the truth about his affair with Dina's mother so they can be together. Bernick refuses, and Johan decides to sail back to America to tidy up his affairs and then come back to marry Dina. 
Bernick's yard is repairing an American ship, the Indian Girl, which is shoddily built and unseaworthy. He orders the foreman to complete the repairs by the next day, even if it means the ship will sink when sent out to sea. Bernick wants Johan Tonneson to go down with the ship, thus removing any threat to his reputation. 
Johan and Dina set sail on another ship, which is safe. Meanwhile, Bernick's young son, Olaf, stows away on the Indian Girl. Bernick realizes that his murder plot has gone wrong and panics. Fortunately, the foreman stops the ship from sailing, and Bernick's wife manages to get Olaf back. 
Shaken by how his lies almost caused his son's death, Bernick confesses most of the truth at a ceremony held in his honor. Although his reputation is damaged, his wife is glad he has finally told her the truth. Lona Hessel reflects that it is not the prominent men or women who are the community's pillars but the spirit of truth and freedom. 
3. Characters
Karsten Bernick – A successful and highly respected businessman. He is the head of his family's shipping firm and a consul.
Mrs. Betty Bernick – Bernick's wife.
Olaf – Karsten and Betty Bernick's 13-year-old son. 
Martha Bernick – Bernick's sister. 
Johan Tonneson – Mrs. Bernick's younger brother. 
Lona Hessel – Mrs. Bernick and Johan Tonneson's half-sister. She is also Bernick's ex-lover. 
Hilmar Tonneson – Mrs. Bernick's cousin. 
Dina Dorf – A girl living with the Bernick family. She is the daughter Bernick had with his actress lover.
Rorlund – An assistant teacher. 
Rummel – A wholesale merchant. 
Mrs. Rummel – Rummel's wife.
Hilda Rummel – Rummel's daughter. 
Aune – The foreman of Bernick's shipyard. 
Vigeland and Sandstad – Two merchants.
Krap – Bernick's head clerk.
Mrs. Holt – The postmaster's wife. 
Netta Holt – Mrs. Holt's daughter.
Mrs. Lynge – The doctor's wife.