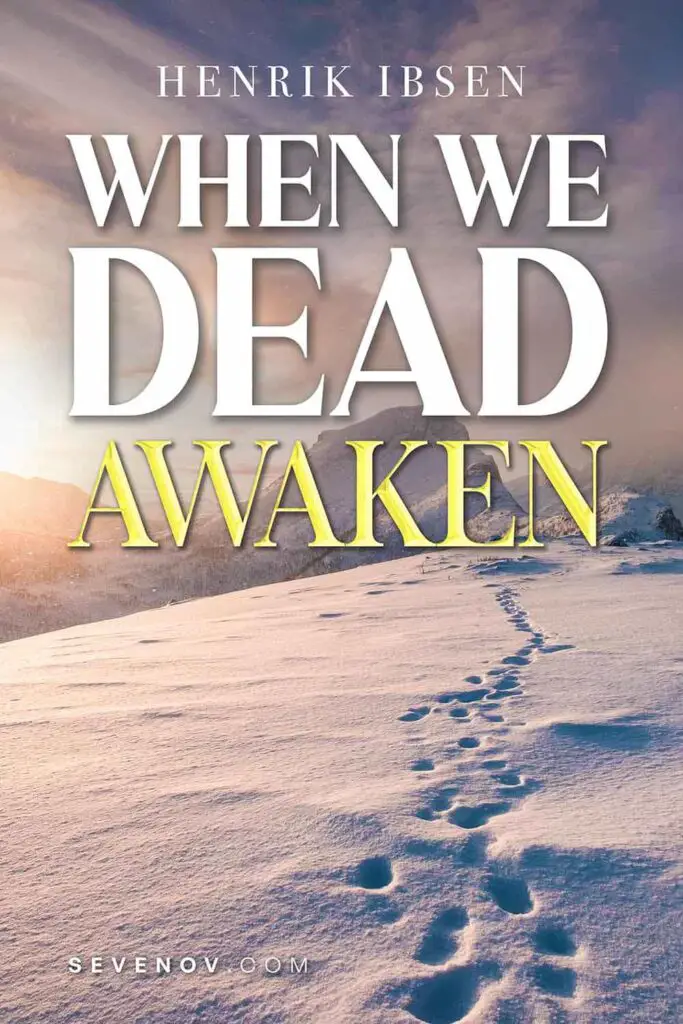 When We Dead Awaken by Henrik Ibsen
Author: Henrik Ibsen
Published: 1899
Genre: Drama
When We Dead Awaken (Når vi døde vaagner) is the Norwegian playwright Henrik Ibsen's last play. It was published in December 1899 and premiered at the Haymarket Theatre in London shortly before publication. Unlike his earlier realistic plays, When We Dead Awaken is more dreamlike and depicts an artist's spiritual awakening. The protagonist, Arnold Rubek, is a successful sculptor who encounters his former model, Irene, at a resort hotel. Irene and Rubek grapple with an existential crisis while rekindling their past relationship. Eventually, Irene inspires Rubek to break free of his deathlike existence and pursue a richer life. 
Some critics believe When We Dead Awaken was inspired by Ibsen's own life and the life of the French sculptor Auguste Rodin. 
1. Synopsis of When We Dead Awaken
Arnold Rubek is an elderly sculptor who travels to a bath hotel with his younger wife, Maia. Although Rubek has achieved fame and wealth, he feels a deep sense of dissatisfaction. At the hotel, he reunites with his former model and inspiration, Irene. They reminisce about their past together as they struggle with an unfulfilled desire for life. 
2. Story Summary
Act I
The play opens at a bath hotel overlooking a fjord. Sculptor Arnold Rubek and his wife Maia are sipping champagne and reading the newspaper after breakfast. Maia tells Rubek that she has noticed how he no longer takes pleasure in his work. Rubek confides in her about how he feels no one understands his art and expresses his disillusionment with life. Maia is also disappointed because Rubek promised to take her up a high mountain to show her all the world's glory, but he never did. 
The hotel inspector passes by and asks the Rubeks if they have slept well. A woman in white walks past, followed by a nun in black. Rubek feels inexplicably drawn to her and inquires about her identity. The Inspector does not know much about the woman in white, so he quickly excuses himself. 
A squire, Ulfheim, stops by their table and starts a conversation with the Rubeks. He offers to take them on a bear hunt up the mountains, which he says are untainted by people. Ulfheim also invites Maia to watch him feed his dogs, and she takes him up on the offer. Ulfheim and Maia leave the hotel. 
The mysterious woman in white comes over and sits at Rubek's table. Rubek realizes she is Irene von Satow, his former model. He had used her as the model for his world-famous masterpiece, The Resurrection Day. However, after completing this work, Irene felt as though her soul had been taken by Rubek and put inside his sculpture. Rubek admits that he also felt dead inside after completing his masterpiece. 
Irene says that she killed all her former lovers and children, shocking Rubek, who believes there is a hidden meaning behind her words. She then asks Rubek to join her up the mountains. Maia and Ulfheim return. Maia urges her husband to join her and Ulfheim on a mountain hunt. Rubek allows her to go with Ulfheim and says he is also heading for the mountains. 
Act II
The second act takes place near a mountain resort. Maia runs into Rubek on a hillock and tells him she will go on another bear hunt with Ulfheim. When discussing their relationship, Rubek confesses that he is tired of her. Maia is upset but accepts his decision to leave her. 
Irene arrives at the brook below the hillock, and Maia tells Rubek to speak with her. Irene and Rubek talk about their past partnership as artist and model. Back then, Irene was disappointed that Rubek was not interested in her romantically. When Rubek completed his masterpiece, The Resurrection Day, he referred to their collaboration as an 'episode.' This unrequited love broke Irene's heart since it meant she was only a passing phase to him, so she left him.
Rubek begs her to return to him so she can unlock his artistic inspiration again. However, Irene says that their past collaboration can no longer be resurrected. As the act closes, Maia is heard singing among the hills. 
Act III
The last act is set on a wild mountainside with sheer precipices, near an old, half-ruined hut. Maia resists Ulfheim's sexual advances, threatening to jump over the precipice if he does not let her go. She insists on going back to the hotel, but Ulfheim warns her that the way back is dangerous and that she will not make it to the hotel safely without his help. Irene and Rubek appear over the edge of the precipice. 
Ulfheim tells them there will soon be a storm, but he can only take one person down the mountain at a time. He advises Irene and Rubek to take refuge in the hut while he accompanies Maia back to the hotel, promising he will send people to fetch them later. 
Irene is horrified as she thinks that many people will come to take her to a mental asylum. She says that the nun who follows her has a strait-waistcoat in her box, which she will use to restrain her. Rubek tries to calm her down when Irene mentions that she has a tool to save herself from this fate. Irene draws out a knife and tells Rubek that she intended to kill him with it earlier when they were by the brook. However, she refrained from doing so as she realized he was already dead. 
In despair, Irene declares that the desire for life is dead in her; she looks for Rubek but finds that he is just as lifeless as her. Rubek throws his arms around her and swears that they will live life to the fullest. They agree to climb up to the mountain peak together to marry under the glittering sunlight. Rubek and Irene can hear Maia's song in the distance as they ascend the mountain. 
Suddenly, an avalanche roars down the mountain, burying Irene and Rubek. The nun who accompanied Irene at the hotel makes the cross sign and says, "Pax vobiscum!" (Peace be with you!) 
3. Characters
Professor Arnold Rubek
Rubek is an accomplished sculptor who is now an old man. He feels disillusioned with life despite his success and yearns for his former model, Irene, who was the key to his artistic inspiration. 
Irene von Satow / 'A Stranger Lady'
Rubek's former model. She left him after he said their collaboration was just an 'episode.' A mysterious woman, she claims to have killed all her previous lovers and children. 
Mrs. Maia Rubek
Rubek's wife. A lively young woman who feels disappointed with her marriage to the melancholic Rubek. 
Ulfheim
Ulfheim is a squire who meets the Rubeks at a resort hotel. A harsh and animalistic person, he enjoys bear hunting and shoots his dogs when they fall ill. 
The Inspector
The Inspector of the resort hotel where Rubek and Maia are staying.
A Sister of Mercy
A nun clad in black who follows Irene. 
4. Themes
4.1. Art and the Artist
When We Dead Awaken ruminates on the fate of artists in a world that does not understand or appreciate their work. The sculptor protagonist, Rubek, has lost pleasure in his work because he thinks, "All the world knows nothing! Understands nothing!" The low tastes of the masses have caused him to become cynical. He sees no point in laboring for them when they do not see the true meaning of his art. After completing his masterpiece, The Resurrection Day, Rubek made no more poems in marble. Instead, he spends his time making portrait busts for wealthy people, which allows him to become rich and gain control over material things. 
However, fame and money do not bring Rubek fulfillment. Throughout When We Dead Awaken, he laments that he feels dead inside and hints at his deep unhappiness. When Rubek reunites with Irene, he undergoes an awakening –  he realizes that as an artist, he is "not adapted for seeking happiness in indolent enjoyment." 
Hence, Rubek rejects his materialistic existence and goes up the dangerous mountain peak with Irene, symbolizing the fulfillment of his higher mission as an artist. Like the pursuit of art, going up the mountain is a risky endeavor and gives Rubek life. An avalanche buries Rubek and Irene, but the two of them are freed from a living death, as implied by Maia's song that is heard in the distance, 
 "I am free! I am free! I am free!
  No more life in the prison for me!
  I am free as a bird! I am free!"
The ending of When We Dead Awaken suggests that artists can only achieve spiritual freedom by creating art for art's sake instead of desiring societal recognition. 
4.2. Living Death
Rubek and Irene suffer from a living death after completing Rubek's masterpiece, The Resurrection Day. They long for a richer existence but are not able to find it until the end of the play. After their separation, Rubek goes down the path of commercializing his art, a choice that robs his life of meaning and happiness. Meanwhile, Irene feels dead inside because Rubek has deprived her of love. 
To overcome their living death, Rubek and Irene must leave behind the earthly world and pursue their passion of climbing up the mountain. This dangerous act will allow them to see the beauty of the sun above the dark storm clouds. 
In When We Dead Awaken, the theme of a 'living death' is also evident in the characters of Maia and Ulfheim. At the start of the play, Maia is a young woman who feels stifled by her marriage to the melancholic Rubek. Maia has high hopes for their marriage and feels disappointed that Rubek did not fulfill his promise to take her up a high mountain. Although she does not enjoy Rubek's gloominess, she puts up with him until he leaves her. 
Ulfheim, on the other hand, is harsh and tolerates no weakness in others. When his dogs fall ill, he shoots them to send them to the other world. He sees no value in a sick and miserable existence, saying, "people that are sickly and rickety should have the goodness to see about getting themselves buried." 
Through her acquaintance with Ulfheim, Maia finds a way out of her living death. Unlike Irene and Rubek, who find life by working towards a higher purpose, Maia and Ulfheim come alive by pursuing worldly pleasures. This is why they go down the mountain when a storm approaches instead of climbing up. They are not artists, which explains how they can find fulfillment in the material world when Irene and Rubek are unable to. The ending implies that ordinary people are not necessarily lower than artists. Rather, they are destined to follow a different path. 
5. Quotes from When We Dead Awaken
"Not in that sense. What I need is the companionship of another person who can, as it were, complete me—supply what is wanting in me—be one with me in all my striving."

Arnold Rubek
"When we dead awaken, we find we have never lived."

Irene von Satow
" I live at such high speed, Maia. We live so, we artists. I, for my part, have lived through a whole lifetime in the few years we two have known each other. I have come to realise that I am not at all adapted for seeking happiness in indolent enjoyment. Life does not shape itself that way for me and those like me. I must go on working—producing one work after another—right up to my dying day."

Arnold Rubek
"I gave you my young, living soul. And that gift left me empty within—soulless. It was that I died of, Arnold."

Irene von Satow