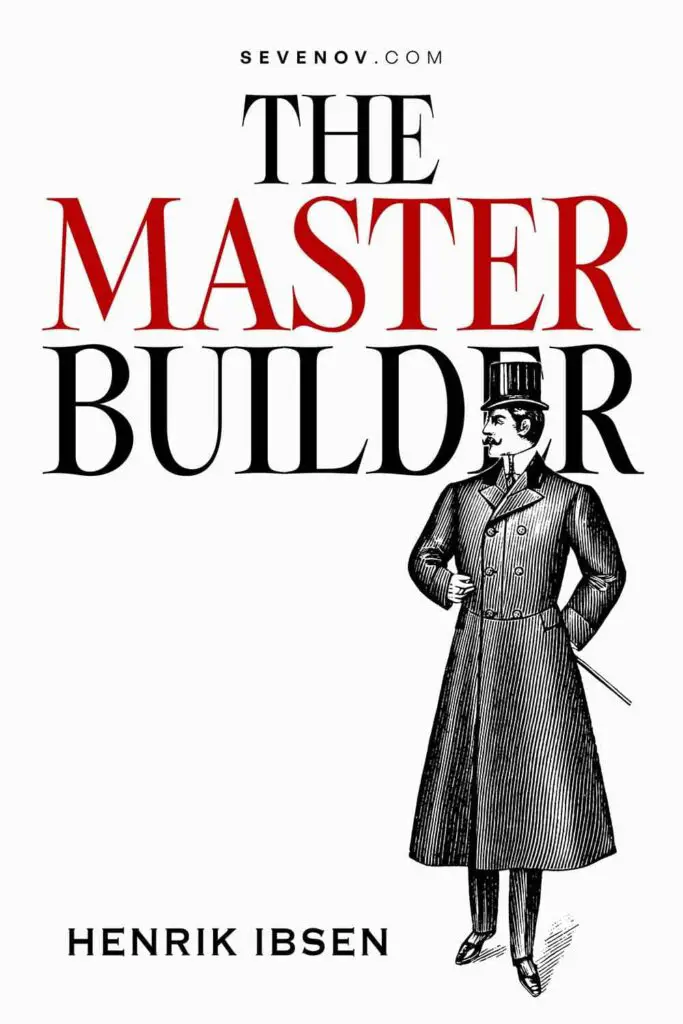 The Master Builder by Henrik Ibsen
Author: Henrik Ibsen
Published: 1892
Genre: Drama 
The Master Builder (Bygmester Solness) is a play by the Norwegian playwright Henrik Ibsen. It was first published in December 1892 and premiered in 1893. The Master Builder is about an aging master architect who becomes involved with a younger woman. It combines realism and symbolism, marking a new stage in Ibsen's career. The Master Builder has also been read as an autobiographical work that depicts Ibsen, the master playwright, as the titular character. 
The character of Hilda Wangel appears in this play as well as in Ibsen's earlier play, The Lady from the Sea. 
1. Synopsis of The Master Builder
Halvard Solness is a successful middle-aged architect in a small town. He is visited by Hilda Wangel, a young woman who met him ten years before in her hometown. She claims he tried to woo her and promised her 'a kingdom'. Although Solness does not remember this incident, he decides to take her into his home. Solness's growing infatuation with Hilda leads to tragedy as he struggles to come to terms with his traumatic past and uncertain future. 
2. Story Summary 
Act I
The play opens in the workroom of the titular master builder, Halvard Solness, a successful middle-aged architect in his small town. Solness discusses a project with Ragnar, his junior architect, who is the lover of Kaia, his bookkeeper. 
Brovik, Ragnar's father and an old employee of Solness, expresses his worries about his son's future. He wants Solness to give Ragnar an independent project so that he can prove his abilities. Once Ragnar succeeds in his career, he will also be able to marry Kaia. 
Despite Brovik's pleas, Solness refuses to let Ragnar take charge of a project as he is worried about being replaced by the younger generation. Dejected, Brovik leaves, accompanied by Ragnar. 
Solness receives a visit from a friend, Dr. Herdal. During this visit, a young woman named Hilda Wangel comes to see Solness. He recognizes her as the daughter of the district doctor of Lysanger, where he had built a tower on the old church ten years ago. She tells him that when he first met her, he called her a princess, promised to give her a 'kingdom', and kissed her. Since he has forgotten his promise, she has come to remind him of it. Although Solness denies that he wooed Hilda ten years ago, he decides to take her in. 
Act II
Solness confides in Hilda about the deaths of his twin sons. Many years ago, Solness lived with his wife, Aline, and their sons in a house inherited from Aline's mother. When this house burned down in a fire, Solness escaped alive with his family. However, the stress of the fire caused Aline to fall ill, which affected her milk. Since she insisted on nursing her sons, they were poisoned by her milk and died. The tragedy caused Solness and Aline to drift apart, as he believes the fire may have been his fault. 
After the fire, Solness rose in his career by building new houses on the site of his family's former home. As such, he thinks the fire was a stroke of luck that he willed into existence.  
Ragnar enters and begs Solness to give him a project of his own so that he can appease his dying father. Solness refuses, and Hilda chides him, saying that it was a very ugly thing to do. She then convinces Solness to approve Ragnar's drawings out of compassion for Ragnar's father. Kaia arrives and takes away Ragnar's drawings for him. 
To please Hilda, Solness agrees to climb up the tower of his new house against the warning of his wife, who knows that he has a fear of heights. 
Act III
After talking with Aline, Hilda informs Solness that she is going away because she does not wish to take him away from his wife. Solness urges her not to leave and promises to build castles in the sky for her. 
Ragnar returns and tells Solness that his father passed away before he could see his drawings being approved. Solness leaves, and Ragnar reveals to Hilda his suspicion that Solness only kept him down so that he could keep Kaia to himself. Hilda rejects his suspicion, saying Solness would not be interested in Kaia. At this, Ragnar realizes that Solness was afraid of him this whole time, which is why he never let go of Kaia. 
At the public opening of his new house, Solness fulfills the promise he made to Hilda to climb up to the top of the building's tower and hang a wreath there. At the top of the tower, Solness waves his hat to the crowd of spectators below, and shouts of congratulation are heard from the street. Suddenly, the crowd goes silent – Solness has lost his footing and fallen to his death. Waving her shawl in the air, Hilda shrieks wildly, "My—my Master Builder!"  
3. Characters 
Halvard Solness – An aging architect at the peak of his career. He fears being replaced by younger architects and has a distant relationship with his wife. 
Mrs. Aline Solness – Solness' wife, a sensible and nurturing woman who greatly desired children. After the deaths of her sons, she was emotionally broken. 
Hilda Wangel – A young woman who has come to claim a promise that Solness supposedly made to her ten years ago. She is free-spirited and tenacious; Solness compares her to a bird of prey. 
Doctor Herdal – A physician who is a friend of Solness. 
Ragnar Brovik – A talented young architect who works for Solness.
Knut Brovik – An old architect who is now in Solness' employment. He is Ragnar's father and desperately wants to see him succeed. 
Kaia Fosli – Solness' bookkeeper and Ragnar's lover. 
4. Themes
4.1. Generational Conflict 
The master builder, Halvard Solness, is afraid of being replaced by more talented and ambitious young architects. This fear motivates him to sabotage his junior Ragnar's career by refusing to let him take charge of a project. In the past, he had displaced a senior architect, Knut Brovik, who now works for him as an assistant. Now that he has reached the peak of his career, Solness is aware that the same thing may happen to him. 
Solness' fear of the 'younger generation' is also behind his attraction to Hilda. A free-spirited young woman, Hilda no doubt represents the 'younger generation.' Unlike Ragnar, however, she is not a threat to Solness. Instead, she greatly admires him and praises his abilities. Under Hilda's influence, Solness realizes that he should give the youth a space to shine instead of barring them from his field. 
4.2. Duty
In The Master Builder, Aline Solness is tightly bound by her sense of duty. The loss of her sons devastated her, but she continued to fulfill her duty to care for her husband. Her rigid sense of duty was also partly responsible for her sons' death. Even though she had a fever, she insisted on breastfeeding her sons, causing them to die from her poisoned milk. 
When Hilda shows up at their house dressed in mountain-climbing attire, Aline goes to buy more presentable clothes for her, saying that it is her 'duty.' Hilda, on the other hand, is a free spirit who dislikes the term 'duty.' She wants Aline to shop for her out of genuine affection, not because she thinks she has to. 
When Hilda tells Solness that she is leaving him, she urges him to remember his duties to his wife and to live for those duties. However, Solness feels stifled by his duties and begs Hilda not to leave. He confesses that he feels 'chained to a dead woman' as Aline lost her will to live after her children died. Like Aline, he suffers because of a rigid sense of duty. Solness is kind to his wife as he feels indebted to her. But he is unable to attain happiness because he ties himself to a woman he does not love anymore. 
4.3. Art and sacrifice 
The Master Builder implies that creating art requires the sacrifice of happiness. Solness laments that all he has succeeded in creating, he has to "make up for, to pay for – not in money, but in human happiness. And not with my own happiness only, but with other people's too… That is the price which my position as an artist has cost me—and others."
In the past, a fire burned down the home of Solness' family and indirectly caused the deaths of his twin sons. The tragedy destroyed his domestic bliss forever as his wife became a shell of her former self.
However, the fire also enabled him to build 'homes for human beings' on the site it had cleared. Families can live safely and comfortably in these homes and feel what a beautiful thing it is to be alive in this world and belong to each other. Although Solness acknowledges the value of his work, he is tormented by the terrible price that he and others had to pay. 
The theme of great art requiring a commensurate sacrifice in happiness appears again in Ibsen's last play When We Dead Awaken.